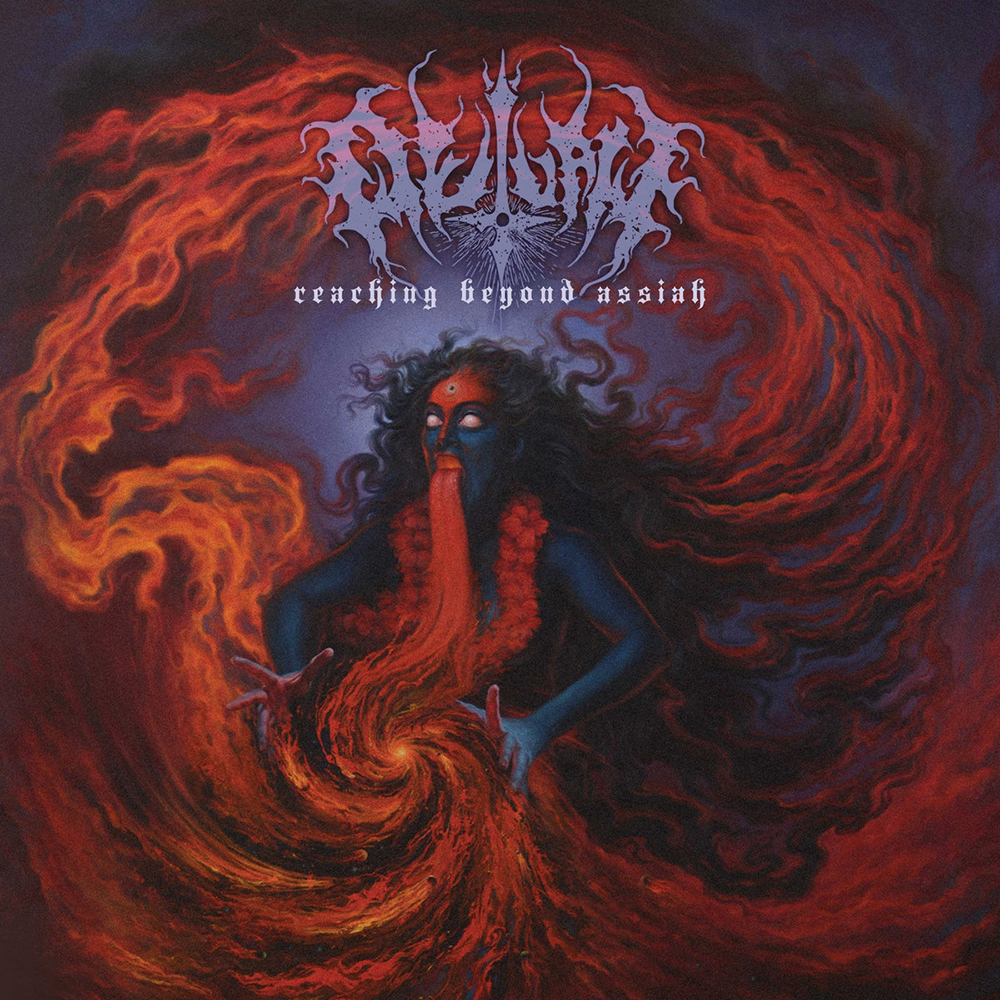 Outlaw – Reaching Beyond Assiah
11th April 2023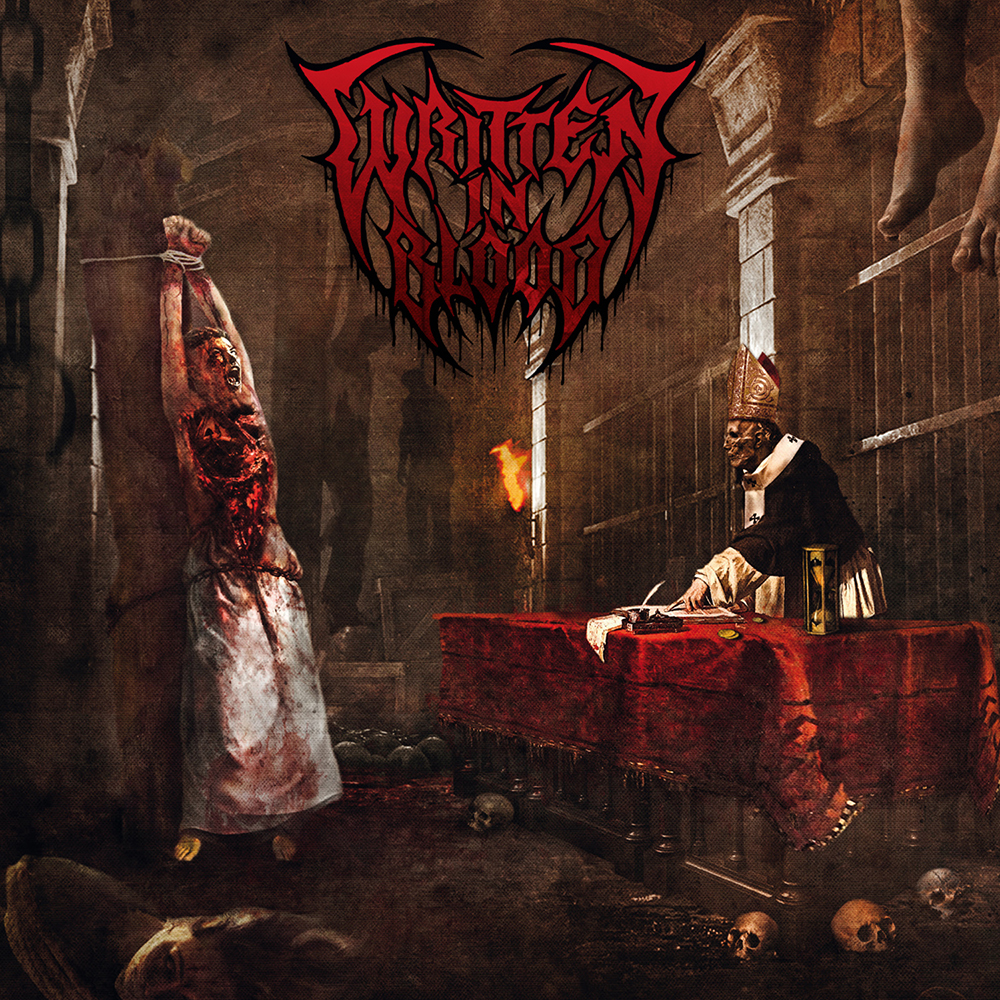 Written in Blood – Written in Blood
14th April 2023
Ulver – Trolsk Sortmetall 1993–1997 – 5-Tape Box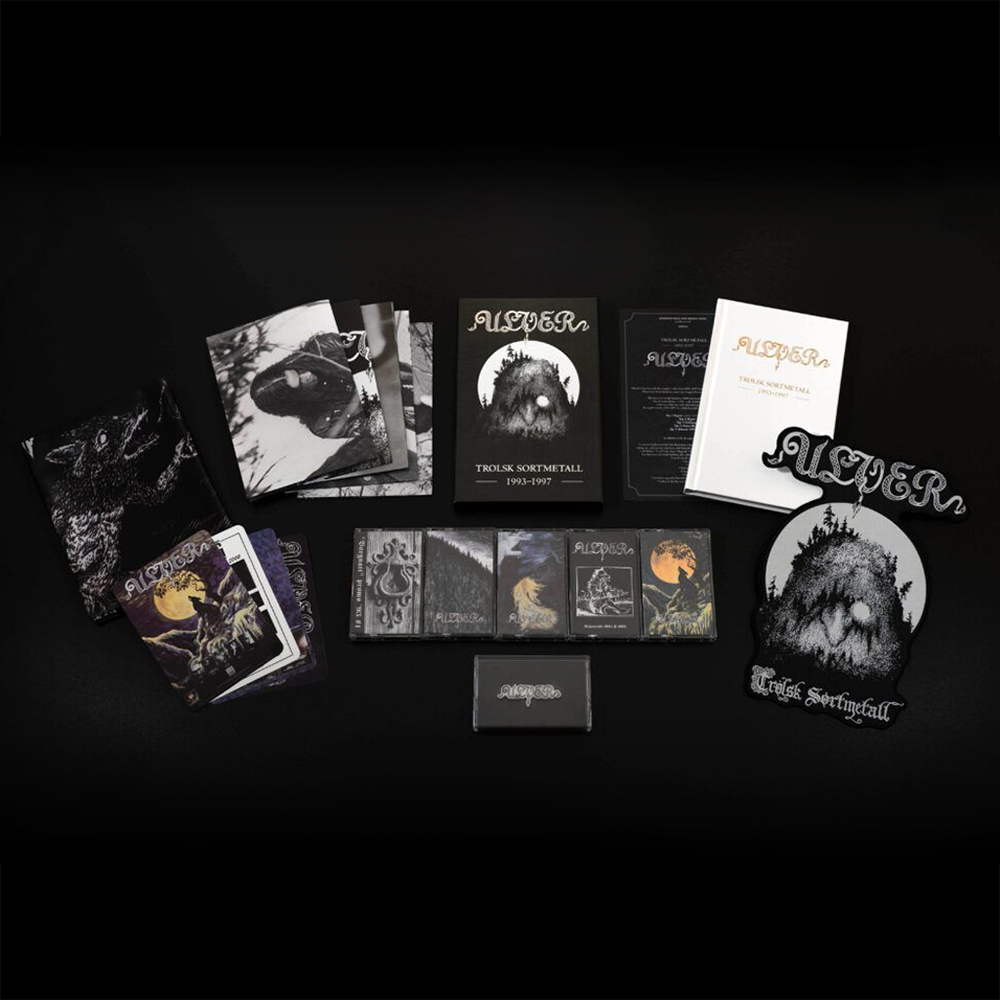 Label: Darkness Shall Rise Productions / Release date: 28th February 2023
In the last couple of months I had a tremendous pleasure to review tape box releases from Venom, Destruction and Katatonia. Now, Denny and the rest of guys from Darkness Shall Rise Productions, provided me with new 5-tape-box from a Norwegian band Ulver. This strictly limited tape box is entitled Trolsk Sortmetall 1993 – 1997. As it's title suggests we're dealing here with their material released from their black metal years, between 1993 and 1997. Initially it's been released by Century Media Records in 2014, but now with premission of the label and the band itself, Darkness Shall Rise has decided to re-release it as a 5-tape-box.
Thus, I've once again received this regular box, which contains, as already mentioned, the complete works from 1993 – 1997 from this seminal Norwegian wolf pack. It's once again housed in a heavy luxurious canvas case-wrapped box with hot foil stamp printing. This particular box set is once again strictly limited to 1000 hand-numbered copies worldwide. Apart from this regular box that I'm listening to, Darkness Shall Rise has also released a die-hard version (1 – 250 – only available in the DSR shop) which comes in a white box with gold printing and white tapes. Meanwhile, I'm here to present you, and say a few words, with this regular version (numbered 251 – 1000) which arrives in a black box with silver printing and black tapes.
The regular version of this tape box contains five cassettes with the complete work by Ulver, from 1993 to 1997, namely;
– Tape 1: Vargnatt (with live 1993 bonus track)
– Tape 2: Bergtatt – Et Eeventyr i 5 Capitler
– Tape 3: Kveldssanger
– Tape 4: Nattens Madrigal
– Tape 5: Rehearsals 1994 & 1995
In addition to the five tapes the box includes: a massive hardcover book with all previous contents from the 2014 Century Media release, adding new and extensive interviews with Kristoffer "Garm" Rygg, Håvard "Haavard" Jørgensen, Carl-Michael "Czral" Eide, Stian "Shagrath" Thoresen, Jan Axel "Hellhammer" Blomberg, Ivar Bjørnson and Grutle Kjellson, plus additional texts and testimonials by key players from the metal scene and beyond. Like we're used to see with their previous tape-box-releases, this time around Darkness Shall Arise offers something else and more to the buyers of this box, as it features following items; a metal-pin, flag, shaped backpatch, four postcards, five posters… The only difference from this regular to the die-hard version box, is this certificate signed by Kristoffer "Garm" Rygg and a replica of the first ever Ulver shirt. Thus, mine regular version is without the two later mentioned items, but it doesn't matter because in the end it's all about the music, so let's look a bit further into these five tapes housed in this beautiful and classy black box.
– First tape to be featured here is the legendary Vargnatt demo. My initial thoughts when listening to this particular tape were, that it's very hard to believe that Vargnatt is actually a demo. From the very first opening guitar tunes of "Her Begynner Arr" one realizes that this release is extraordinary and nothing short of legendary. Obviously, there are some blast beats and screeched & throaty vocals, but the melodic quality of the guitar offers something much more substantial than the buzzsaw, tremelo-picking guitar work of traditional black metal that was doninant in the years of its release. Even now, about three decades after its original release, Vargnatt sounds unbelievably avant-garde, filled with creative originality of the best kind. It is dark and atmospheric with a strong folk influences and pretty unusual drumming arrangements. Another important feature about this demo release worth a notice is that all six songs were recorded in a Norwegian forest, something that truly shows throughout the demo.
– Second tape from this 5-tape-box is band's debut album entitled Bergtatt – Et Eeventyr I 5 Capitler, originally released in 1995 by 'Head Not Found'. Musically, the album consists of a mixture of harsh black metal parts (with typical snarling vocals) and of quiet acoustic passages, where the folk music feel is maintained by using an old-fashioned font and spelling in the cover and the lyrics. After re-listening to this debut full-length, one truly understands why Bergtatt has been considered by many worshippers of black metal to be a classic within Norwegian black metal and one of the highlights of Ulver's entire discography. The lyrics on Bergtatt build on folk myths, which are a well-known theme in Norwegian folk music. Truly amazing concept story and superb song-writing.
– The aforementioned calm and acoustic passages, from Bergtatt continued and got even more in the focues on Kveldssanger, band's second full-length released in 1996. Meanwhile, one major difference from the previous album is the instruments. While Bergtatt was a mix of black metal and folk rock, Kveldssanger is mainly a folk album with no metal to be found. The vocals too are also noticeably different where one can hear more clean singing and occasional chants with no typical black metal screams on Kveldssanger. It is an amazing piece of folk music overall, and a highly recommended for those who love folk music.
– Next tape in line is their 1997 album Nattens Madrigal. On this album, originally released by Century Media Records, the band dropped the folk themes that were essential and predominant on Kveldssanger in exchange for a raw and harsh sound. Thus, Nattens Madrigal is far more lo-fi, raw black metal than both of its predecessors. It was supposed to have been recorded outdoors in a Norwegian forest with a tape recorder. Lyrically, Nattens Madrigal is a sort of concept focused on the theme of lycanthropy, inspired by the traditional Norwegian tales of werewolves. It's a shame that this is the last metal album the band did before they went for a more electronic style, but I'll still highly recommend it due to its harsh and raw nature, something that will please all fans of traditional old-school black metal.
– Fifth and last tape to be included in this box is a Rehearsals 1994 & 1995. It's a collection of previously unreleased tracks from the years of 1994 & 1995. Side A is relatively short, with only two tracks from 1994 rehearsal, namely; "I Troldskog Faren Vild" and "Graablick blev hun vaer", while Side B contains four tracks titled simply "I", "III", "V" and "VI". A nice yet short closure to this box-set. My favourite demo track off this tape is the one called "Graablick Blev Hun Vaer", which is another song with an unconventional beginning for a metal track, with chanting vocals layered over what sounds like a fingerpicked. Thus, this last tape, a previously unreleased rehearsal demo from 1994 & 1995, seems to fly by to you. You seem to hear it in spurts. It all sounds sound good, but not essential.
What's really fascinating about this five-tape-box set, is how dramatic the changes they underwent over the course of only four years. I wish they stayed more in a black metal manner, but my personal preference are not relevant for what might have been.
Completed by a meaty booklet and a 106-page white book with liner notes, comments and unpublished photos, this is a mandatory purchase for those who missed the Norwegian black metal scene's most adventurous mavericks in the period from 1993 to 1997.
Once again my special thanks go to the label owner & mastermind behind Darkness Shall Rise Productions, Mr. Denny Wolfram, who provided me with another awesome release, and for always being able to deliver quality releases by some of the leading and long-standing bands on the metal scene!
For additional info on this particular five-tape box visit https://darknessshallrise.de/product/ulver-nor-trolsk-sortmetall-1993-1997-5-tape-box-regular-version/?v=dd65ef9a5579