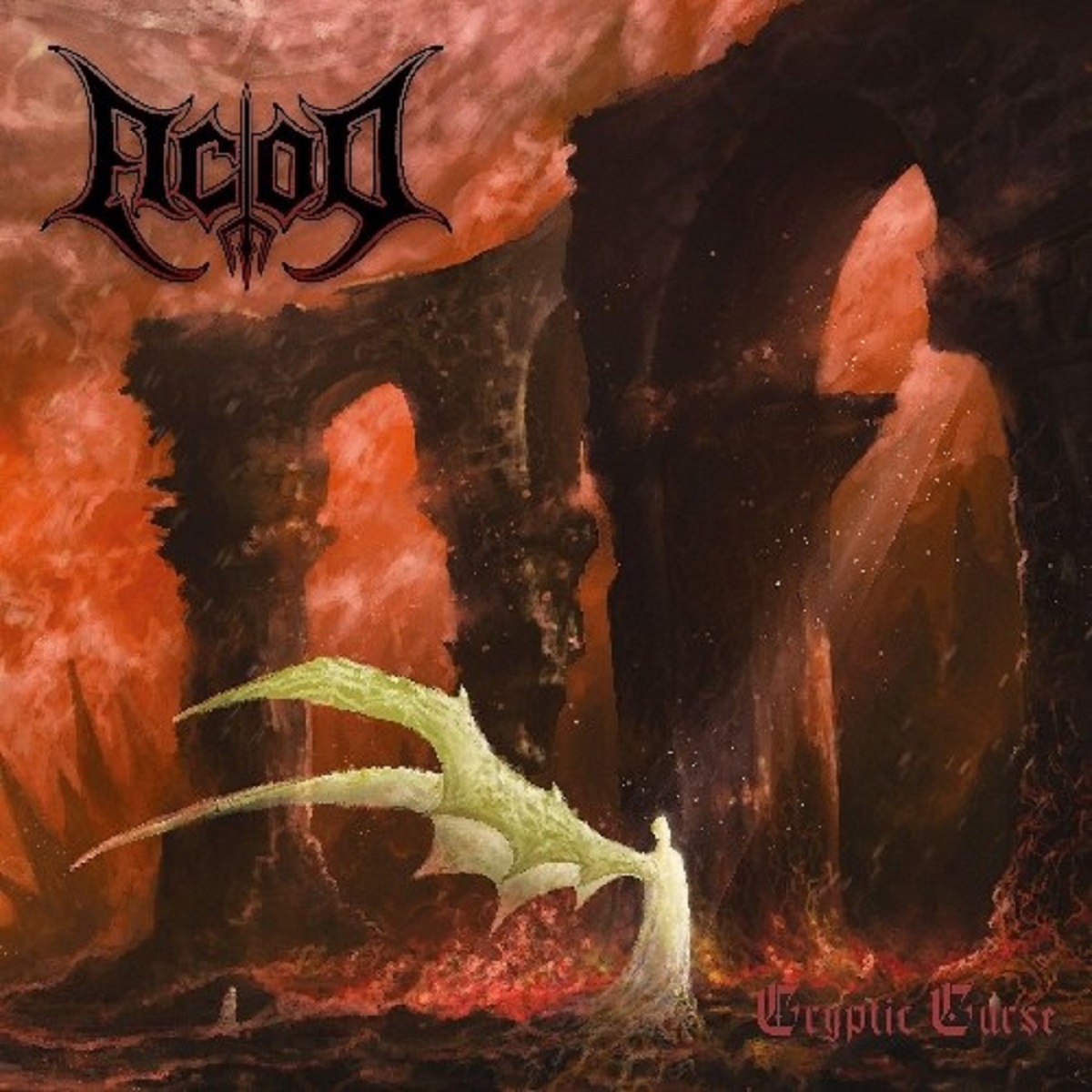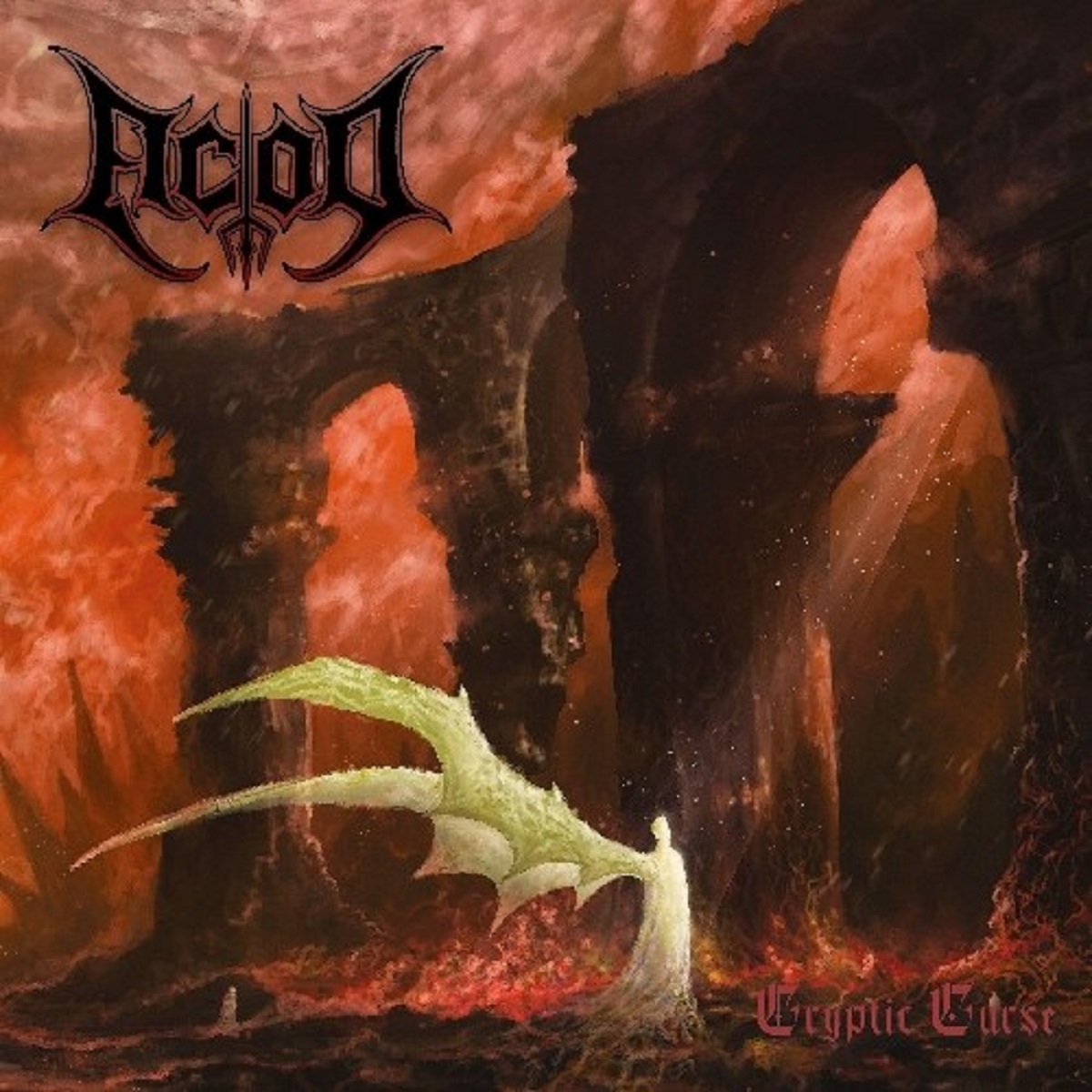 ACOD – Cryptic Curse
30th January 2023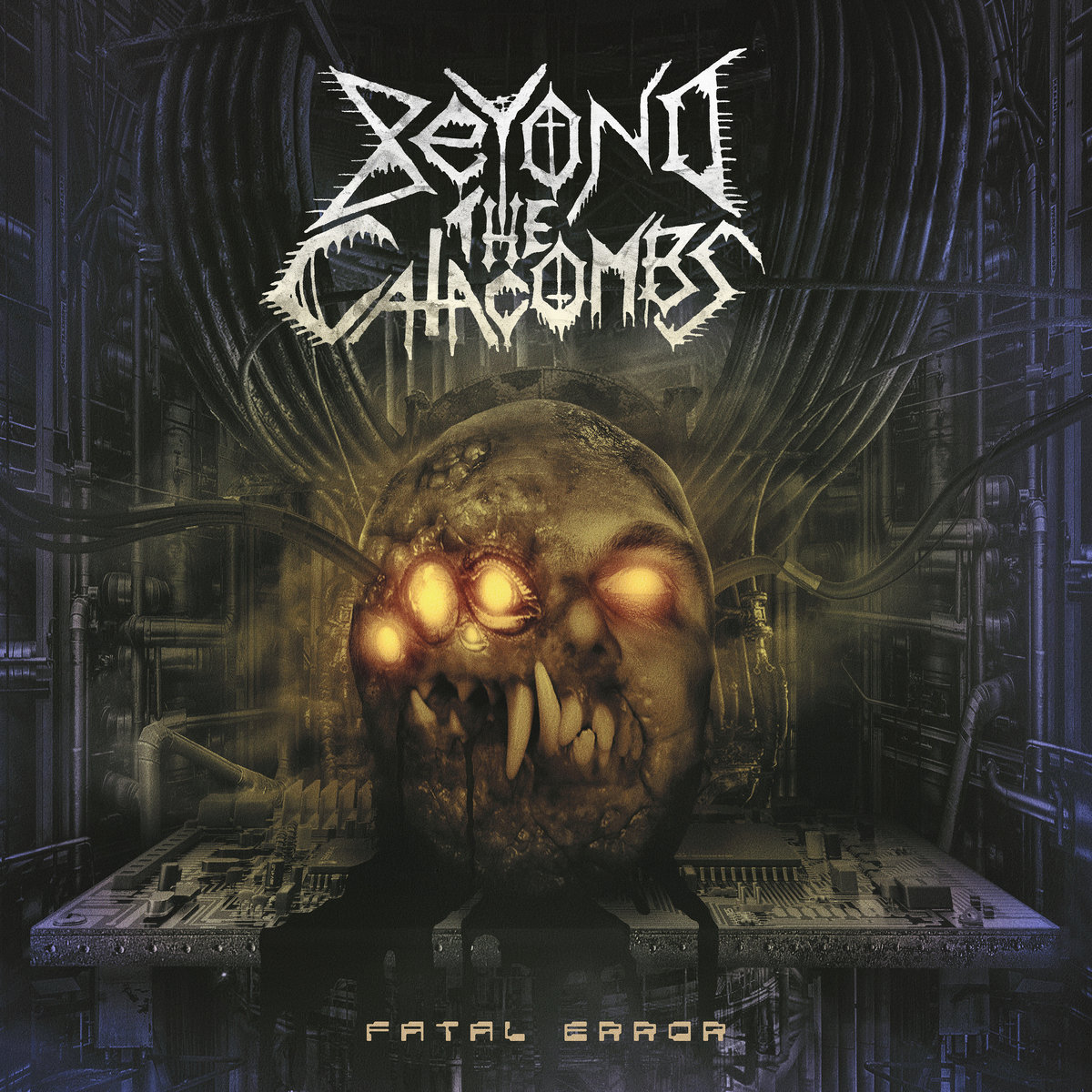 Beyond The Catacombs – Fatal Error
1st February 2023
Venom – To Hell And Back – 8-tape box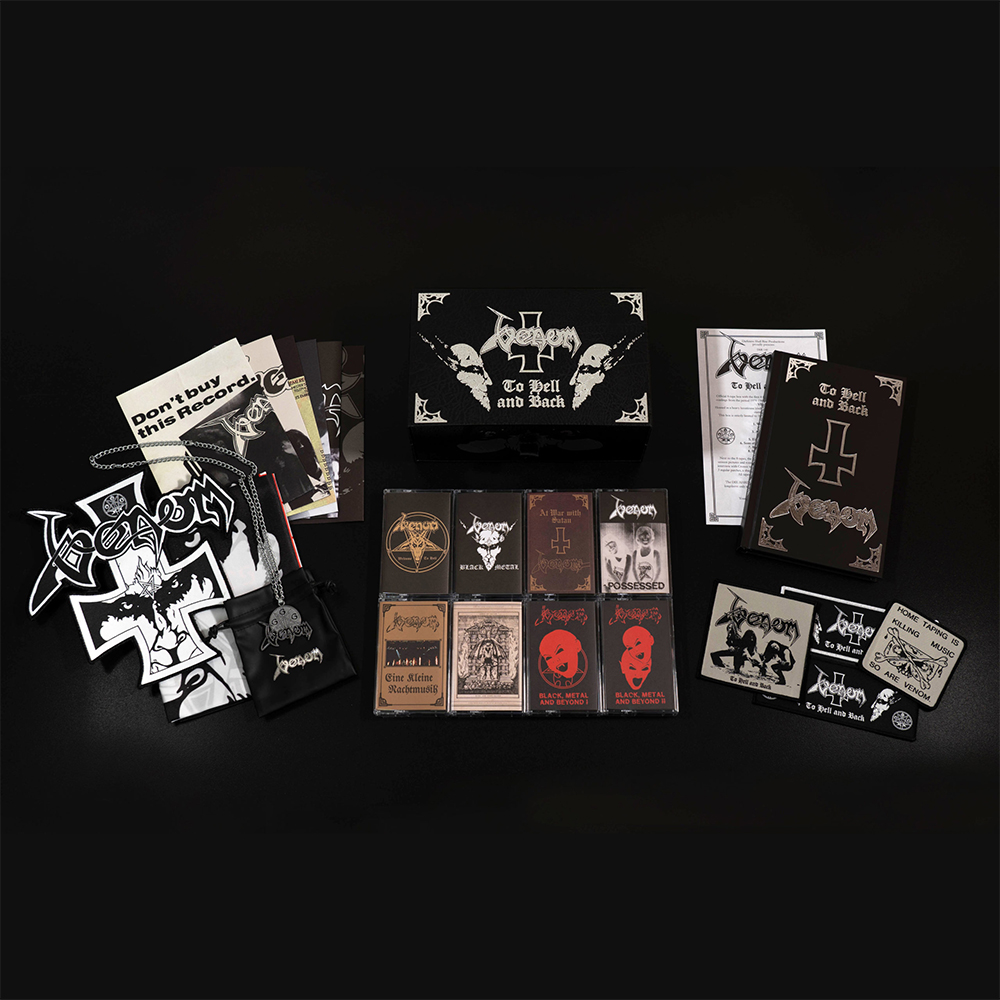 Label: Darkness Shall Rise Productions / Release date: 5th August 2022
Since this release is a bit tricky to review, I've thought a few days on how to approach this review and what to write about mighty godfathers of Black Metal, Venom's – To Hell and Back – 8-tape box release. After listening to it a couple of times, I took a few days just to let my emotions and feedback sink in before writing this review. To be honest with you, after doing this job for more than 20 years now, this is one of the best, if not the very best, material I've ever received for a review purpose.
As briefly mentioned above, I'm holding the box that is massive, beautiful and just a piece of (black) metal history. This is so unique and essential unlike anything I've ever seen before. Forget all about Metallica, Guns N' Roses and other mainstream metal box releases, as this is the real thing! Thus, a German-based Darkness Shall Rise Productions have released this 8-tape box set featuring Venom's first albums and many other recordings from the period 1979-1986.
This official 8-tape box set is entitled To Hell And Back, is housed in a heavy luxurious black leather case-wrapped box with silver hot stamped printing. This box is strictly limited to 1000 hand-numbered copies and includes eight tapes, namely: Tape 1: Welcome to Hell, Tape 2: Black Metal, Tape 3: At War with Satan, Tape 4: Possessed, Tape 5: Eine kleine Nachtmusik, Tape 6: Sons of Satan: Rare and Unreleased, Tape 7: Black, Metal & Beyond I (Singles and EP's) and Tape 8: Black, Metal & Beyond II (Singles and EP's).
Next to the eight cassettes, the box also includes: a massive hardcover-book with many unseen pictures and tons of new liner notes and interviews (an exclusive long interview with Cronos – specially conducted for this box), pendant with chain, 4 regular patches, shaped backpatch, flag, 6 posters and a numbered certificate.
To even further emphasis how cool this box I can tell that 'The Die Hard version' has been released too (first 222 boxes). It includes an exclusive longsleeve (Gildan Ultra Cotton) which is only available with this box-set and only in the DSR shop, a numbered and signed (by Cronos himself) certificate and coloured tapes.
You should remember the name Darkness Shall Rise Productions and the team around Denny Wolfram, that has done amazing job once again. Giving a revival and rebirth not just for a tape format, but also some of the bands that were active on the scene since the 80s. Band's that are featured with more or less similar box release are Reverend Bizarre, Mayhem, Katatonia, Ulver, Metal Mystiqum, Destruction, Celtic Frost, Emperor and mighty Venom, as in the case here.
The team's dedication to the cassette format is obvious and highly anticipated in the times of CD's and Vinyls. It is all wrapped nicely in, being very decorative & high-quality box, filled with all sorts of rarities and a rather unique attention to even the smallest details. Even with a most critical eye I couldn't find anything that I wish was done in a different way.
Meanwhile, back to this 'regular' box, where all tapes are black, as it perfectly fits to this particular kind of music. First, I had to unwrap the whole thing, carefully getting the contents out, and finally start to enjoy the music and other goodies offered here. I appreciate the fact that this 8-box tape box offers an unique opportunity to hear some of the previously unreleased materials, as well as some singles and EPs not being accessible before.
The first four tapes are known for majority of black metal worshippers, and esp. fans of Venom. Welcome To Hell, Black Metal, At War With Satan and Possessed are all legendary and essential releases dating back to the traditional old-school black metal era of the 80s. I've had them all four in my collection before, but it was in a CD format. Looking at all four albums in a cassette-form, in their original packaging, brings an extra smile to my face. It's kind of nostalgic holding something special in your hands, something I couldn't resist. Apart from small natural differences, all four releases have one thing in common; this certain pioneer black metal vibe, being overall a refreshment to the scene and basically offering a whole new sub-genre of metal that is raw, uncompromising, brutal and diabolical in every sense of the word. Thus, on the first album Welcome To Hell one can hear the eternal classics such as "Welcome To Hell" and "Witching Hour", the songs that I personally never get tired of. The scene-defining 1982 second album Black Metal is probably one of the most famous black metal albums ever released. It continues where its predecessor ended, while adding even more crazy and razor-sharp riffing and insane screaming trademark vocals of Cronos. At War With Satan was released in 1984, a year where many famous and (metal)scene defining bands released their albums. It's another poisonous and venomous album, but this time with a suprisingly 20 minutes long opener that was a shocking surprise for any listener and fan of their two previous releases. Meanwhile, side B contains "Genocide" and "Cry Wolf", short and direct songs as we're used to hear from this hard-hitting Newcastle-trio before. Fourth album is entitled Possessed and released the following year, 1985. It is the band's last studio album to feature guitarist Jeffrey Dunn before his first departure from the band in 1986. It is of no-less quality than any of its three predecessors where some of the best ever Venom songs are to be found; "Satanachist", "Burn This Place (To the Ground)", a self-titled "Possessed" and my personal favourite "Hellchild".
Now something different, Eine Kleine Nachtmusik is actually a live tape has also smuggled itself into the box. This live album was released in December 1986, covering two performances by the trio, namely live recordings from 'Hammersmith Odeon' (London) and a gig in New York City. Having in mind that it's more than 36 years old, the production is not the most clear and polished like it is now in modern age. However, it has this charm that you can't find on any of the modern metal releases. Thus, Eine Kleine Nachtmusik contains most of the timeless first-class Venom classics/anthems.
Next tape to get introduced here is Sons Of Satan. First thing noticeable is this superb atmospheric artwork, and no less important, 15 previously unreleased tracks from the trio's early days. Among those are the demo recordings from 1980, the 'Church Hall Rehearsals' from 1979, and songs from the 1980's 'Impulse Studio Demis Session'. It was an exquisite pleasure to listen to these old tunes and that way (re)experience the very beginnings of this iconic band.
The last two tapes are called Black, Metal & Beyond I and Black, Metal & Beyond II which presents us with kinds of singles and EPs from this era. Among those the initial outputs and first recordings of "Bloodlust" (one of the bands oldest songs – originally written by Cronos while he was still with his previous band Dwarfstar) as well as "Warhead" (a great showcase of Venom at their more doomy and ominous period) and "Manitou" (absolutely fantastic, mostly due to its Indian flair) are just some of 'worth-of-mention' songs to be found on these two particular tapes.
After this examination of all the eight tapes from the box, we finally move to the many goodies that you can find in To Hell And Back. First eye-catching thing when opening the box are the impressive patches, a really cool and rare thing nowadays. First you'll find one mostly white and one mostly black 'To Hell And Black' patch, esp. for this particular release. Apart from the two, you'll also find huge Venom-inverted cross big size patch, a nice contrast to the rest of the patches. Finally, there's also this one patch with a text 'Home Taping Is Killing Music'. All patches are of the highest quality and with a strong visual appearance.
Now moving to the posters, done in an A4 size, all kept in black & white. My favourite is the promo poster for "At War With Satan" and this unusual printed-fax poster from EMI Records. Another goodie to unfold and hang up is the XXL size flag for the 1984 'Seven Dates Of Hell' tour, on which Metallica was hired as a support act!
Last but not least we get this 160 pages book, containing a few extraordinary and never seen before rare pictures, promo photos, many newspaper clippings and a few printed gig posters. There is also this aforementioned rare, exclusive and long interview with Cronos, specially conducted for this book. Furthermore, one can find a comments from Cronos, Abaddon and Mantas about the beginnings of the band and the cult era of the 1980s. There're also some wonderful liner notes from musicians from Emperor, Cadaver, Watain, Nifelheim, Sigh and Desaster where they all emphasies Venom's immense influence on their bands, and an extreme scene in the years that followed.
When you begin to believe 'it must be all, nothing more to be found in this box', another lovely surprise emerges; a small leather pouch with the Venom emblem. It is another high-quality, a first-class metal chain that you can hang around your neck!
To Hell And Back – 8-tape box presents more than five hours of blistering fury, rage and black metal' venomous sonic attacks, guaranteed to send devil horn salutes in the air. Thus, To Hell And Back – 8-tape box is essential box, not only for the fans of the band & genre, but also from a historical point of view, as all of the content is of the highest value, an absolute pleasure to have in every fan's collection! To Hell And Back weights app. 1500 gram and with a price of €135, but worth all the money that is spent on it!
For further info on this particular release and all orders can be done via Darkness Shall Rise Productions webstore at https://darknessshallrise.de/product/venom-uk-to-hell-and-back/?v=dd65ef9a5579