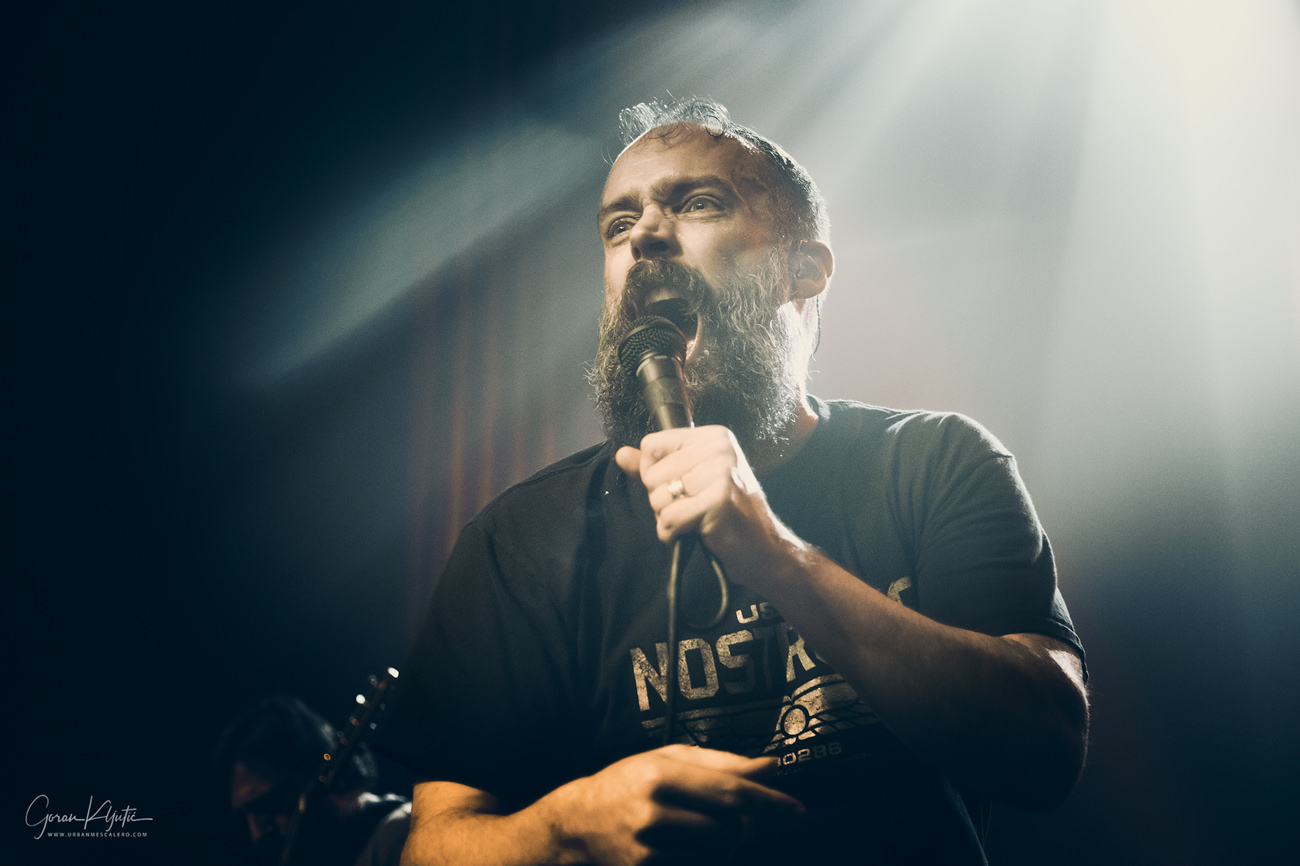 Clutch & The Picturebooks, 1st December 2018, Store Vega, Copenhagen, Denmark
2nd December 2018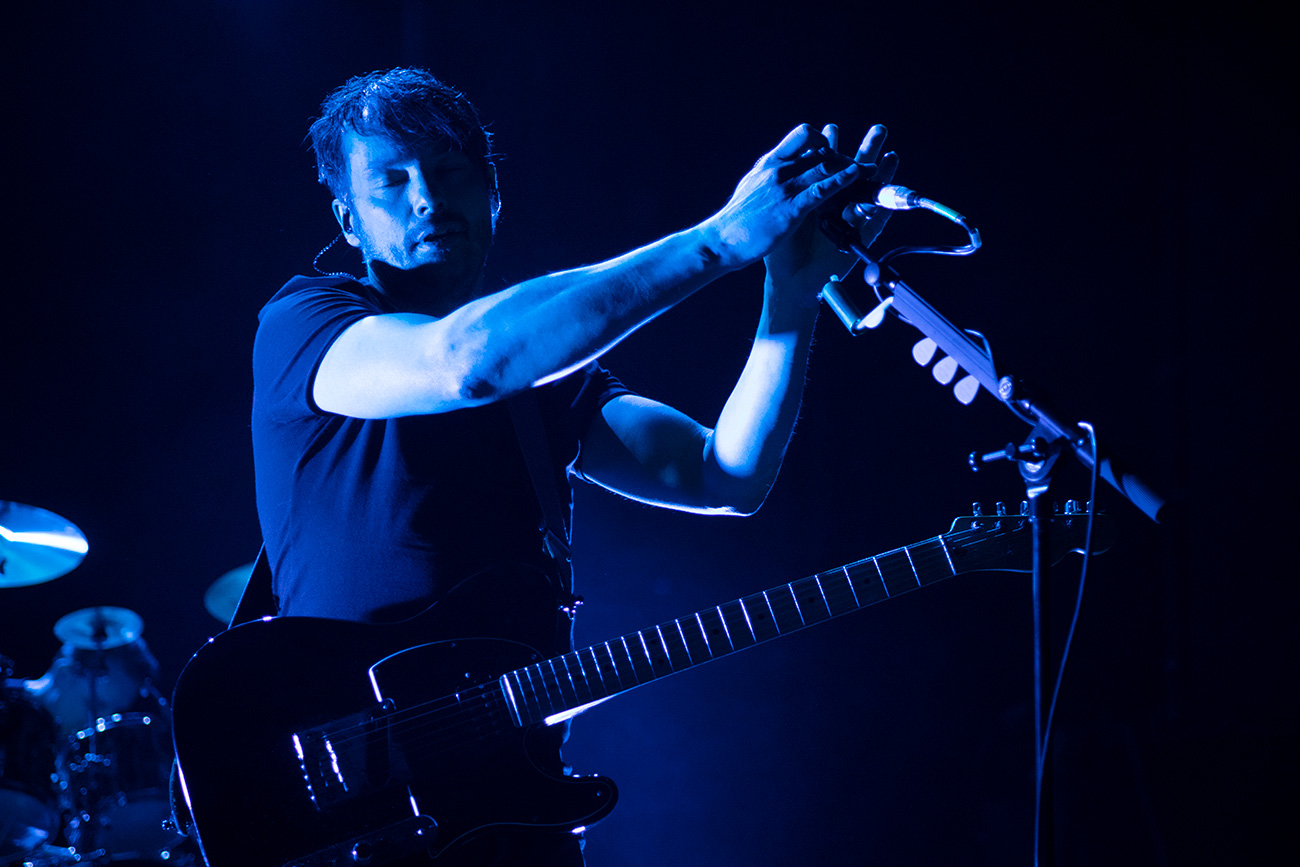 The Pineapple Thief & O.R.k, 3rd March 2019, Vega, Copenhagen, Denmark
4th March 2019
Slayer, Lamb Of God, Anthrax & Obituary, 3rd December 2018, Royal Arena, Copenhagen, Denmark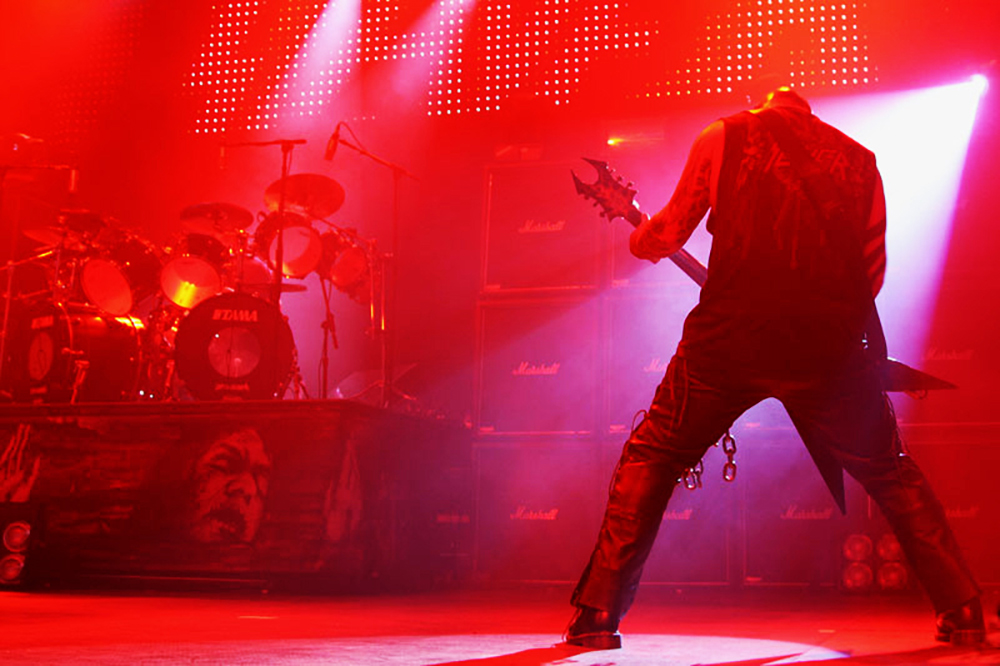 Slayer, Lamb Of God, Anthrax & Obituary, Royal Arena, Copenhagen, Denmark
Archive photo: Zoran www.sonic-shot.com

Precisely 35 years since the release of their debut album, Slayer, were set to play their last show Denmark. Accidentally it was also on the same day 3 years ago that they played their previous headlining show in Denmark, when they also had their buddies from Anthrax supporting. The last gig in Denmark, however, was last year when they delivered a performance to remember at Copenhell festival.
Slayer never headlined such a big arena in Denmark and while the upper balcony was closed some 10.000 people showed up to the band on their farewell tour. On top of that besides Anthrax, they took Lamb Of God and Obituary with them. That not only meant that there were four good bands on the bill, but also four quite different bands.
Tonight's performance also marked short departure of Gary Holt, who was part of Slayer since 2011 and on permanent basis since passing of Slayer's original guitarist Jeff Hanneman in 2013. Due to family emergency Holt was forced to leave the tour and last night marked the first show Slayer show for his replacement, ex-Machine Head guitarist Phil Demmel.
Florida's legendary death metallers in Obituary took the stage already at 6:30 PM to a massive crowd, especially taking into the consideration the early hour and the fact that they were the first of four bands to play on a Tuesday evening.
Another interesting aspect to Obituary's half an hour-long set was that they were sounding good right of the bat. Surprisingly for any support band, let alone for the first of the four bands. Massive yet clear drum sound made Donald Tardy's playing stand out that much more. Overall the band's stage presence is somewhat introverted, but the good performance and the massive grove and heavy riffs resulted in rather solid crowd involvement. Obituary had plenty of odd against them and then gloriously rose to the occasion.
OBITUARY SETLIST:
01 – Redneck Stomp
02 – Threatening Skies
03 – By the Light
04 – Sentence Day
05 – Straight to Hell
06 – I'm in Pain
07 – Slowly We Rot
In no time the stage was changed for Anthrax, with uncharacteristically big stage setup, more than worthy of their headlining gigs. The band was "introduced" by basting of Iron Maiden's "The Number Of The Beast" and they kicked of their gig with opening riffs of Pantera's classic "Cowboys From Hell", which quickly turned into "Caught In a Mosh". Surprisingly the band didn't sound as good as Obituary did, but by the time they ripped into "Got The Time" the sound was corrected some.
Joe Belladonna might soon be 60, but live he's as energetic as teenager on speed. His vocals on the other hand did show the signs of time throughout the show. The enthusiasm and positivity is infectious and it long way down the road it makes up for the issues with vocals.
Last night's show marked yet another Anthrax live performance, without Charlie Benante, who was replaced on drums by Jon Dette, a man who has played more gigs with the band during past five years or so, then Benante did.
"Be All, End All" has for decades been overseen gem at Anthrax' live shows but for a while now it has become not only a must for the band, but it often serves as one of the highlights of the evening. The case was the same last night and short but extremely effective setlist worked very well and melodic aspects of the music resulted in the biggest sing-alongs of the entire evening.
Anthrax stood in contrast to Obituary delivering different kind of vibe, which again underlined how well this diverse lineup was put together. Anthrax had their revenge on the last year's weak Among The Living show at Copenhagen's Amager Bio.
ANTHRAX SETLIST:
01 – Caught in a Mosh
02 – Got the Time
03 – Efilnikufesin (N.F.L.)
04 – Be All, End All
05 – Fight 'Em 'Til You Can't
06 – Antisocial
07 – Indians
If Anthrax' stage setup was impressive, then that of Lamb Of God was truly worthy of the actual headliner at such a massive arena show.
With exception of Obituary all the bands on last night's bill had people filling in for one original member. In case of Lamb Of God, Art Cruz was filling the big drumming shoes of Chris Adler.
Witnessing Lamb Of God live is where this band's strengths really unfold. They have never really been an original band or even a band that has recorded some truly outstanding music, but live they deliver shows so energetic, so with in mind they should be on the live-must-list for any metalhead, regardless what they might think of band's music.
And while their show last night might not have been up there with their Copenhell performance few years back, they once again proved that they are a force to be reckon with.
Of course, people came to see Slayer, but if you didn't know that you could easily be fooled into thinking that Lamb Of God were the headliners. The level of energy and involvement was truly impressive.
As a singer Randy Blythe never had much to offer, but as the frontman he has crowd in the palm of his hand and his energetic outbursts further ignite the already charged energy.
Lamb Of God lived up to the high expectations and hopefully when they play Copenhell next year, they will lift the bar further so that it matches their 2012 performance, which still stands as one of the strongest in the Festival's history.
LAMB OF GOD SETLIST:
01 – Omerta
02 – Ruin
03 – Walk With Me In Hell
04 – Now You've Got Something To Die For
05 – 512
06 – Engage the Fear Machine
07 – Blacken The Cursed Sun
08 – Laid to Rest
09 – Redneck
So, for the moment there Lamb Of God might have seemed as headliners, but once the opening notes of "Delusions of Saviour" the intro from band's surprisingly good "return" album Repentless, filled the arena it was clear who's in charge.
The massive crosses and pentagrams were displayed on the curtain in front of the stage, that dropped as the band ripped into "Repentless", which has served well as the opener ever since the release of the album in 2015. "Blood Red" was back where it belongs on the setlist – the very important second song.
On this farewell tour, Slayer are going all in, with the biggest scene show of their career. No, they didn't repeat the actual blood-rain they did in 2004, but with the pyrotechnics they actually outdid Rammstein. At times, it bordered on overkill, but fortunately the pyro was consisting entirely of flames, which make the whole thing, more classy and moody, unlike the likes of explosions, fireworks and confetti.
The setlist was that classic solid Slayer setlist, but there was also space for few twists, like "Jihad" which worked eminently while "Payback" and "Dittohead"basically went over everyone's head.
Phil Demmel finished his tour (and his run for that matter) with Machine Head few days ago and only had couple of days to fly in and learn the songs. He did a very good job. Not that his presence or lack of Holt's presence was ever mentioned during the Slayer show. On the other hand Slayer never talk much on stage, but still it would be in its place to shortly acknowledge the situation. Besides being thrown in this out of nowhere it must have been nerve-wracking for Demmel to step on stage with his idols and nonetheless in front of some 10.000 witnesses. He did his best to drop some of his Machine Head moves and come across as more of a Slayer type and the many guitar leads sounded very good. There is more of a smoother flow to his playing than that of Holt (or Hanneman for that matter), which gave the songs bit more of flow, without ever compromising the rawness and razor sharp nature of the original material.
The finale in form of established set closers "South of Heaven", "Raining Blood", "Chemical Warfare" and "Angel of Death" was every bit as good as ever. By the time the band was bringing "Angel of Death" to its end in front of the giant Hanneman/Heiniken backdrop, it looked as if it just hit people that this is perhaps the last time they are seeing Slayer. The extra-long greeting time on the stage felt like at definitive farewell, with Tom Araya remaining on stage for a long time basically establishing eye contact with anyone and everyone in the crowd. It was his nonchalant way of saying 'thank you'. And when he finally left the stage there was something different about it. It looked final – or is it just the fact that we know that the end is near that made it seem so?
It was a sad night to be a metal fan in Copenhagen – It was a great night to be a metal fan in Copenhagen.
SLAYER SETLIST:
01 – Repentless
02 – Blood Red
03 – Disciple
04 – Mandatory Suicide
05 – Hate Worldwide
06 – War Ensemble
07 – Jihad
08 – When the Stillness Comes
09 – Postmortem
10 – Black Magic
11 – Payback
12 – Seasons in the Abyss
13 – Dittohead
14 – Dead Skin Mask
15 – Hell Awaits
16 – South of Heaven
17 – Raining Blood
18 – Chemical Warfare
19 – Angel of Death