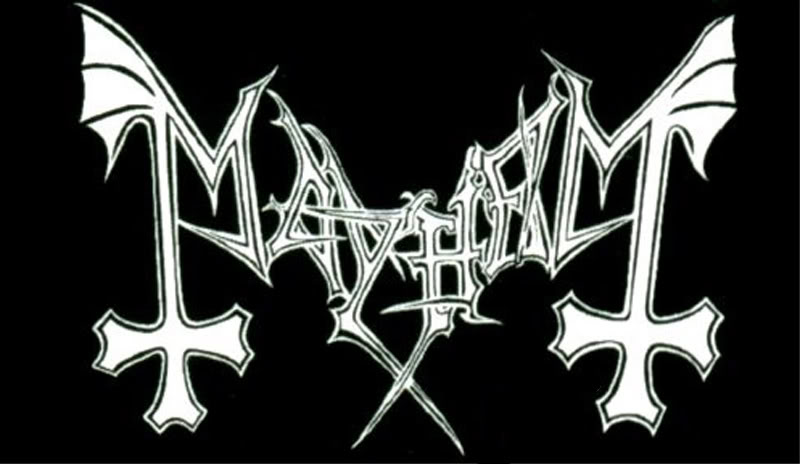 Mayhem, Dragged Into Sunlight, Voodus, 27th March 2017, Train, Aarhus, Denmark
28th March 2017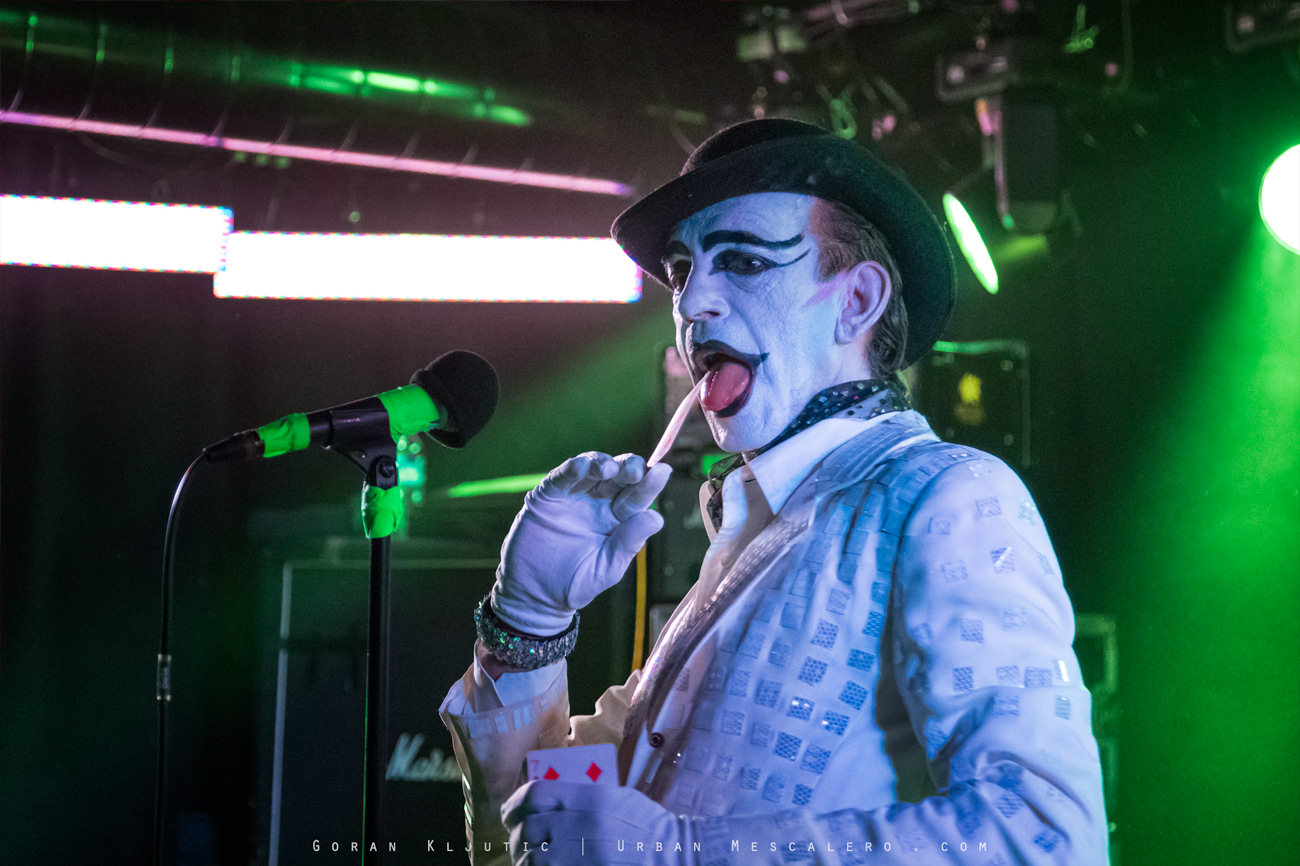 The Adicts, 3rd May 2017, BETA 2300, Copenhagen, Denmark
4th May 2017
Pain Of Salvation & Port Noir, 29th March 2017, Amager Bio, Copenhagen, Denmark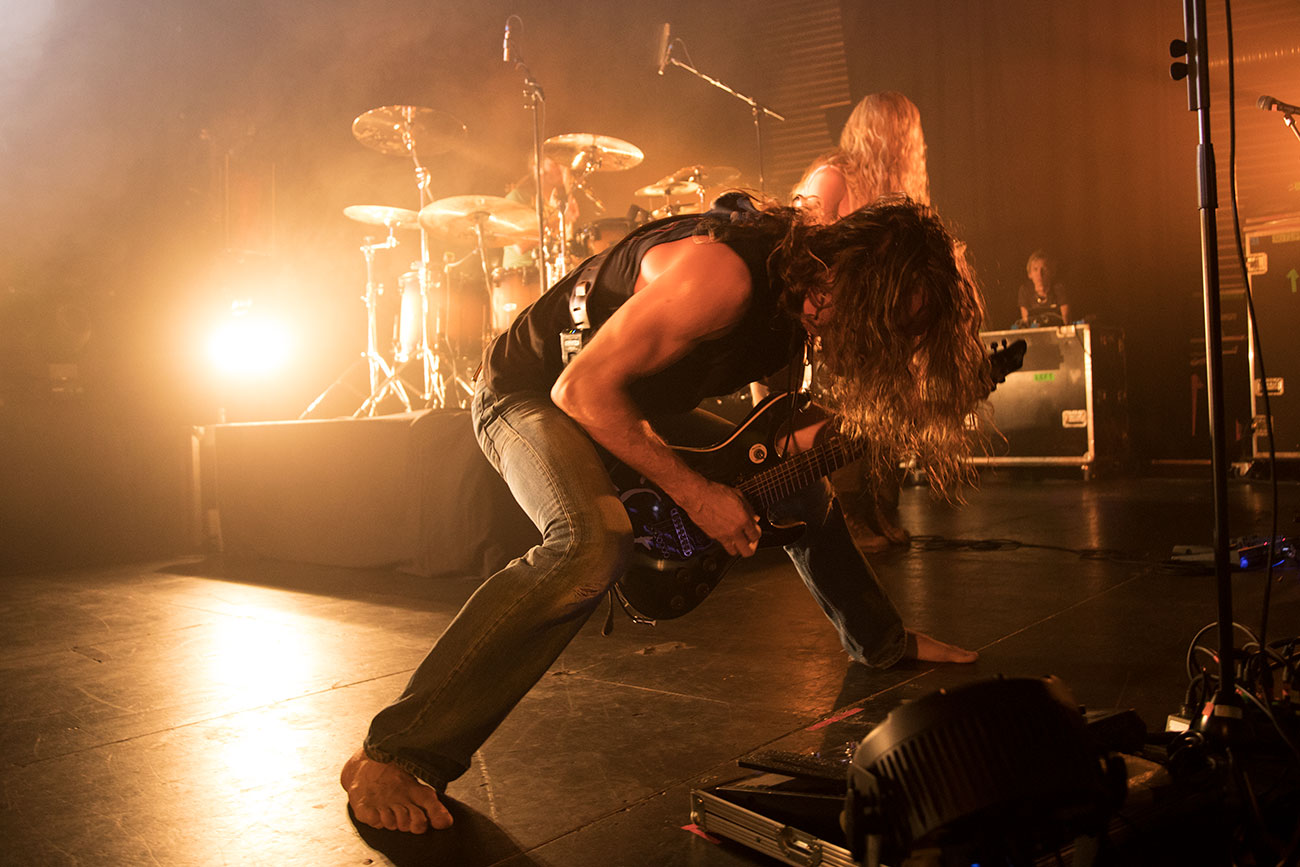 Pain Of Salvation & Port Noir, 29th March 2017, Amager Bio, Copenhagen, Denmark
Photo: Zoran www.sonic-view.com
After a long pause Pain Of Salvation have few months ago released a new album, which also marks the first album of new material to feature the new line-up of the band. Band's mainman Daniel Gildenlöw is now the only original band member left in the band.
The new album In the Passing Light of Day was most certainly worth a wait, but it was also an album that landed well with fans who were hoping for more of a prog rock/metal approach than the previous double release; Road Salt One and Road Salt Two.
Taking into consideration the long pause, great new material and new line-up, there was plenty to look forward to from band's gig at Copenhagen's Amager Bio.
Few weeks ago, I was startled to see Anthrax not being able to sell out this venue with capacity of 1200 people and while I had no expectations of Pain Of Slavation selling it out, I was surprised to see that only some 400 people found their way to Amager Bio this evening.
Taking that into consideration, last night's supporting band Port Noir drew a big crowd and while majority of people were not familiar with band's music, their straight forward rock was received well. Nonetheless towards the end of the show where the cheering in-between songs got longer and louder.
It's never easy to be a support band and it doesn't help when there are so few people in the crowd either, but Point Noir did a good job. They have definitely won some new fans last night and I can only respect their professionalism. It can't be easy to dedicate a song to recently passed band member and play it while you see the guy in the front row with his back turned to the band and a smartphone in his hand.
There days Pain Of Salvation is Daniel Gildenlöw, but especially live he does depend a lot on his band members. He is a stubborn man which hasn't always made things easy for him, but besides his talent and dedication, it's that brave stubbornness that resulted in diversity and importance that characterizes the band's catalogue.
And after a longer beak and nonetheless the band's first tour of USA in ages, you'd think that Gildenlöw would try to play is somewhat safe and play few new songs and focus more on crowd-pleasers from the back catalogue. Well, that's of course not at all what the band did. On contrary, they played six new songs, which took almost 2/3 of the show's total time.
But strangely this approach worked tremendously. Well "strangely", is perhaps a poor choice of word, because there are some definitely clear reasons to why it did work. First off all, the new songs are extremely good and the crowd knew them remarkably well. All the songs were delivered with surgical precision, while at the same time keeping (and in some cases even enhancing) their emotion and intensity. At the same time the band sounded crystal-clear with what must be one of the best sounding gigs I've experienced at Amager Bio.
The band opened with three new songs, which served as perfect display of diversity of the new material. The sound and intensity of performance was staggering, but in-between songs Gildenlöw was witty, charming and with a huge dose of self-irony. This served as a complete opposite to performance, (and songs for that matter) which gave a concert additional diversity.
In the middle of the show the band focused on four older songs, three from band's masterpiece Remedy Lane and the obligatory "Ashes". Surprisingly the highlight of the show came immediately after, in form of two new songs, the gorgeous and intense "Silent Gold" and the song that perfectly describes the band anno 2017 – "On a Tuesday". First of the two displayed some of the most beautiful and fragile harmonies I've heard in a while and the performance of such a quiet song with all five band members singing was nothing short of perfection.
Pain Of Salvation closed the regular part of the show with an unexpected performance of "The Physics of Gridlock", which once again underlined the superior skill of writing, arranging and performing five-men harmonies … this time in French(!).
Gildenlöw came back alone after a short break to perform the title song from Passing Light of Day. During the most of the show the crowd was surprisingly good at keeping quiet during the many quiet passages, with exception of a single group of highly intoxicated and inconsiderate nimrods to the left of the stage. By the time the encore started they were gone so Gildenlöw's invitation to open the body, mind and heart and give into this song was welcomed during the entire 15 minutes long song, nonetheless and the long quiet intro and the closing acapella section. The grand finale was epic yet vulnerable, colossal, yet it could fit in your pocket. A truly outstanding statement and a lesion in translating emotion of song-writing into a live performance.
The massive focus on new material worked impeccably and I wouldn't change a thing about it. Taking the quality of band's back catalogue, I can't help, but wish they'd add few more of my favourite songs to the set, just see experience them on this level. Almost two hours of music is by no means short, but with best sounding Pain Of Salvation I've ever experienced the egoist inside me just wishes that he could also hear them preform the likes of "The Big Machine", "Nihil Morari", "Cribcaged" and "Where It Hurts".
SETLIST:
1 – Full Throttle Tribe
2 – Reasons
3 – Meaningless
4 – Linoleum
5 – A Trace of Blood
6 – Rope Ends
7 – Beyond the Pale
8 – Ashes
9 – Silent Gold
10 – On a Tuesday
11 – The Physics of Gridlock
—————————————
12 – The Passing Light of Day