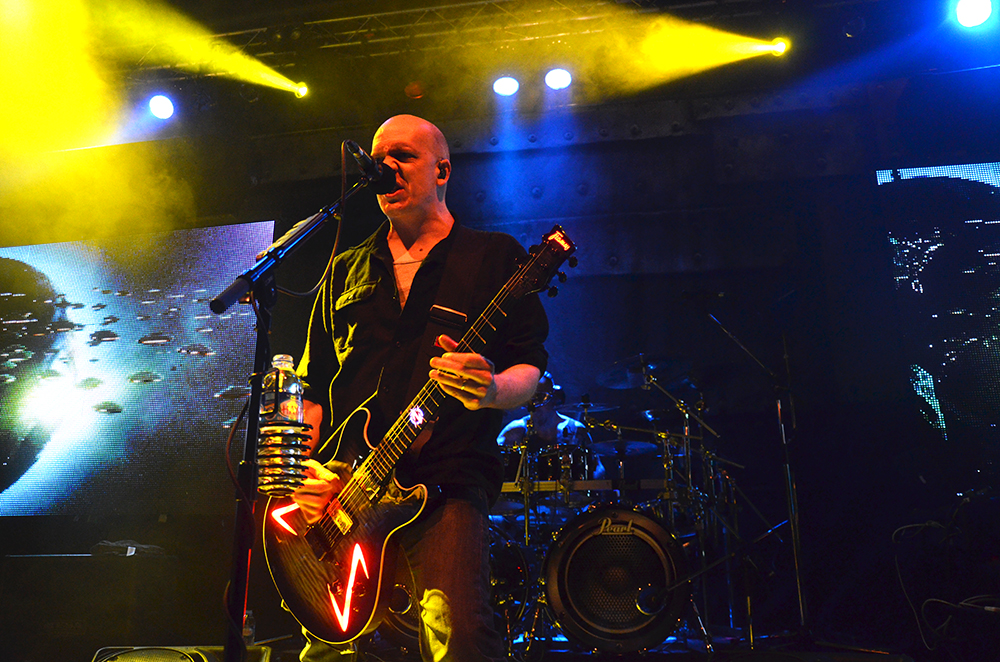 Devin Townsend Project, Periphery & Shining, 25th March 2015, Amager Bio, Copenhagen, Denmark
26th March 2015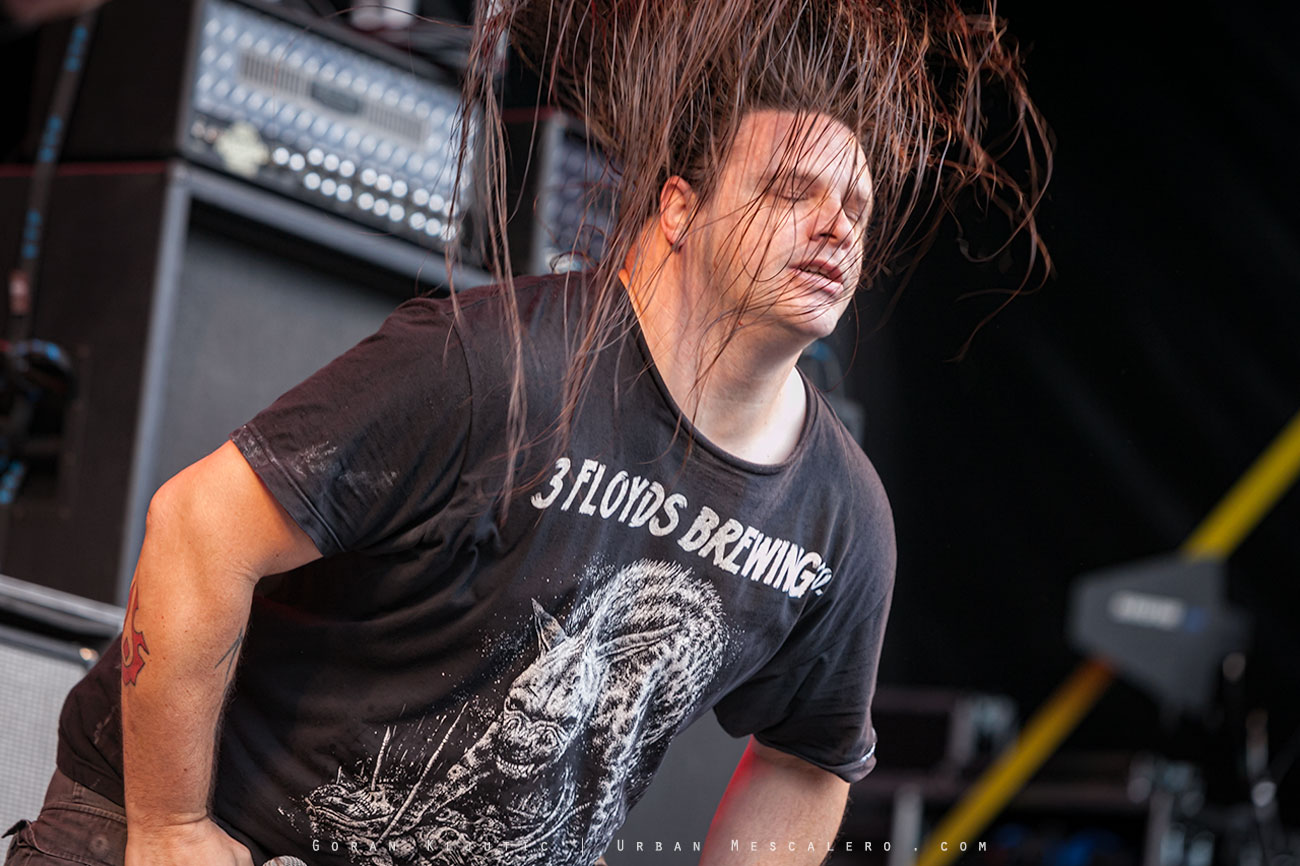 Cannibal Corpse, 18th June 2015, Hades: Copenhell Festival, Copenhagen, Denmark
21st June 2015
Therapy? 23rd Aptil 2015, Òran Mór, Glasgow, Scotland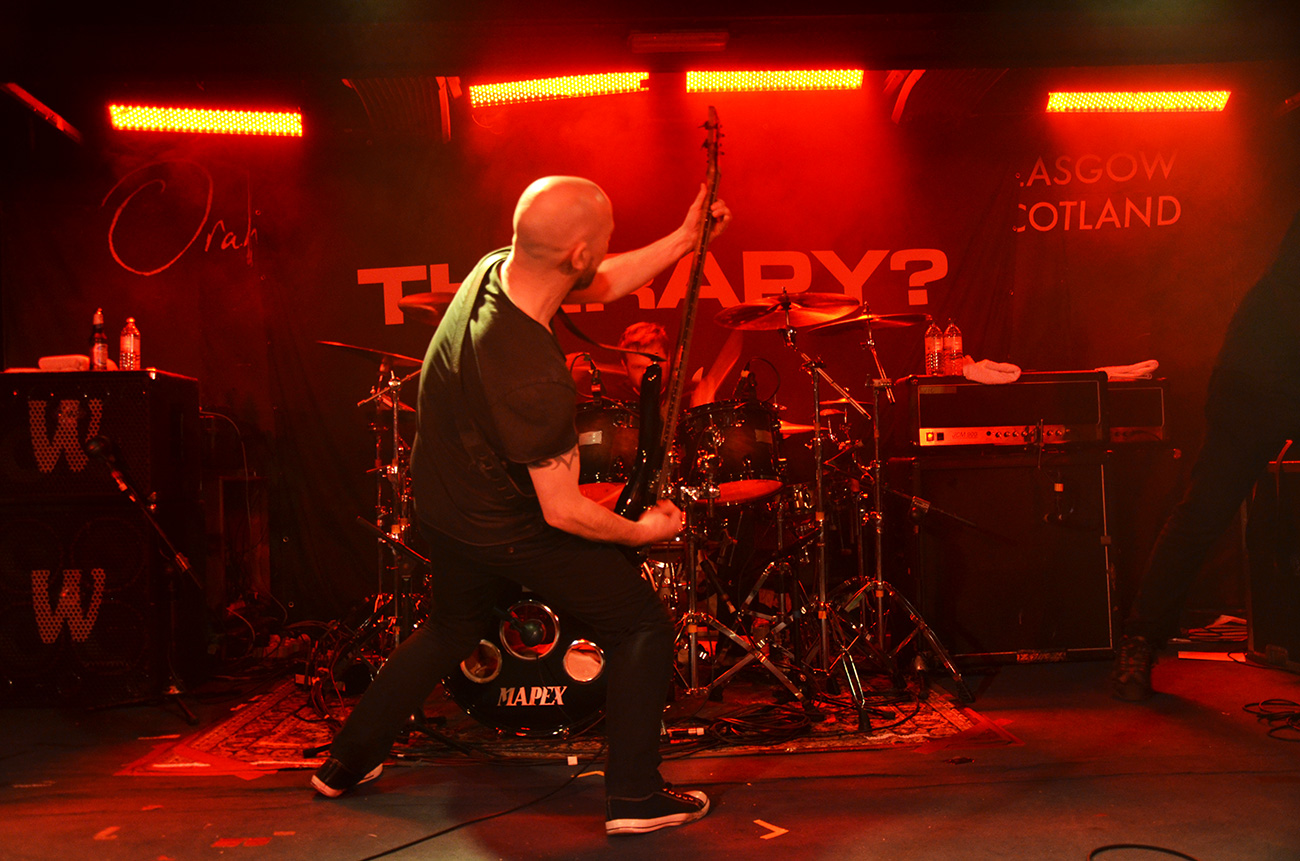 Therapy? 23rd Aptil 2015, Òran Mór, Glasgow, Scotland
Photo: Zoran www.sonic-view.com
I've been following Therapy? for couple of decades now and with the release of their fourteenth album, Disquete few weeks ago I decided that it was time to experience the band live again. The band rarely stops by Denmark, so in order to see them live; I usually head out in Europe. So for the tenth time seeing the band I decided to head out to Glasgow, Scotland to see the band play at one of the Glasgow's landmarks, Òran Mór church.
The small venue, with capacity of some 500 people, was close to sold out and the atmosphere was jolly in a very Scottish way. What a difference it was standing in this small venue days after standing in a 17.000 seat sold out arena in Amsterdam, Holland, watching System Of A Down. And what a fine reminder that music and good live performances are do not rely on the size of the venue.
Therapy? opened with the opener from new album "Still Hurts" which proved to be a fantastic opener in vein of "Knives". It was followed by two Therapy? classics from Troublegum era – cover of Joy Division's "Isolation" and "Die Laughing". And that very start served as a good indication to what to expect from the Glasgow show; much like the latest album that focuses on the band's more direct and immediate songs, the show tonight as well focused on more of a Troublegum kind of songs.
So of course there was plenty of focus on the new album, playing in total eight out of Disquet's 11 tracks, most of which worked very well live. I've spoken to band's singer Andy Cairns the day of the show and one of the things he pointed out about the new songs is that they have been received very well live and part of the reason for that, according to Cairns, was the songs' direct and immediate energy.
The focus on those types of songs on the setlist, resulted in not a single song from some of the more obscure releases, which is in a way a pity, taking into consideration that their previous four albums are, in my opinion, some of their fines releases. They actually only played songs from 5 of their releases. However, Therapy?'s a huge back-catalog offers so many good and interesting songs so it's not like there was lack of quality songs on tonight's gig.
But there is more to a Therapy?'s live shows than that. One of the aspects that keep me coming back to see the band live is the positive energy displayed by the band. In many ways, it's very contradictory to the themes of their lyrics and music in general, but that bland results in an unique feeling and in all the times I've seen the band play live I've never experienced them play without that positivity in their performance. It just seems like it comes naturally to them. Just try whipping the smiles off their faces when they are on stage.
If the response for new songs was very good then the response for the classics was great. People love those songs and they show it. "Screamager" and "Teethgrinder" were perfectly placed after somewhat misplaced "Insecurity" and closing of the regular part of the show and opening of the encore in form of (upbeat version) "Diane" and "Knives", was flawless. The set was closed with crowd-pleaser "Nowehere", that worked as good as ever, but I miss days where Therapy? closed their gigs, with odd mellow songs like "The Boy's Asleep", songs that added further strength to that fine positive approach to playing live and connecting with crowd, that these Irish lads master so well.
SETLIST
01 – Still Hurts
02 – Isolation
03 – Die Laughing
04 – Idiot Cousin
05 – Turn
06 – Torment Sorrow Misery Strife
07 – Stories
08 – Words Fail Me
09 – A Moment of Clarity
10 – Fall Behind
11 – Nausea
12 – Tides
13 – Insecurity
14 – Screamager
15 – Teethgrinder
16 – Deathstimate
17 – Diane
—————————-
18 – Knives
19 – Skinning Pit
20 – Potato Junkie
21 – Nowhere