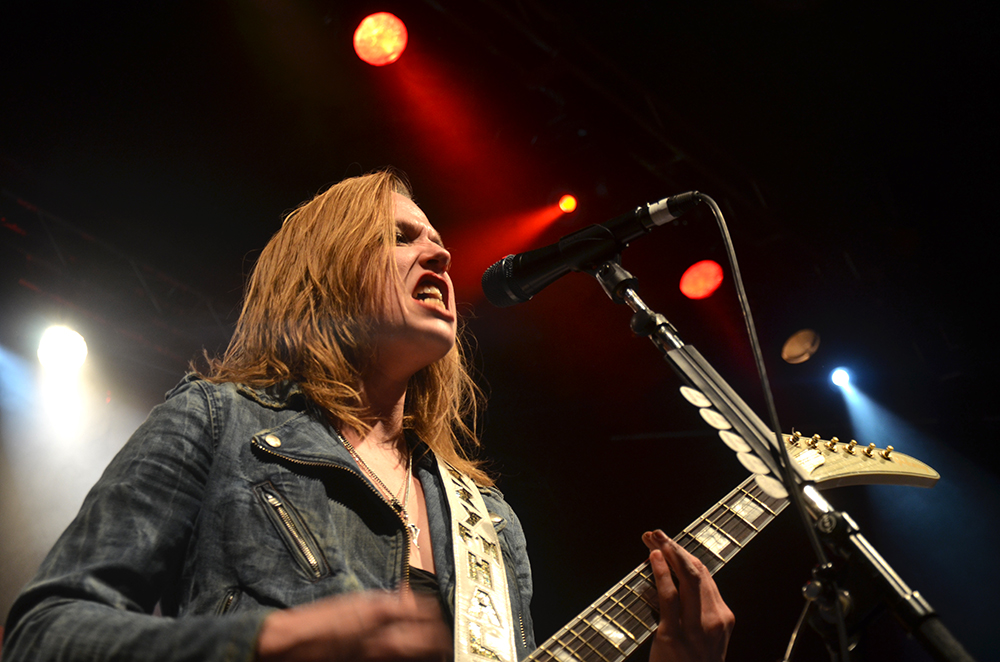 Halestorm, Nothing More & Wilson, 23rd March 2015, Amager Bio, Copenhagen, Denmark
24th March 2015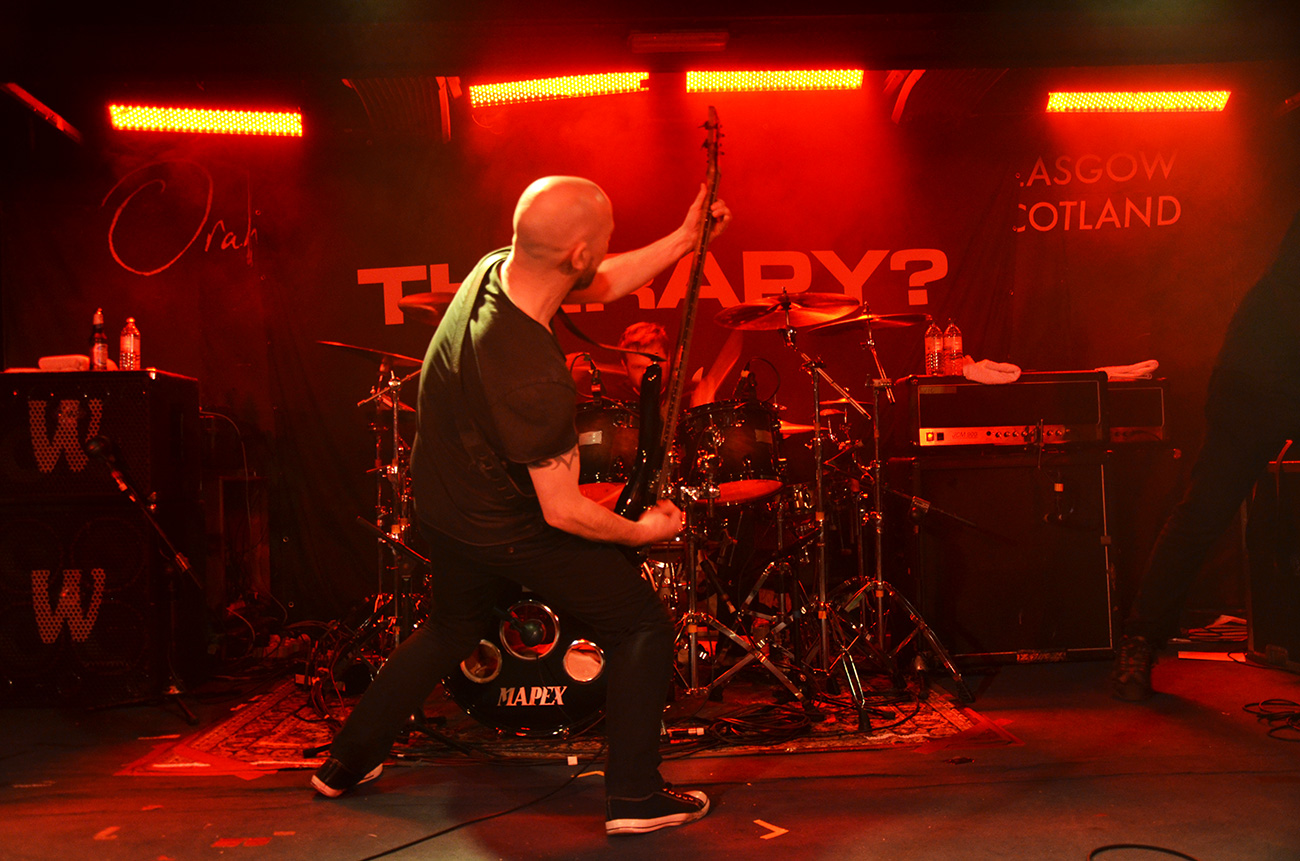 Therapy? 23rd Aptil 2015, Òran Mór, Glasgow, Scotland
26th April 2015
Devin Townsend Project, Periphery & Shining, 25th March 2015, Amager Bio, Copenhagen, Denmark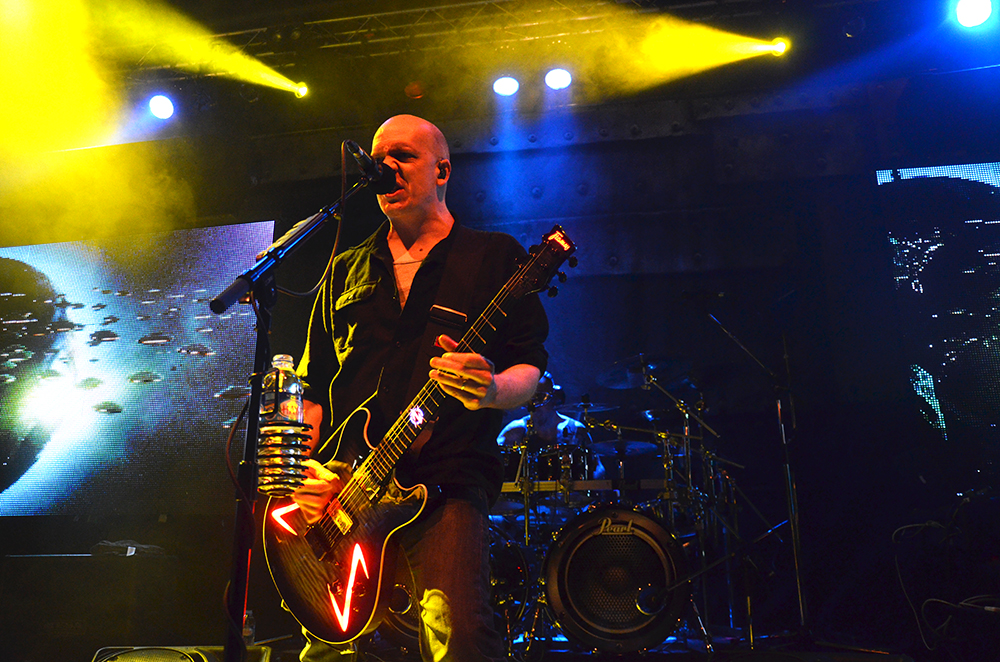 Devin Townsend Project, Periphery & Shining, 25th March 2015, Amager Bio, Copenhagen, Denmark
Photo: Zoran www.sonic-view.com
Hevy Devy is back in Denmark. He visits regularly and whenever he does, it's guaranteed to be an enjoyable experience for the fans.
Much like on his many releases, live the Canadian musician delivers a cocktail that at times might seem overwhelming, but for sure also unique and dedicated. Townsend plays by his own rules and despite (or perhaps thanks to?) that he has a big following around the world. Still I found it somewhat surprising that so many people came out to see him this cold evening in Copenhagen's Amager Bio. The gig was not sold out, but it wasn't far from it either. Moreover, a big number of people showed up early to see both of the two interesting supporting acts.
First off Norwegian avant-garde/metal/jazz (and much more) band Shining. What as fine match for the insanity of DTP. To start with it got bit overwhelming for the audience, but couple of songs into their sets the band managed to get more out of the audience, especially during the songs with somewhat simpler structure.
Musicanhip of Shining is outstanding with vocalist/guitarist/saxophonist Jørgen Munkeby taking most of attention. But importance of the rest of the band and their interplay shouldn't be neglected. Especially Torstein Lofthus behind the drums impressed by simply amazing energy of metal drummer and feel of a jazz virtuoso. Despite the loud performance, it was pleasure to experience Lofthus' energy, feel and usage of ghost notes.
Shining are insane, down to earth and charming. As such, they are a perfect match for DTP.
SETLIST:
01 – The Madness and the Damage Done
02 – The One Inside
03 – Fisheye
04 – My Dying Drive
05 – Healter Skelter
06 – I Won't Forget
Next off, Periphery seemed like another good choice for a DTP support act appealing to the less insane and more straightforward side of DTP.
Unlike Shining, majority of people were familiar with Periphery and a big number of them were fans, which made their show opener "Icarus Lives!" that more fun. Almost as if it was the headliner up there on the stage.
Unfortunately the band themselves didn't take advantage of that. On contrary. During the entire set the band appeared uninspired and bored, with no chemistry on stage or with the audience.
This resulted in the audience losing their spark as well, which is such a pity, nonetheless when there were so many fans in the audience.
At times, it was almost embarrassing looking at the band on stage and it was only Matt Halpern behind the drums, that displayed some enjoyment and dedication.
Periphery is an interesting band and I do hope to catch them on a better day sometime soon.
SETLIST:
01 – Icarus Lives!
02 – Make Total Destroy
03 – The Scourge
04 – Psychosphere
05 – 22 Faces
06 – The Bad Thing
07 – Alpha
08 – Graveless
It's not often that Amager Bio witnesses two big screen on it's rather small stage, but Devin Townsend Project took their with him and true to the tradition, they were up and running long before the concert start, showing anything from poorly manipulated images to bizarre short films. Fun way to kit time in-between show.
Taking the stage the first thing from Townsend's mouth was an apology for perhaps not sounding that good, because he's feeling under the weather. Not an optimal way to start a show.
What followed was fortunately Hevy Devy as we know it and despite the cold, he sounded more than ok. Already during the instrumental opener "Truth", Townsend has managed to connect with the crowd more than Periphery did during the entire show.
Townsend is energetic, fun and so down to earth that it almost hurts. Witnessing DTP's show is experience for many senses it's remarkable to see how the simplicity of the bands appearance on the stage works so extremely well with the musical complexity. These elements somehow balance themselves out and create a unique experience, pulling out the best off the both extremes.
Townsend was smiling and he looked happy and grateful to be on stage. He's not a typical artist and he seems to be very much aware of it, and that makes it easier for him to connect with the crowd.
Setlist spanned over the most of Townsend's enormous solo career and despite the diversity of the material setlist had a good flow. Highlights were many, but the live classics "March Of The Poozers" and "Lucky Animals" (with obligatory jazz-hands choreography) were spot on. The same goes for "Ih-Ah!" and blistering "Rejoice", while "Hyperdrive" and "A New Reign" seemed somewhat misplaced.
DTP is a proof that artistic freedom (madness?) and down on earth approach can result in an experience that is artistically challenging for the crowd, but at the same time fun and comfortable. DTP can that which few can and for that I'll grab any chance I get to see them live.
SETLIST:
01 – Truth
02 – Deathray
03 – Namaste
04 – Night
05 – Storm
06 – Hyperdrive
07 – Rejoice
08 – Addicted!
09 – March of the Poozers
10 – A New Reign
11 – Lucky Animals
12 – Life
13 – Christeen
14 – Ih-Ah!
15 – Kingdom