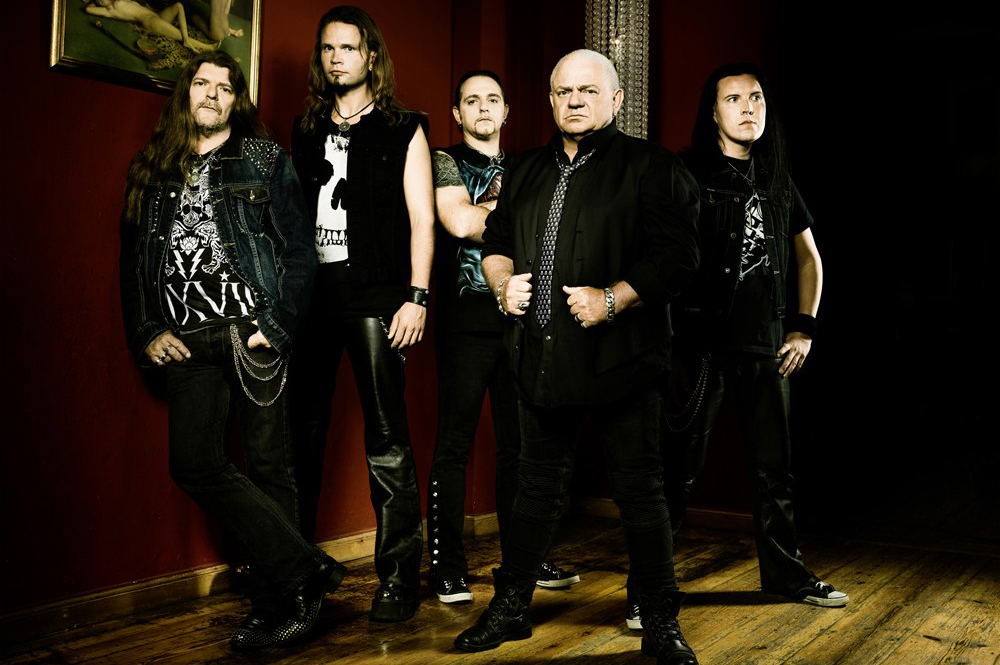 Dirkschneider & Raven, 29th November 2017, Voxhall, Aarhus, Denmark
30th November 2017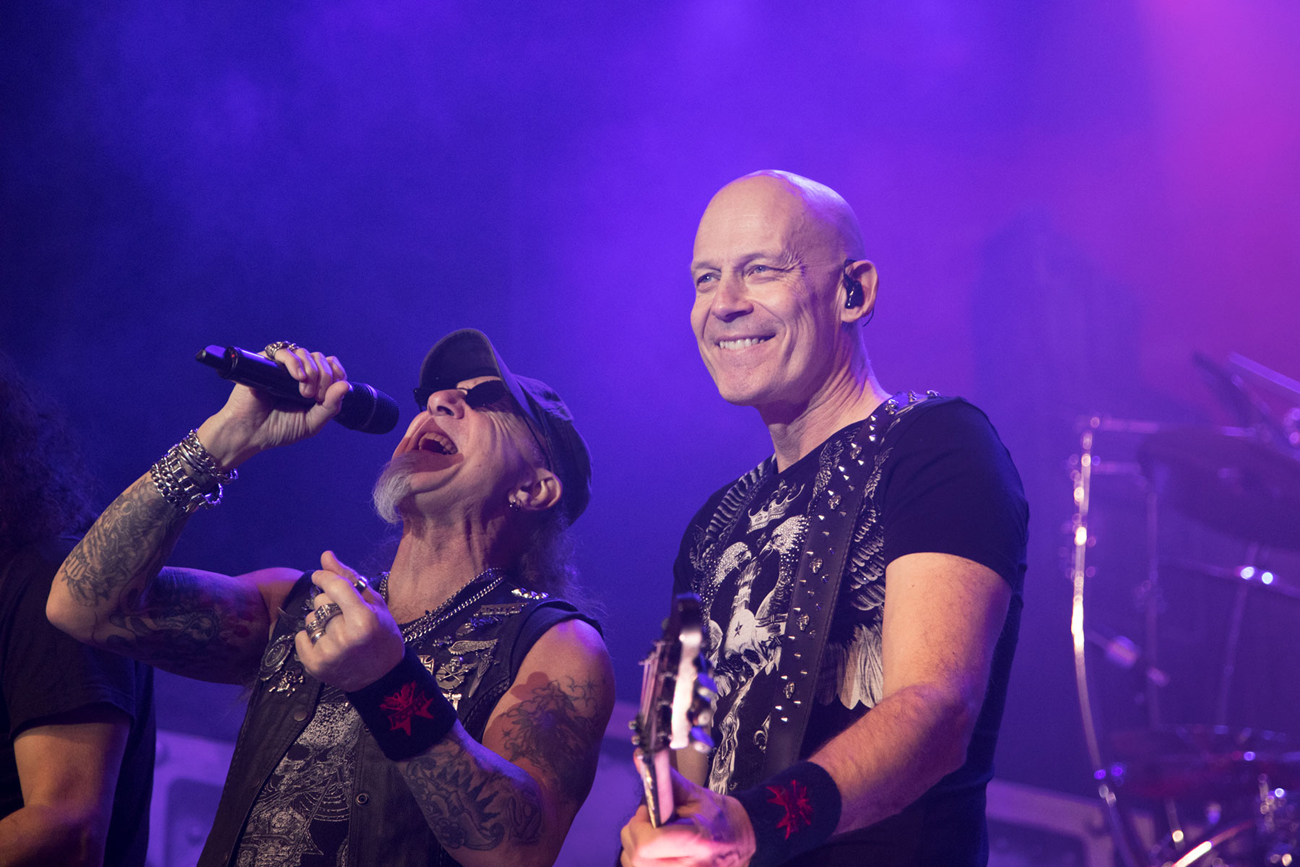 Accept & Night Demon, 11th February 2018, Vega, Copenhagen, Denmark
12th February 2018
Scorpions & Pretty Maids, 29th November 2017, Royal Arena, Copenhagen, Denmark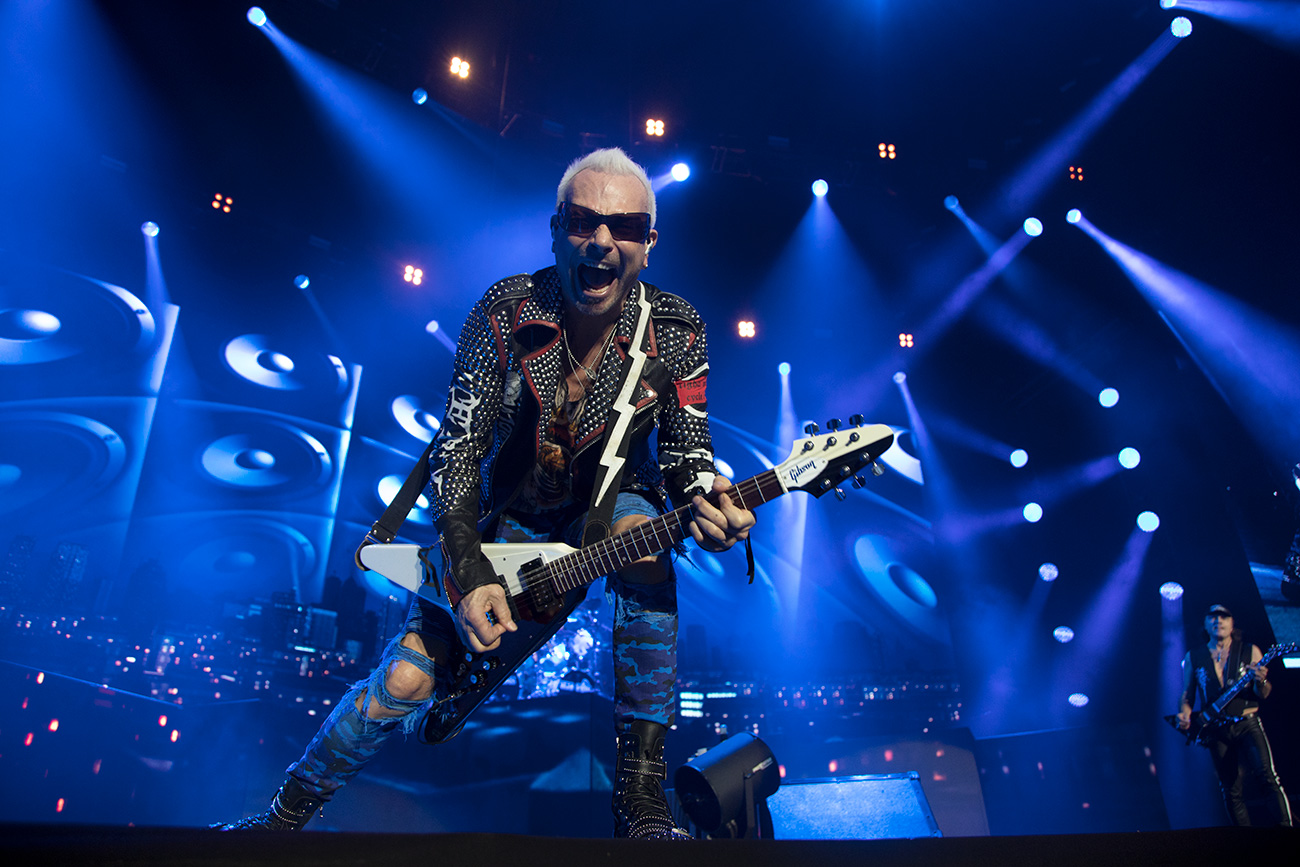 Scorpions & Pretty Maids, 29th November 2017, Royal Arena, Copenhagen, Denmark
Photo: Goran Kljutic www.urbanmescalero.com
Last year whilst celebrating their 50-year anniversary with their Danish gig at Copenhell festival, Scorpions played one of the best concerts in the festival's history. This time around the band is back for their own headlining show at new Royal Arena i Copenhagen, so at least this time they won't have to deal with the pouring rain.
Scorpions might be a big name, not only in rock, but also mainstream sense, but it still somewhat surprising that they can manage to draw some 10.000 people for a show on a cold Wednesday evening.
After mighty display of power on all levels at their last year's gig, expectations were massive, to say the least and it was hard to see how the German veterans could live up to them.
For this show, Scorpions have chosen the most obvious support band in the entire world – Danish Pretty Maids. Few days before this gig the band played a headline gig at a place with capacity of 500 and today they'll be playing Hard Rock Café in Oslo. Fortunately, this is the band with decades of experience behind them, a band that has played almost any size venues in their career, so they felt at home in front of huge audience at Royal Arena.
Much like the case is with most support bands, the sound was not that good, but it did get better couple of songs in. And around that time they also got better hold of the crowd as well. They never did become a Danish household name, but they are part of Danish subconscience, and more of Danes have nostalgic feelings towards Pretty Miads' cover of "Please Don't Leave Me", then they do towards John Skyes' 1982 original.
They closed the set with title track form Futufre World, which came out 30 years ago. The closer suffered by lack of focus from the crowd, who were apparently busy telling the stories connected with "Please Don't Leave Me", because everyone has at least one of those stories in Kingdom Of Denmark.
PRETTY MAIDS SETLIST:
01 – Mother of All Lies
02 – Kingmaker
03 – Red, Hot and Heavy
04 – Rodeo
05 – Another Brick in the Wall / I.N.V.U.
06 – Bull's Eye
07 – Please Don't Leave Me
08 – Futufre World
Already during Pretty Maids' gig, it was clear that Scorpions have brought a big stage with them, much bigger than one they played last year at Copenhell, but once the curtain in front of the stage dropped and the band hit with "Going Out with a Bang" it was clear that Scorpions have truly taken the heaviest of the artillery with them. Massive screens filled just about every available inch and if possible drummer Mikkey Dee was placed even higher up.
The impact of visuals and power of musical was almost overwhelming, but when it all works as well together as it does when done by Scorpions, it just makes sense.
Scorpions have never been one of those bands who flash their technical skills in nerdy over the top manner, but by God these people can play. Their surgical precision mixed with with plenty of feeling and joy of playing can be matched by few and this, in their sixth decade as a band. Let that sink in for a second.
"The Zoo" proved once again to be not only a live Scorpions classic, but also just about a perfect third song in a live set, nonetheless when its followed by "Coast to Coast", which is one of those rare instrumentals that I could listen to for hours on a loops. Especially when live.
After a tribute to long-time fans in form of 70's medley, things slowed bit down, also energy wise. The acoustic medley with entire band on the catwalk section of the scene didn't work as well it should, due to low volume and no weak drum sound from somewhat misplaced digital drum set.
But things quickly picked up, in form of immortal "Wind of Change", which despite its colossal mainstream overexposure still works perfectly live. Not only because of its mass appeal, but even more so because of the emotional effect it has on people.  Rudolf Schenker has for this song created a timeless guitar solo and even to this day he delivers it with such feeling.
And speaking of guitars, the tightness, sound and feeling in Schenker's and Jabs' playing is jaw-dropping no matter how many times you see them play live.
The latest addition to band Motörhead's drummer Mikkey Dee is shot of adrenaline for the band, because of his power and likable stage presence. Behind the drums he is a powerhouse. He might lack the feel and groove that is trademark of some of the older Scorpions material, but live he's worth its weight in gold. It was also him who made the cover of Motörhead's "Overkill" work, because, covering Lemmy Killmister isn't Klaus Meine's strong side. Unfortunately, Dee's drum solo was way too long, but it goes without saying that the elderly gentlemen from Scorpions do need a little break before the finale of the show.
But any memory of that drum solo was wiped away by the opening riff of "Blackout". "Big City Nights" served as textbook closer of the regular part of the show.
Of course, they got back to the notes of "Still Loving You", which once again reminded everyone of the amazing song-writing talent of this band, but also how impressive Meine's voice is at age of 69.
Scorpions succeeded in just about all aspects of this show. That makes it harder to get hanged up on a fact that calling the tour "Crazy World Tour" doesn't make much sense if you only play song and the half from Crazy World album or the fact that setlist was bit too safe and almost identical to the one from their previous Copenhagen concert.
Victory and an overall lession in how to play a big rock show.
SCORPIONS SETLIST:
01 – Going Out with a Bang
02 – Make It Real
03 – The Zoo
04 – Coast to Coast
05 – Top of the Bill / Steamrock Fever / Speedy's Coming / Catch Your Train
06 – We Built This House
07 – Delicate Dance with Matthias Jabs solo
08 – Always Somewhere / Eye of the Storm / Send Me an Angel (Acoustic medley)
09 – Wind of Change
10 – Rock 'n' Roll Band
11 – Overkill with Drum Solo
12 – Blackout
13 – Big City Nights
—————————
14 – Still Loving You
15 – Rock You Like a Hurricane