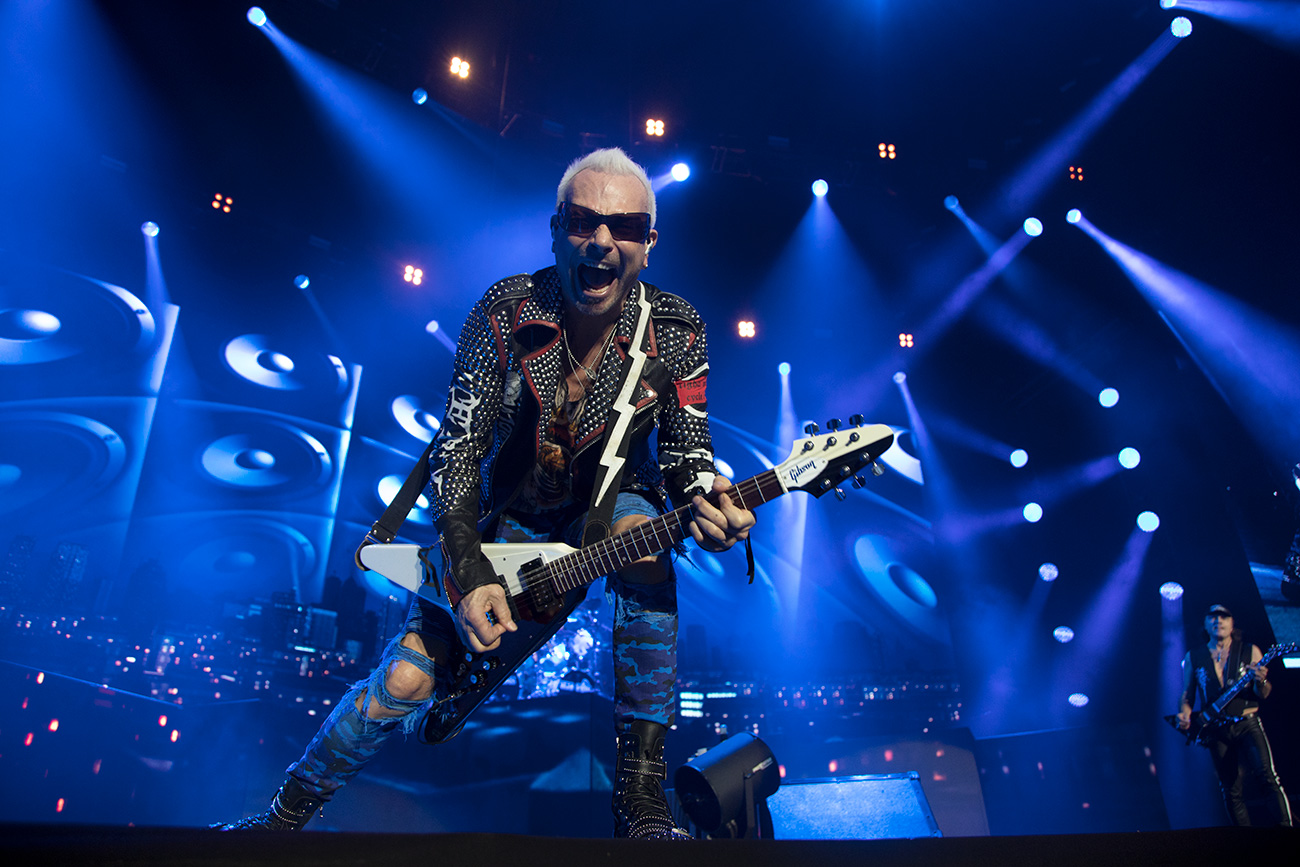 Scorpions & Pretty Maids, 29th November 2017, Royal Arena, Copenhagen, Denmark
30th November 2017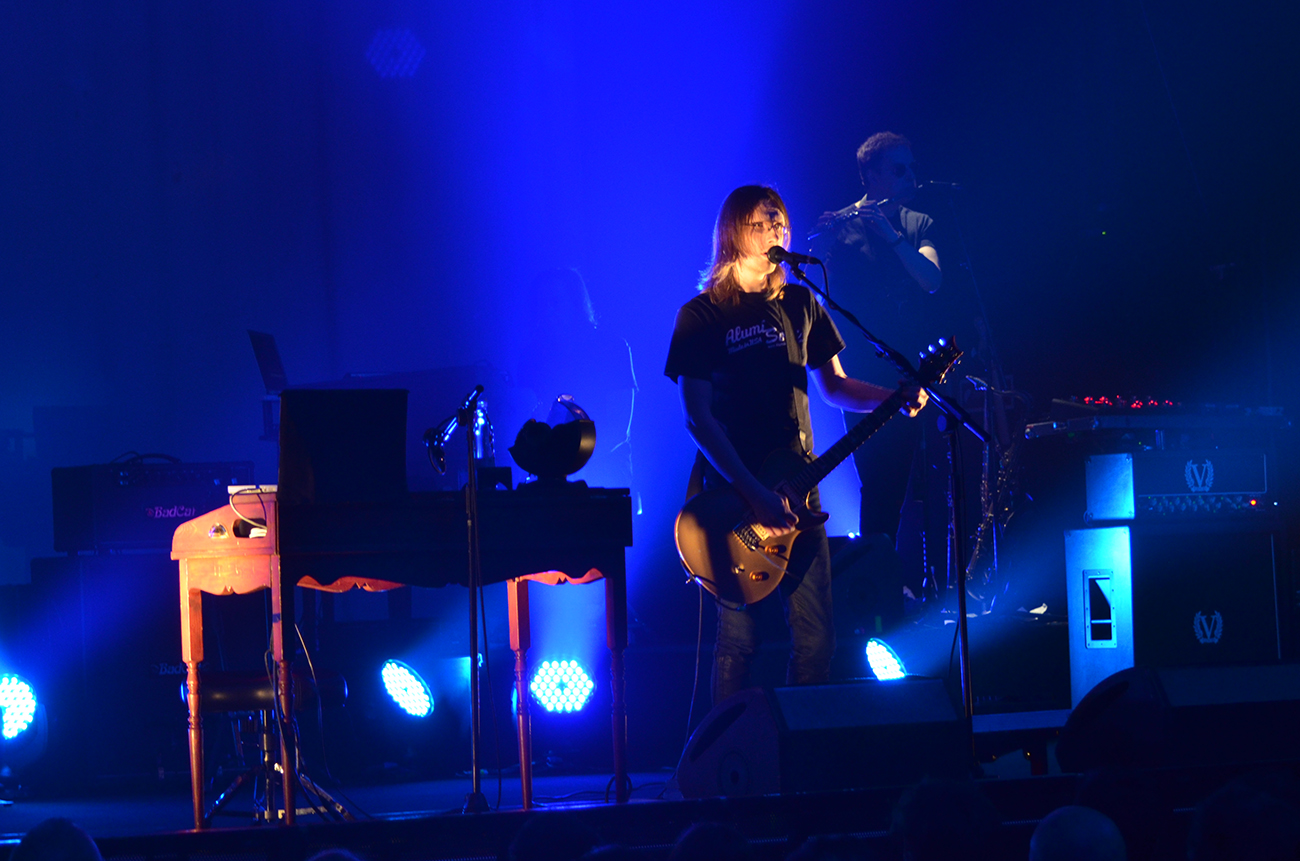 Steven Wilson, 3rd March 2018, Vega, Copenhagen, Denmark
4th March 2018
Accept & Night Demon, 11th February 2018, Vega, Copenhagen, Denmark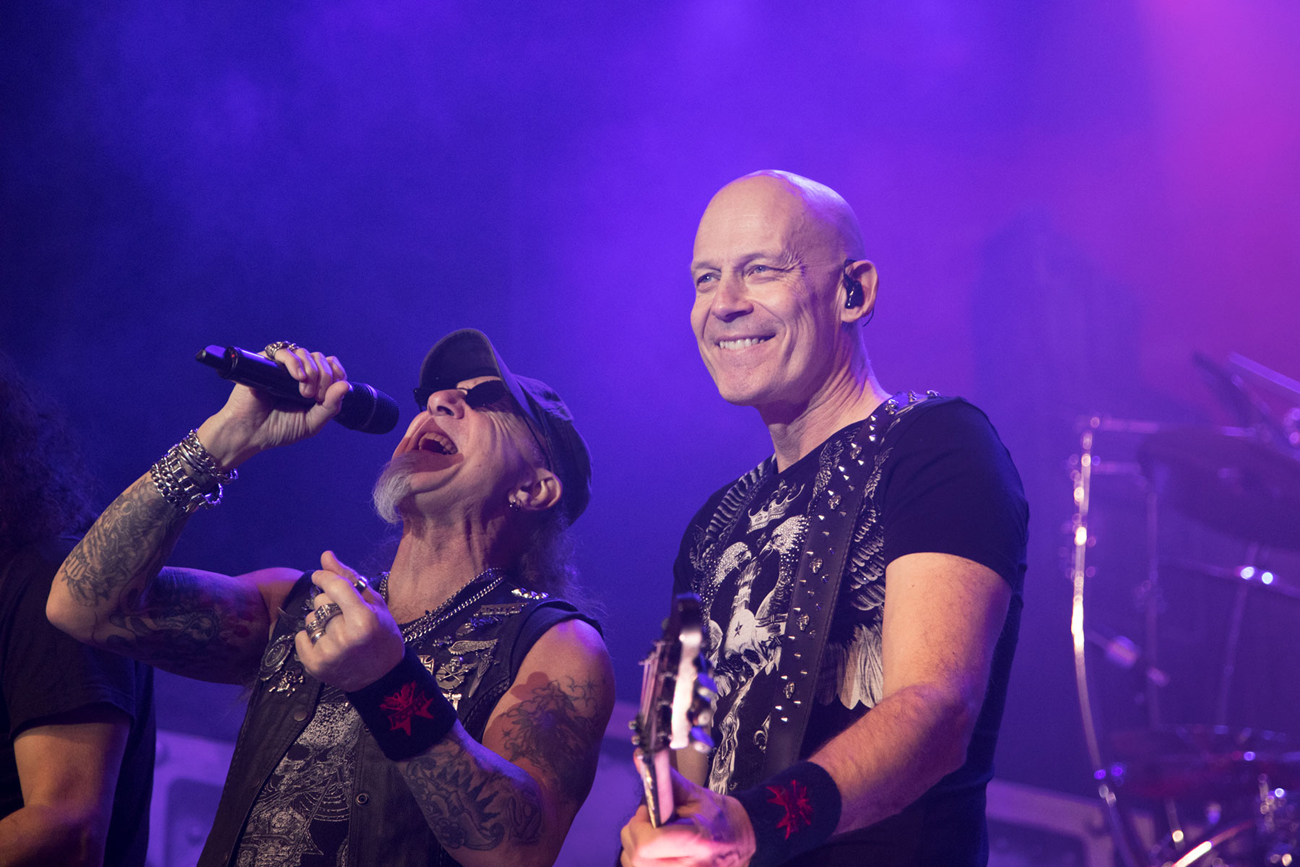 Accept & Night Demon, 11th February 2018, Vega, Copenhagen, Denmark
Photo: Zoran www.sonic-shot.com
Not many established bands manage to truly get away with change of vocalist, let alone when the replaced vocalist is as iconic Accept's Udo Dirkschneider. But with introduction of his replacement almost a decade ago the German metal legends did just that. Mark Tornillo does the old material justice, by all means, but he also ads his own stamp to the band and with him on-board Accept has released some outstanding records. The latest album The Rise of Chaos, however, sees the band releasing the weakest album of Tornillo-era.
Supporting Accept on this tour is the American power trio Night Demon. If you are not familiar with the band just imagine if you stumbled upon a demo of Iron Maiden with the unknown singer after Paul Di'Anno left and Bruce Dickinson joined the band.
The band opened up with energy you'd expect from them a sound that was surprisingly good for a support band who only got a small part of the stage.
Band's music is not only inspired by NWOBHM, but I's an ode to the movement. At times, they feel like a cover band, but what Night Demon does extremely well is deliver their music with conviction, passion and massive dose of energy. Night Demon come across as honest and down to earth, which makes them very likable.
Last night they did have their work cut out for them. Few songs in Dusty Squires smashed the skin on his kick drum. They tried to tape it up, but that broke right after and we got an entire song without kick drum which is an odd and flat experience. At one point, even Accept's drummer Christopher Williams came out to help tape up the skin. That helped for another couple of songs, but not more than that. Williams showed up again and they replaced the damaged kick drum with Accept's kick drum. It all took some time which shaved some of the energy and flow from the show. It also meant that Night Demon played fewer songs. But the band's approach and likability factor helped making this a positive experience.
They closed with Iron Maiden's "Wasted Years" which not only got the crowd singing along, but also showed the it's possible to make this song kick ass with one guitar and Motörhead-sounding bass. This is band that needs to be experienced at one of their headlining club shows.
Accept opened with "Die by the Sword" from the new album, which not only proved to be a grand opener, but also sounded great right from the start. "Stalingrad" is a perfect song-number-two and band delivered it flawlessly.
Experiencing Wolf Hoffmann live is a treat not only because of his playing and razor-sharp sound, but just as much because of his stage presence. Hoffmann is one of those performers who takes enormous amount of attention on the stage, but unlike numerous others who come across as self-centred, he comes across as quite the opposite. His charisma is magnetic, but constant smiling and eye-contact with the crowd give his presence a heavy dose of down-to-earth quality.
The band, in general, has a very vital stage presence, which is impressive taking into consideration their age and some four decades of playing live behind them.
At age of 63 Tornillo's singing is impressive despite some minor fall-outs here and there. With him in front Accept have found a perfect replacement for Udo Dirkschneider. New members Christopher Williams and Uwe Lulis fit the band well technically, but also on the stage.
On the negative side, after first five songs the energy dropped some during following few songs. The band turned things around and came back with full force during "Shadow Soldiers" and the rest of the regular part of the show offered number of highlights such as "Neon Nights", "Princess of the Dawn" and "Up The Limit". "Objection Overruled" worked well, but was thinned out by unnecessarily long guitar/bass duel.
After a very short break the band came out blazing with "Metal Heart" and a new(-ih) classic "Teutonic Terror". The obligatory closer "Balls to the Wall" perfectly rounded up what turned out to be a true heavy metal fest. Accept played a heavy metal show with just about all its aspects executed exceptionally and vigorously.
SETLIST:
1 – Die by the Sword
2 – Stalingrad
3 – Restless and Wild
4 – London Leatherboys
5 – Breaker
6 – The Rise of Chaos
7 – Koolaid
8 – No Regrets
9 – Analog Man
10 – Final Journey
11 – Shadow Soldiers
Wolf Hoffmann guitar solo
12 – Neon Nights
13 – Princess of the Dawn
14 – Midnight Mover
15 – Up to the Limit
16 – Objection Overruled
17 – Pandemic
18 – Fast as a Shark
——————-
19 – Metal Heart
20 – Teutonic Terror
21 – Balls to the Wall