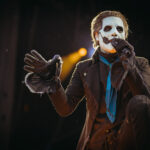 Ghost, 17th June 2023, Helviti, Copenhell Festival, Denmark
19th June 2023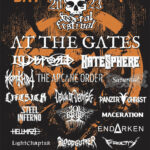 Konkhra, Dawn Of Demise, Maceration, Panzerchrist, Solbrud, Bloodgutter, Steel Inferno, Ferocity, Lightchapter, 3rd November 2023, Studenterhuset, Aalborg Metal Festival, Aalborg, Denmark
9th November 2023
Life of Agony, Prong & Tarah Who?, 3rd November 2023, Pumpehuset, Copenhagen, Denmark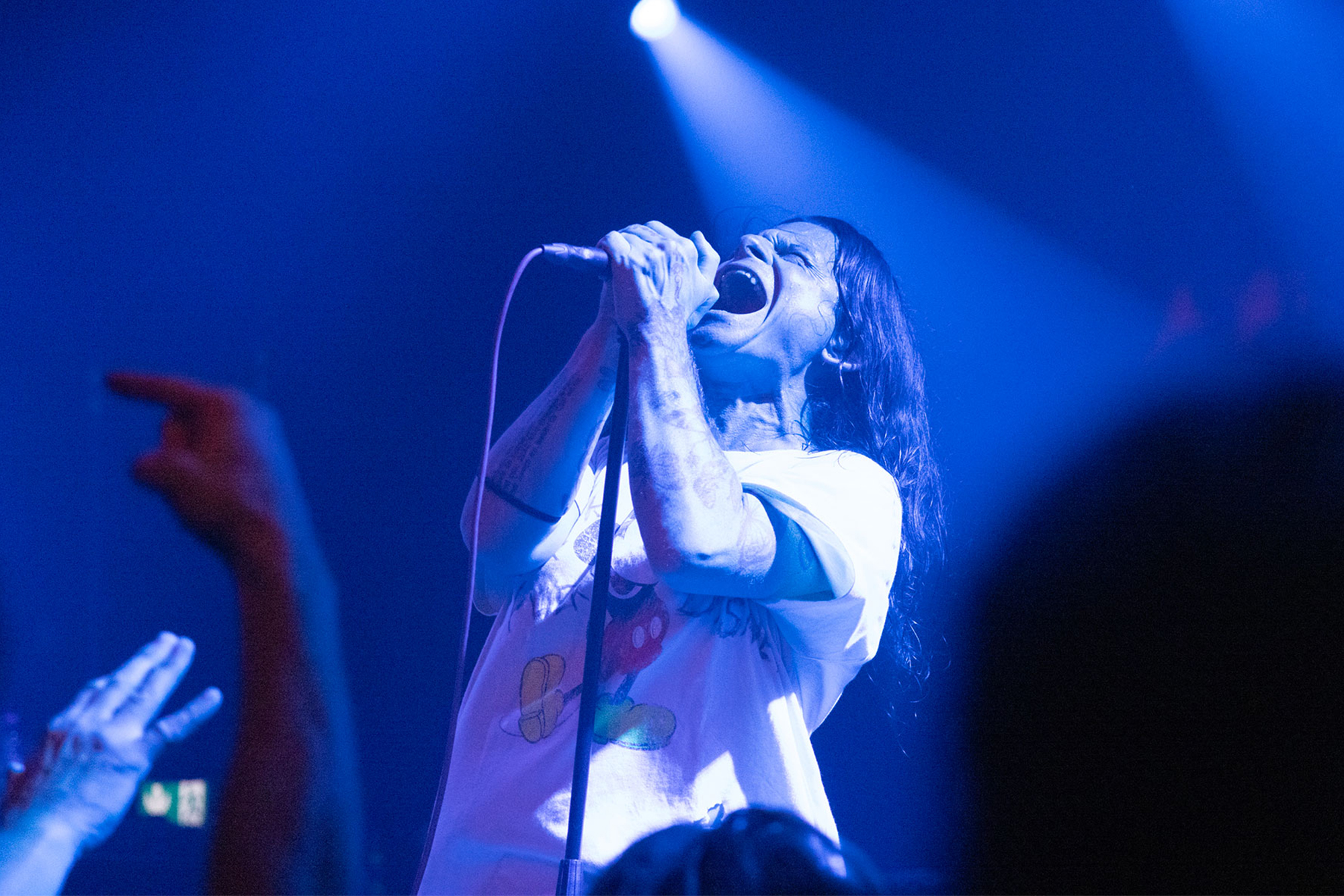 Life of Agony, Prong & Tarah Who?, 3rd November 2023, Pumpehuset, Copenhagen, Denmark
Photo: Zoran: www.sonic-shot.com
How about that line-up for a Friday night? The concert was announced when Life Of Agony played Copenhagen last time in June at this year's edition of Copenhell Festival. The show was quickly sold out and there are perhaps several reasons for that. First of all, they chose a smaller venue then the last time their headlined a show in Copenhagen and played half empty Amager Bio venue. Second of all, the fact that Prong was joining them must have contributed to quick sell-out as well. And last but most certainly not least, their aforementioned performance at Copenhell was such victorious and joyous experience that it must have opened eyes of some of those who might not have been as familiar as with the band.
Los Angeles based duo (fourpiece in live setting) is a rather good and fitting pick for this tour. Their music works very well with both other bands, yet they give the audience different experience with more of a punk/garage rock approach and even an overall grunge feel. On paper, this is one of those bands that just must work well live. Unfortunately, the early opening slot at 7:30 PM meant that there were hardly any people there by the time the band took the stage. As their 30-minute show progressed more people made their way into the main venue. By the time Tarah Who? There was good positive energy coming from the stage, but it never really gelled with the audience. On the other hand, the band did their job just fine and for sure have gained few new potential fans. Hopefully, they'll also get to play some small headlining shows around here in near future, because where the band is at in their career now, those small clubs with, knee-high stages and ceilings that are too low, seem like a best place for them to unleash that, which is Tarah Who?.
It's somewhat dazzling to think that it has been almost 35 years since the release of Prong's debut album and the band has been around even longer. The only original band member left has for decades been band's leader Tommy Victor. They have also has just released their 13th album State of Emergency, which was of course represented in last night's setlist. This being a support slot meant that there was not time for the band to play many of songs you'd expect from them to play in their own headlining shows. Nevertheless, there was bit of everything on there, with focus on upbeat classics and new songs, the band kept focused on that which works in the timeframe they were given.
So, there was no surprises or curveballs, but rather some serious bashing. There was a good dynamic on stage and Victor's track record in itself projects so much respect, also on stage. They were bloody noisy, at time perhaps even too noisy for it to be truly enjoyable sonic experience, but despite it all Victor's razor-sharp distinctive guitar tone was all over the place. The band worked for it, at times perhaps even too hard, like when after countless failed attempts at getting a circle-pit going they insisted on getting at least one circle-put last night. And they did get it when band's bassist Jason Christopher stated, "If only one of you starts, the rest will follow". It seemed so desperate, but we did get to see a circle pit as they launched into "Snap Your Fingers, Snap Your Neck".
There is consistency when it comes to Prong, live as well as on the records and in many ways, you know what you'll get. This means that new songs worked very well live as well, with especially "Breaking Point" looking as a song, which will have its place in Prong's setlist in years to come.
If Tarah Who? Loosened the crowd up, then Prong truly did warm them up for what was about to come.
At that one hell of a performance at Coprenhell Festival earlier this year Life of Agony focus was on their pivotal debut album River Runs Red. And while this might be their most defining album and focusing on it live, apparently works very well, it is somewhat of a pity not to be able to experience lots of their other albums live, because Life of Agony is one of those rare bands who don't have a weak album in their back catalogue. But Playing better part of River Runs Red did work so well and taking into the consideration that the album did turn 30 just days before this concert, it did make sense to play it in its entirety. And so, they did. And what a joyous experience it was. Even more so than on their previous visit.
Right from the start, as soon as that Pink Floyd into finished the 600 strong sold-out crowd witnessed a concert, which was on just about all levels a lesson in how to play a rock gig. So much genuine positive energy between band members and between the band and the crowd, together with impeccable material, resulted in one of those rare rock shows where everything just clicks. And big part of why everything was as good is also due to the euphoric crowd. Throughout the concert they were engaged, singing and no one needed to teel them to keep their hands in the air or jump around. As someone who has been around at concerts when bands like these were coming out and long before smartphones or internet – it felt almost unreal to be able to state that this felt like one of those concerts from back then.
It's as if people have forgotten their smartphones and remembered to be in the moment. The energy from the stage was enough for the band to keep the crown in their hand, but the constant connection on stage and in crowd is what made this experience to remember. So much emotional and physical connection is rare to see at rock shows these days. The band took advantage of the fact that there was no photographers/security pit between stage and crowd and kept that physical connection throughout the show. Especially Mina Caputo and Joey Z constantly involved the crowd, by holding hands with them, fist bumping, giving them place to sing and connect with the band to form a missive celebratory feel. People would throw their shirts on stage, engage in conversation with band members between the songs and they even sang (an early) birthday song to Joey Z in Danish. And let's not forget when someone even handed their phone to band's singer Mina Caputo to take a selfie, which she did – together with Joey, her shirt lifted and a breast showing. Hashtag that.
During the interludes the band members could be seen at the side of the stage or wherever they might have been, talking and joking around with each other. What a sight, for a band who has been around for such a long time and nonetheless, have been through so much.
After playing the entire jubilee album the band played some songs from their 1995 Ugly together with the "Scars" from their latest album The Sound of Scars as well as obligatory "Weeds". Unfortunately, Caputo still choses to sing "Weeds" with altered melodies, which simply takes the flow and lavish out of the song and makes it feel somewhat cluttered. But not that, nor the fact that we didn't get a single sing from Broken Valley or A Place Where There's No More Pain, could change the fact that Life of Agony have played just about a perfect show. And they've done it by bringing all that is good and pure from the era when the band came out and made it work in 2023.
SETLIST
This Time
Underground
River Runs Red
Through and Through
Words and Music
Bad Seed
My Eyes
Respect
Method of Groove
The Stain Remains
Scars
Let's Pretend
Other Side of the River
Lost at 22
I Regret
Weeds