Demonztrator – Sinister Forces Of Hatred
7th February 2022
Dreamwalkers Inc – A Night At The Theater
8th February 2022
Lunar Tombfields – The Eternal Harvest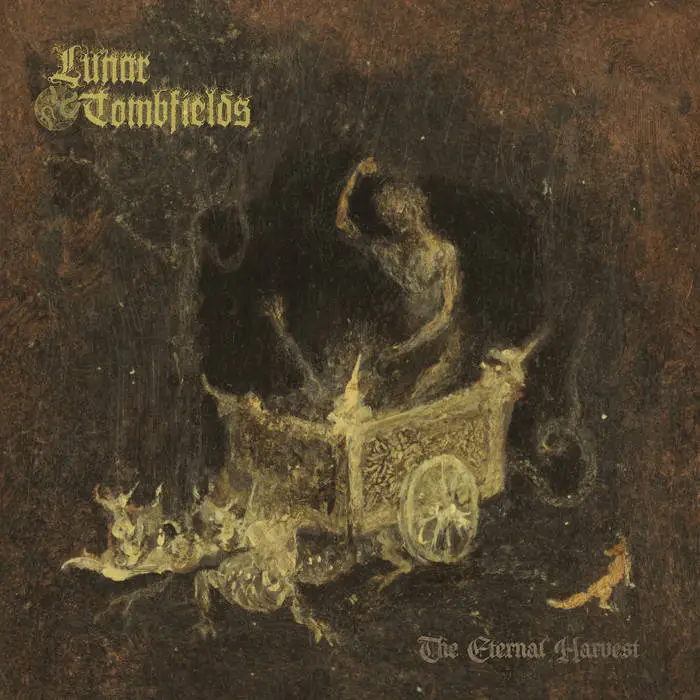 Label: Les Acteur De l'Ombre / Release Date: 4th February 2022
Lunar Tombfields, on paper, is already shaping up to being a very interesting band. The name of the band, Lunar Tombfields, is taken from a song found on the critically acclaimed first EP of German Death Metallers Venenum – However, despite that being the case, the French duo making up the band Lunar Tombfields do not extend their acknowledgement of the brilliance of the German band through their choice of genre – Even if I have a strong suspicion that they might be somewhat inspired lyrically and thematically. But I digress. The band Lunar Tombfields play Atmospheric Black Metal, with strong emphasis on the atmosphere (just the way I like it).
On top of that, they are coming out of the gate running, having chosen to make their debut album a four-piece Full-length album, running a grand total of forty-seven minutes and nearly thirty seconds. And while The Eternal Harvest as their debut onto the world stage is called is, sadly, not a concept album with interweaving narrative across the entire album, had it been so is probably the one real way that it could have ranked higher on my list of replay-priorities; All four tracks are small, self-contained musical journeys, each with their own distinct soundscape and inner conflict, yet still just clearly enough intertwined by the overall atmosphere created by the approach of the band to still be efficiently identified as coming from the same creators.
Even more impressive it became for me, when I delved into the history of the two musicians behind this new obsession of mine – They both seem to come from a Death Metal and/or Death/Black Metal background before, two years ago, teaming up and deciding to throw their combined efforts into writing nearly thirteen minutes Atmospheric Black Metal tracks such as "A Dialogue With The Wounded Stars" (a link to which can be found below) and, in my humble opinion, do a damn fine job at it. Granted, I will be the first to admit to being somewhat biased in this case, since a) I am a big fan of the French Black Metal scene as a whole and b) Atmospheric Black Metal, when done right, has quite the pull in me. And, once again, in my humble opinion, Lunar Tombfields manage to do everything right by me – Hence the continuous replaying of the album.
Recommended for fans of A Diadem Of Dead Stars, Wodensthrone and, to some extent, Wolves In The Throne Room.
https://www.facebook.com/LunarTombfields