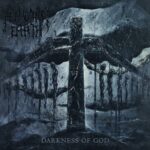 Heaving Earth – Darkness Of God
24th July 2023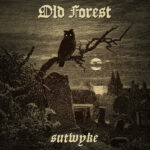 Old Forest – Sutwyke
3rd August 2023
Deicide – Screaming Ancient Incantations – 4-Tape Box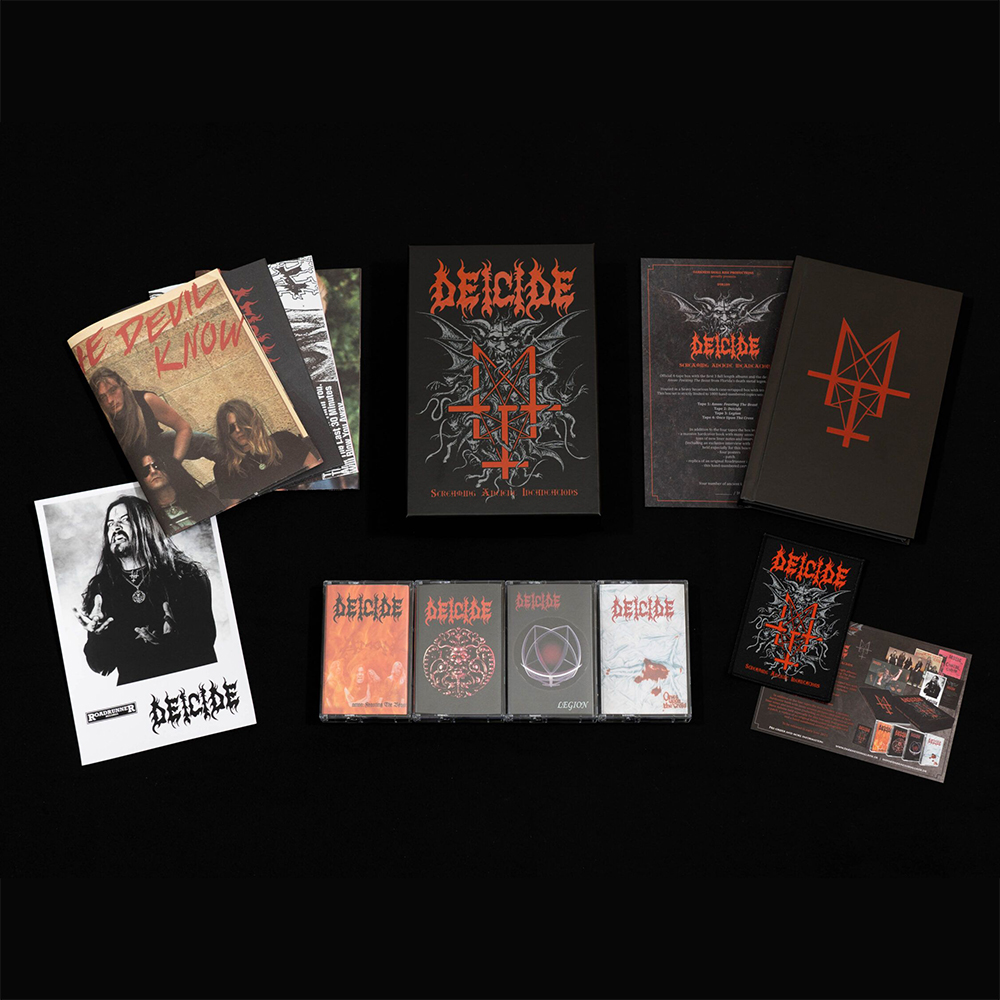 Label: Darkness Shall Rise Productions / Release date: 5th June 2023
I was absent for a month due to my summer vacation, but as soon as I came back home, I noticed that the brand-new Deicide 4-Tape Box has arrived. It's sent to me by Denny Wolfram and his Darkness Shall Rise Productions. For all of you who might still be unfamiliar with this band, I can shortly tell that Deicide is a band formed in Tampa, Florida in 1987, by drummer/composer Steve Asheim, guitarist brothers Eric and Brian Hoffman and bassist/vocalist/lyricist Glen Benton. Deicide are known for their hateful and blasphemous lyrics that have resulted in bans, lawsuits and criticism from religious groups and the public.
Back to this particular box; it's entitled Screaming Ancient Incantations and it's obviously a bit smaller than other boxes that I received in the last few months, since it 'only' contains four official tapes from Florida's death metal legends Deicide. In other words, Screaming Ancient Incantations is an official 4-tape box with the first 3 full-length albums and the demo-compilation Amon: Feasting The Beast. Once again, like the case was with all previous Darkness Shall Rise Productions releases, it's housed in a heavy luxurious black case-wrapped box with transparent coating. This box set is strictly limited to 1000 hand-numbered copies worldwide and includes:
Tape 1: Amon: Feasting The Beast
Tape 2: Deicide
Tape 3: Legion
Tape 4: Once Upon The Cross
In addition to the four tapes the box includes:
– a massive hardcover book with many unseen pictures and tons of new liner notes and interviews (including an exclusive interview with Steve Asheim held especially for this box-set)
– four double sided posters
– patch
– replica of an original Roadrunner autograph card
– hand-numbered certificate
In the end it's all about the music, so let's look a bit further into these four tapes housed in this box:
* Amon: Feasting The Beast is the first tape from the box. It's a demo compilation where one can hear some of the recordings that were not available before. Aside from the awesome intro, which speak for itself, the overall sound is suprisingly very good, and all instruments are pretty clear. The production is obviously raw and heavy sounding, at least compared to the official albums released by Deicide. Another thing that is different are the vocals of Mr. Glen Benton, being a bit lower and more distorted on this demo compilation. Although I have to say that his vocal style changed a lot on the Sacrificial demo, which was more like the self-titled album. Still, I truly recommend it for any worshipper of heavy, evil and diabolic black/death/speed metal.
* Next tape is a self-titled one called Deicide. We're back to 1990 where Deicide, alongside Morbid Angel, were the first and leading act to define for what's later be known as 'Florida death metal scene'. The self-titled Deicide was band's first album, and in my humble opinion their best. It is very old-school Florida death metal, with blazing and mesmerizing songs where none of them are longer than four minutes. It's short, catchy, furious and evil sonic assault and a perfect example how Florida's death metal sounded before it became a cliché. Thus on Deicide one can hear numerous blastbeats, supplemented by some shrieking, guttural and screaming vocals, some catchy choruses, satanic lyrics and intensely rhythmic riffs. As stated above, all tracks are pretty much awesome, but if I have to pick a couple of stand-out tracks it would be; "Sacrificial Suicide" and "Carnage in the Temple of the Damned".
* Third tape to be featured in this box is Legion. Legion is the second conjuration by the group, and it encapsulates pure ungodliness and takes their satanic aproach to the most extreme level, something we've not heard before. Steve Asheim's drumming performance is super fast, hellish and inhuman, riffing is devilish and thick, while the vocals are even more raw and demonic shrieking than ever before. Although Legion is short at a mere 29 minutes (versus Deicide's 33 minutes), not a second is wasted with any filler material. My favourite tracks are "Holy Deception" and the closing one called "Revocate The Agitator". Pick it up as soon as possible, if you haven't already, and get ready for some amazingly Satanic death metal!
* Fourth and last tape to be included in this box is their third studio album, Once Upon The Cross, released on April 18th 1995, by Roadrunner Records. It's undoubtedly another killer album, yet not a masterpiece as Deicide or Legion are considered to be. Once Upon The Cross is rather a guitar driven record, full of pummeling drums. Compared to its predecessors it seems very slow. The sound is definitely polished and not as raw as their two first efforts. Due to some catchy choruses my favourite tracks are "When Satan Rules His World" and "They Are the Children of the Underworld". To sum things up; productions on Once Upon The Cross is very good, their performace and song-writing miss nothing, but it just isn't a classic.
Screaming Ancient Incantations – 4-tape box is totally amazing & box full of authenticity and nostalgia. It is a journey through time exploring the very beginnings and some of the best albums by this legendary death metal act. This is just another 'an absolute must have' box for die hard fans of the band and anyone into blasphemous, satanic and extreme death metal.
For further info on this particular release and all orders can be done via Darkness Shall Rise Productions webstore at https://darknessshallrise.de/product/deicide-us-screaming-ancient-incantations-4-tape-box-pre-order/?v=dd65ef9a5579