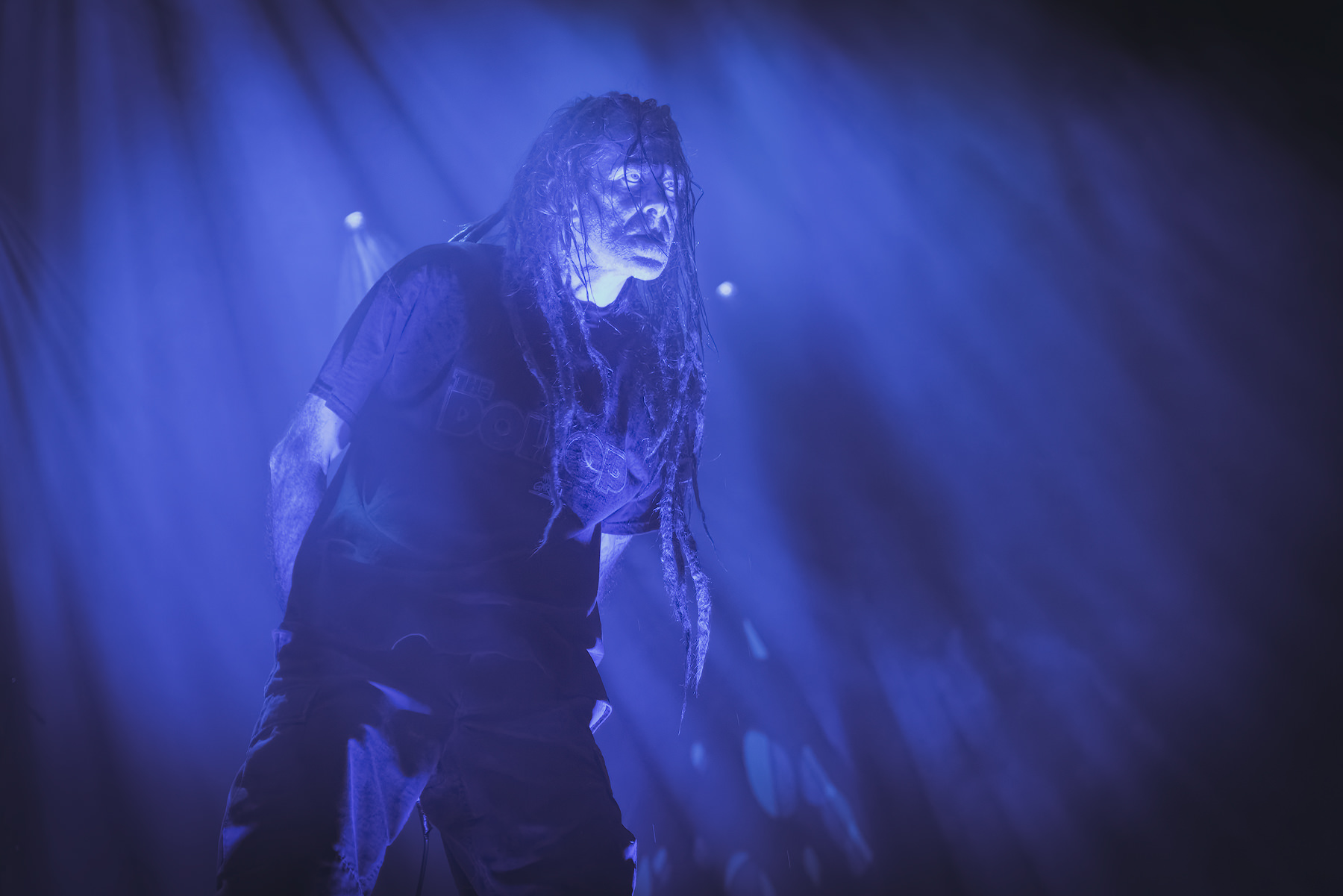 Lamb Of God, Kreator & Municipal Waste, 22nd February 2023, Forum Black Box, Copenhagen, Denmark
23rd February 2023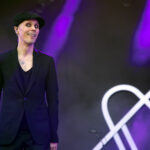 VV, 14th June 2023, Hades, Copenhell Festival, Denmark
15th June 2023
Joe Satriani, 2nd April 2023, Viften, Copenhagen, Denmark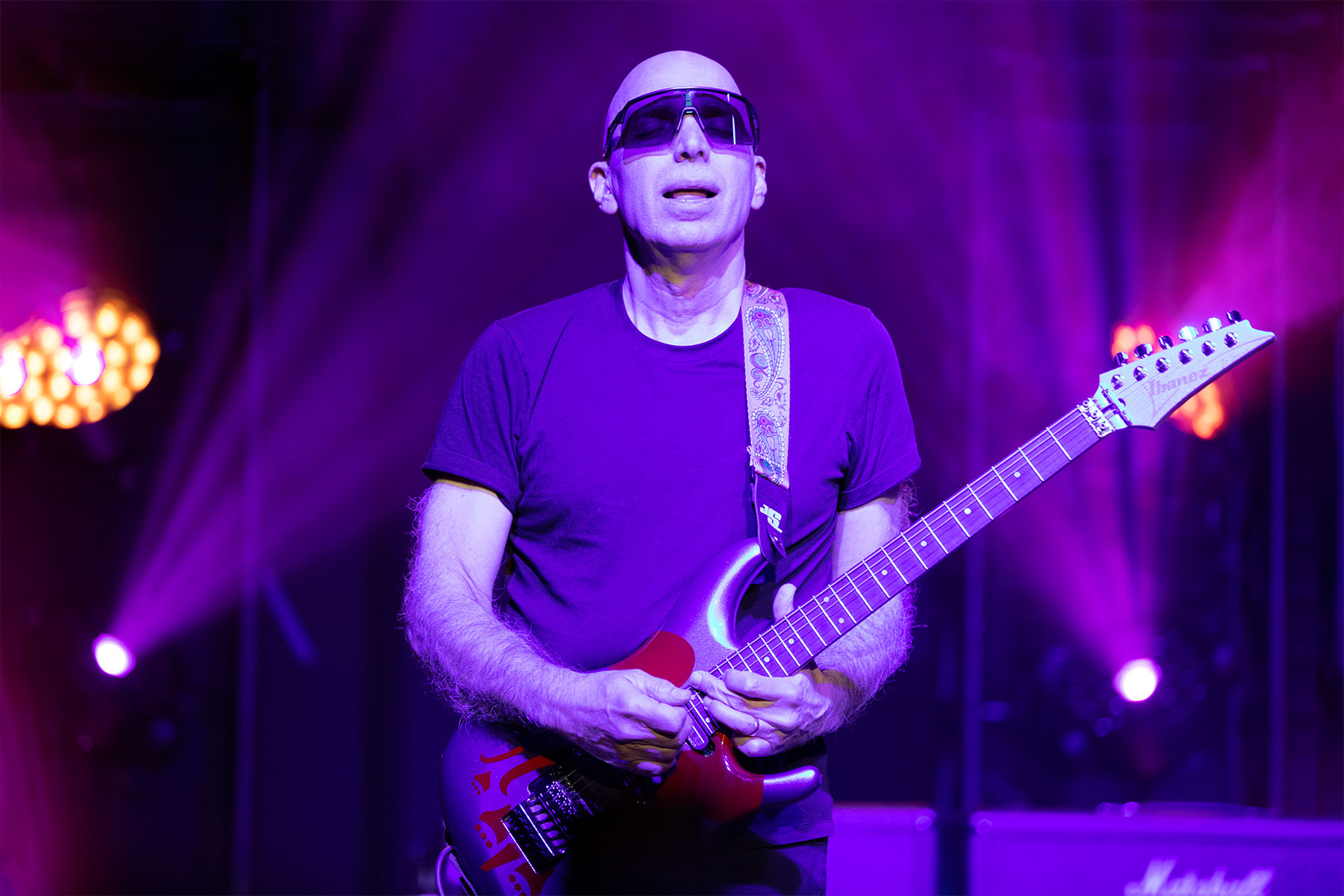 Joe Satriani, 2nd April 2023, Viften, Copenhagen, Denmark
Photo: Zoran www.sonic-shot.com
Joe Satriani was set to play Copenhagen in 2020 just as pandemic swiped the world. Unlike many other musicians who rescheduled their gigs for few months later, hoping that the pandemic would be over by then, Satriani rescheduled his tour for a year later. As we all know now, that didn't happen either, so his European tour was postponed yet again. Until now, that is, where guitar virtuoso is finally back on the old continent. His long awaited and many times postponed gig at Copenhagen's Amager Bio has been sold out for some time, which is why they added another gig in Danish capitol, day before the initial concert. Unfortunately for them Amager Bio venue was booked on that day, so Satriani booked Viften for that extra show.  
This extra show was not sold-out, but the venue was quite filled. There was no support, so the crowd was set for a long evening of guitar extravaganza. Satriani anno 2023 is in somewhat of a peculiar situation, taking into the consideration that he has two albums under his belt, which he didn't tour; Shapeshifting from 2020 and The Elephants of Mars, which came out last year.
With him on this tour Satriani is joined, drummer Kenny Aronoff, bassist Bryan Beller and keyboardist/guitarist Rai Thistlethwayte.
At 8 PM sharp, the band opened their show with three new songs, well songs from the last two albums. "Nineteen Eighty" proved to be a cool fun opener and "Sahara" and "The Elephants of Mars" from the last year's release, which are among the highlights of the album, also worked really well live.
For the rest of the first part of the show the band balanced between new(er) songs and classic crowd-plasterers like "Ice 9", "Flying in a Blue Dream", "Crystal Planet" and always uplifting "One Big Rush".
Experiencing Satriani live is quite an experience and while the focus is on him and his guitar playing, which never fails to impress, there is so much more to it. Live Satriani's songwriting skills are underlined, and he is always accompanied by outstanding musicians. These aspects make it easier for non-guitar-nerds to truly enjoy the show. The groovy cockiness of "Satch Boogie", the staggering beauty of "Faceless" and vitality of "Cool #9" go beyond the impressive guitar-work (or musicianship in general) and make the listener forget that they are at an instrumental concert.
And speaking of the band, in the general whole, they basically impress just as much as the man himself, even though their role is to support the star of the evening. And Satriani is rather aware of that so throughout the evening introduced and shifted his focus on band members many times. He also used word "we" a lot and the evening even offered a drum and a keyboard solos. It's pleasure to experience such musicianship and good chemistry on stage. Aronoff, is one of those drummers who draws attention to themselves without even trying. There is charisma and power to his presence and as for his playing – his track record speaks for itself. He is highly professional and adaptable, while at the same heaving an outstanding ability to know his place in whatever environment he might be playing. Beller's and Thistlethwayte's delivered on an impressive levels well, while at the same time doing their best to involve the crowd as much.
The 20-minute break between two sets offered slideshow of pictures of Satriani and his fans and fellow musicians projected on the stage screen, which made the waiting time feel shorter.
Second set was opened, somewhat oddly, by a drum solo and while such things are usually futile, Aronoff did a good and diverse job, but placing a too long of a drum solo in the beginning of a second set didn't work all that well. Especially taking into the consideration that it was followed by couple of weaker cuts and then a keyboard solo.
The ending of the keyboard solo did however lead nicely into eminent version, and one of the highlights of the evening "Cool #9".
It took the second part of the show some time to really catch on, because of the flow being spoiled by the solo sections and the fact that it did include some weaker songs as well. Still "if I Could Fly" worked surprisingly well and you can't really go wrong with closing the regular part of the show with classics "Always With Me, Always With You" and "Satch Boogie".
As the band left the stage, so did a significant portion of the crowd. The band came back for an encore in form of surprisingly fun "Crowd Chant", which featured the biggest crowd participation of the evening thanks to the structure of the song and constant encouragement from Beller and Thistlethwayte. They closed the show with obligatory "Surfing With the Alien" from his 1987 breakthrough album of the same name.
Encores often feel unnecessary, and it usually works better if band just stays on the stage and plays that which they were going to play anyway. Even more so last night after two and a half hours of music, because the big portion of the crowd genuinely thought it was the end of the show.
With two un-toured albums under his belt, it makes sense that he would play a long show with lots of songs he didn't get to play live before, but fewer new(er) songs and couple of deep cuts from the past would serve the show well. So would ditching the drum and keyboard solos and those countless prolonged endings of the songs that et times went on for what seemed like eternity. Few times during the show those can work just fine and even add to the slow and dynamics of the show, but including so many of them to the show where songs are guitar solos anyway seems so unnecessary and almost dull. To his credit, Satriani even joked about that very fact.
There is no doubt that Satriani delivers live and experiencing his band live ads another dimension to those countless amazing songs this outstanding musician has created over the decades. There was room for improvement, but the audience most certainly got their money's worth with an almost three hour long show and the four on stage seem to enjoy themselves as well.
See you next time.
SET 1:

Nineteen Eighty

Sahara
The Elephants of Mars
Ice 9
Thunder High on the Mountain
One Big Rush
Blue Foot Groovy
Flying in a Blue Dream
Spirits, Ghosts and Outlaws
Faceless
Crystal PlanetSummer Song

SET 2:

Drum Solo
Energy
E 104th St NYC 1973
Keyboard Solo
Cool #9
Ali Farka, Dick Dale, an Alien and Me
Shapeshifting
Teardrops
Luminous Flesh Giants
If I Could Fly
Always With Me, Always With You
Satch Boogie
——————
Crowd Chant
Surfing With the Alien