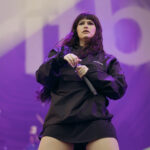 Spiritbox, 17th June 2023, Hades, Copenhell Festival, Denmark
18th June 2023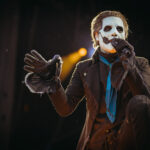 Ghost, 17th June 2023, Helviti, Copenhell Festival, Denmark
19th June 2023
Guns N' Roses, 17th June 2023, Helviti, Copenhell Festival, Denmark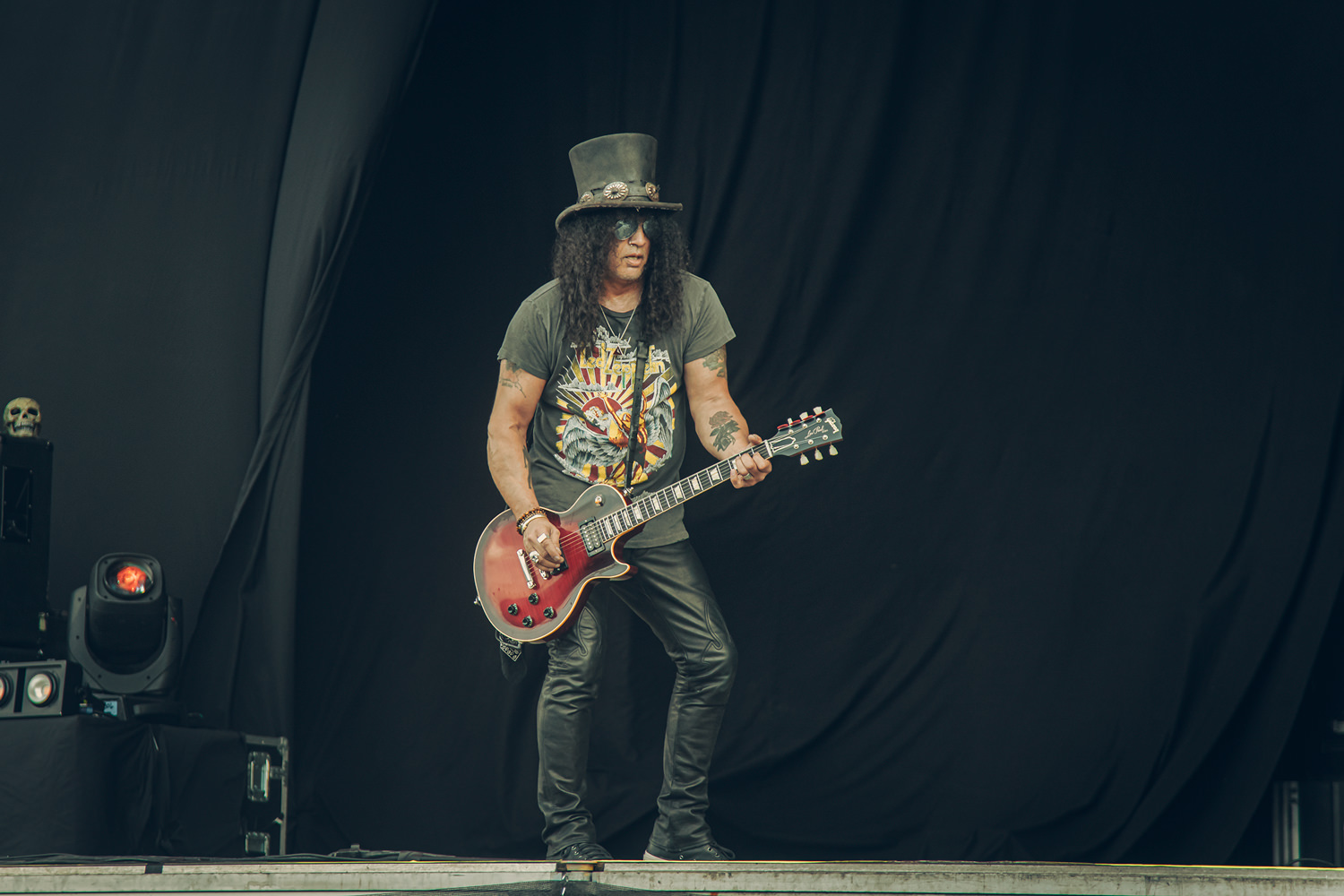 Guns N' Roses, 17th June 2023, Helviti, Copenhell Festival, Denmark
Archive photo: Goran Kljutic www.urbanmescalero.com
There is so much that can be said about one of biggest musical acts in the world, but not much of it was never said before. Therefore, let's settle for recognising that Guns N' Roses' partial reunion in 2016 has been a massive commercial and critical success, despite it not including Izzy Stradlin', Steven Adler or even some of their successors such as Gilby Clarke and Matt Sorum. The level of success of the return couldn't even be overshadowed by the fact that Axl Rose broke his foot on the very first gig at the Troubadour in Los Angeles or that he for a while went on to fill in for Brian Johnson with AC/DC(!!). He pulled it all off, even thou he for a while he had to do it sitting down.
Since then, the band has been touring the world several times and along the way released few new(er) songs, which are actually re-recordings of songs that were recorded by Axl during the Chinese Democracy sessions.  
It also seemed fitting that the absolute main name of this year's Copenhell would close the main stage on this, the last day of the four-day festival. It goes without saying that main stage at Copenhell was packed and just like it was case with Metallica last year, lots of people who found their way to Helivit this cloudy and rainy Saturday evening were not your regular Copenhell guests. The appeal of those two bands surpasses genres they are normally connected with, so you are likely to see anyone at one of their concerts.
Back in the day there was no saying when Gun N' Roses would take a stage and showing up two hours late was nothing out of the ordinary. It's what happened when they played Gentofte Stadion in 1993. On the other hand when they played Aalborg in 2010 the band started their gig long before venue crew and those in charge of press were informed.
But that's the past and ever since their return the band has been rather punctual. Last night they were, however, 15 minutes late, but this was due to securing the stage after the rain.
As they hit the stage at 9:45 PM they did so of course whit that unlikely, yet classic opener "It's So Easy". The messy sound was fixed in time for the second song, something of a deep-cut (especially that early in the set), "Bad Obsession" from 1991 User Your Illusion. "Live And Let Die" would normally be accompanied by fireworks and what not, but not this evening, where basically all special effects for the show were in form of visuals, most of which seem like randomly generated AI animations. Big and colourful, which does give the show a certain dose of dynamics, but fails to add some kind of additional dimension to the songs or the performance.
"Chinese Democracy" once again proved to be an eminent live song, even thou it could never master as much of response as songs from first two releases. "Pretty Tied Up" is another less obvious choice and it worked rather well. By the time the band ripped into "Coma it seemed like Christmas Eve for those fond of deep-cuts such as this flawless +10 minute epic. Unfortunately, it turned out to be anything but.
It was on this song that higher mid-range spectrum of Rose's vocals sort of gave up, so big portions of the songs were just hard to get through. It was that same range that spoiled several other songs and proved to be the biggest issue of the evening.
Another issue was way way too many long solos, mostly curtesy of Slash. The man plays like dream and his role and importance in this band is absolutely crucial, but when every song has a guitar solo and you get a long guitar solo section in the setlist it just seems so redundant to turn some regular songs into +10 minutes songs just because of extended solos. It was unnecessary, tiring and it took the flow out of the concert several times. Slash is one of the finest and most important guitarists of his generation and we all know that, so there is no need to shove that down our throats to the point of choking.
Coming back to Axl Rose, while it was those certain parts of his vocal range that spoiled the experience, it was also the man himself that was a highlight of the show. Oddly enough also because of his vocals, because all other parts of his vocal spectrum worked so well. Those beautiful deep vocals, lower mid-range as well as those high notes that cut like a chainsaw all worked impressively (when they were not spoiled by uneven sound levels. Those moments were many and those gave shiver down the spine and with Axl in basically best and most playful mood, truly yours has ever experienced, it was the very same man who stood for the weakest part of the show that most certainly also stood for most of the highlights of this evening. Axl was generally chatty, witty, cocky, humble and energetic as hell all at the same time.
Since returning in this consolation Guns N' Roses have for the most part played some very longs shows and Copenhell was no exception. Usually getting so much extra music is a good thing, but be it that this was a festival gig, it would perhaps be a good thing to cut it bit shorter in order to get most out of the crowd, big part of which had four days of festival behind them. But how do you cut something from a setlist so interesting and diverse? Well, the aforementioned endless extended solos would be a perfect way to start. "Prostitute" resulted in no reaction at all, especially when it was placed a first encore song. The band played five covers and while they are good at making several of their covers basically their own ("Live and Let Die", "Knocking On a Heaven's Door") dropping the cover of Velvet Revolver's "Slither" and one of the two punk covers (Iggy Pop's "T.V. Eye" or "Down on the Farm" by U.K. Subs) wouldn't hurt either.
But in general, it was a good setlist with all the hits and just as many interesting and diverse songs from their catalogue.
For better or worse Guns N' Roses have always done things their way and while results can vary, it was admirable to witness throughout their career. In general it actually mostly worked well for them. Few bands who (partially) reunite sort of late in their career go on to play these long shows, ever and let alone for seven years now. Few bands would dare to experiment so much with their setlists and the overall approach, but Guns N' Rose have always done it their way. It might not always turn as intended, but one can only respect them for it.
Axl and Slash on same stage is sight for Gods and a completely unique combo. It was the two that stood for some of the most memorable moments this evening at Copenhell, and it was the same two who were responsible for the weakest aspects of this 3 hour and 5 minutes long show. So, in a way much like GN'R career in general.
SETLIST:
It's So Easy
Bad Obsession
Live and Let Die
Chinese Democracy
Pretty Tied Up
Slither
Coma
Double Talkin' Jive
Welcome to the Jungle
Mr. Brownstone
Hard Skool
Reckless Life
Absurd
Estranged
Down on the Farm
Rocket Queen
You Could Be Mine
T.V. Eye
Anything Goes
Civil War
Guitar Solo
Sweet Child o' Mine
November Rain
Knockin' on Heaven's Door
Nightrain
——————
Prostitute
Patience
Paradise City