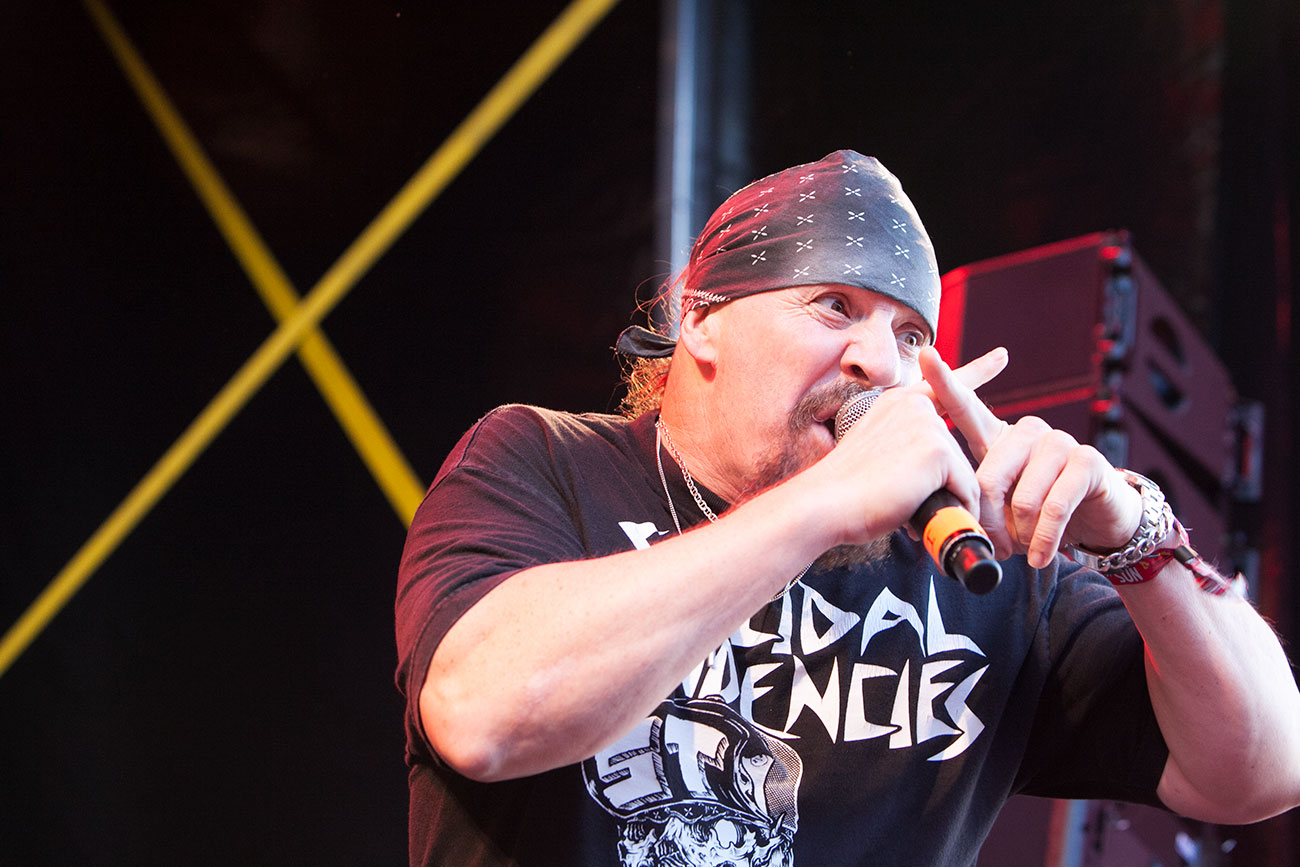 Suicidal Tendencies, 18th June 2015, Hades: Copenhell Festival, Copenhagen, Denmark
21st June 2015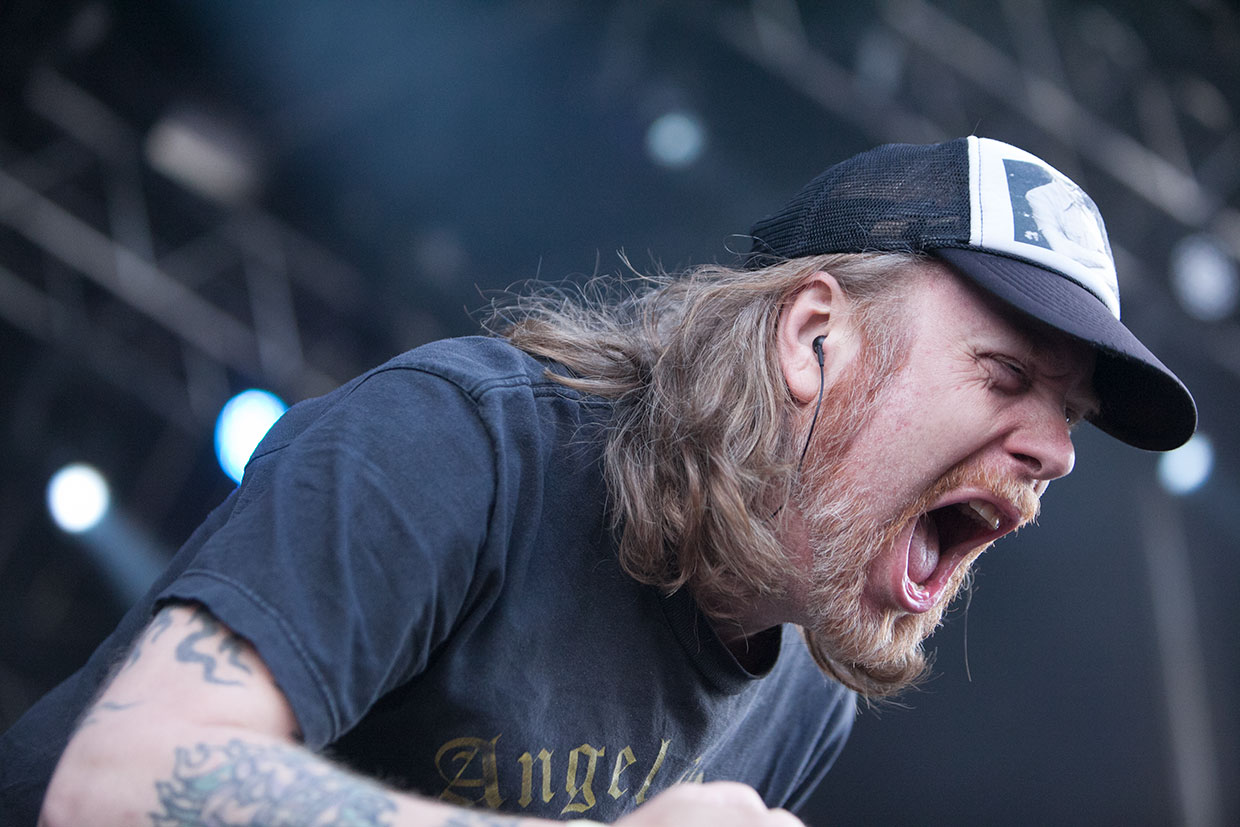 At The Gates, 19th June 2015, Hades: Copenhell Festival, Copenhagen, Denmark
22nd June 2015
Exodus, 18th June, Hades: Copenhell Festival, Copenhagen, Denmark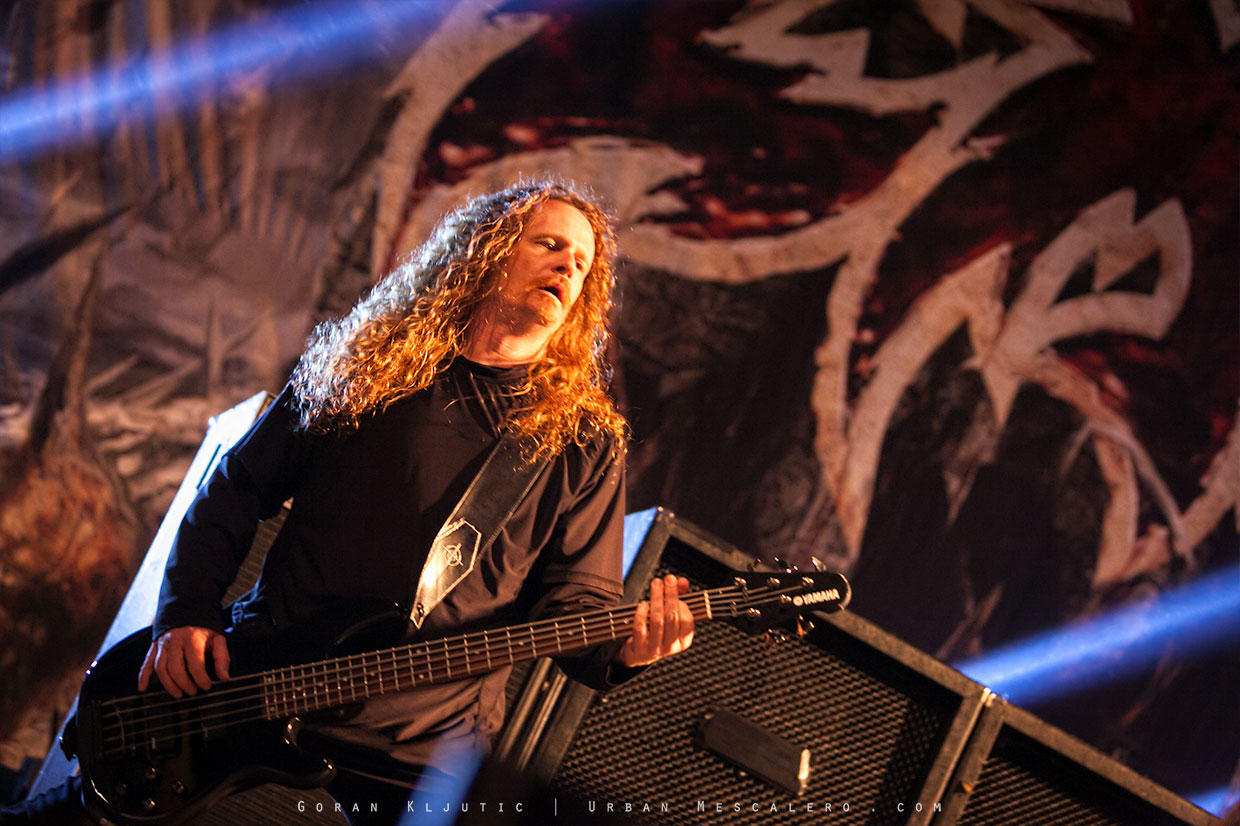 Exodus, 18th June, Hades: Copenhell Festival, Copenhagen, Denmark
Photo: Goran Kljutic www.urbanmescalero.com
Shortly after midnight one of the original thrash metal forces from back in the day, took over the Hades stage to give the audience exactly what they expected – a tightly packed hour long classic thrash metal.
Exodus are back with a brand new album Blood In, Blood Out, freshly reunited with singer Steve Souza and with more focus on the band's music then they had for few decades now. The latest is thank to band's guitarist Gary Holt who joined Slayer four years ago replacing late Jeff Hanneman. Evers since he has been playing (and recording) with both bands and that makes him a very busy man. So busy that he wasn't there this evening and was replaced by Kragen Lum of Heathen.
It took the bend couple of songs to get themselves and crowd going, but even then the band never crossed that magic line where a concert truly becomes an experience.
Don't take me wrong – they played well and the setlist was good, but somehow they just didn't manage to grab the crowd the way the band of Exodus' calibre should.
This is also due to Souza. It's no secret that I'd prefer if Rob Dukes was still behind the mike in Exodus, but that's not really the reason why this concert didn't seam to work. Souza is big part of Exodus, but he has never been a big frontman. Not so much because of his vocal abilities, but mostly due to the fact that he doesn't seem to be able to keep the energy level up there where it should be.
His vocals are weak, his abilities as a frontman are weak and his trivial blabbering in-between songs and the attempt at namedropping just seemed to do more harm then good.
Blood In, Blood Out should serve as bands big return and the album did quite good. Live at Copenhell the band did their thing, but it didn't add up to a memorable thrash metal experience.
SETLIST:
01 – Black 13
02 – Blood In, Blood Out
03 – Children of a Worthless God
04 – Piranha
05 – Salt the Wound
06 – Blacklist
07 – Body Harvest
08 – Bonded by Blood
09 – The Toxic Waltz
10 – Strike of the Beast