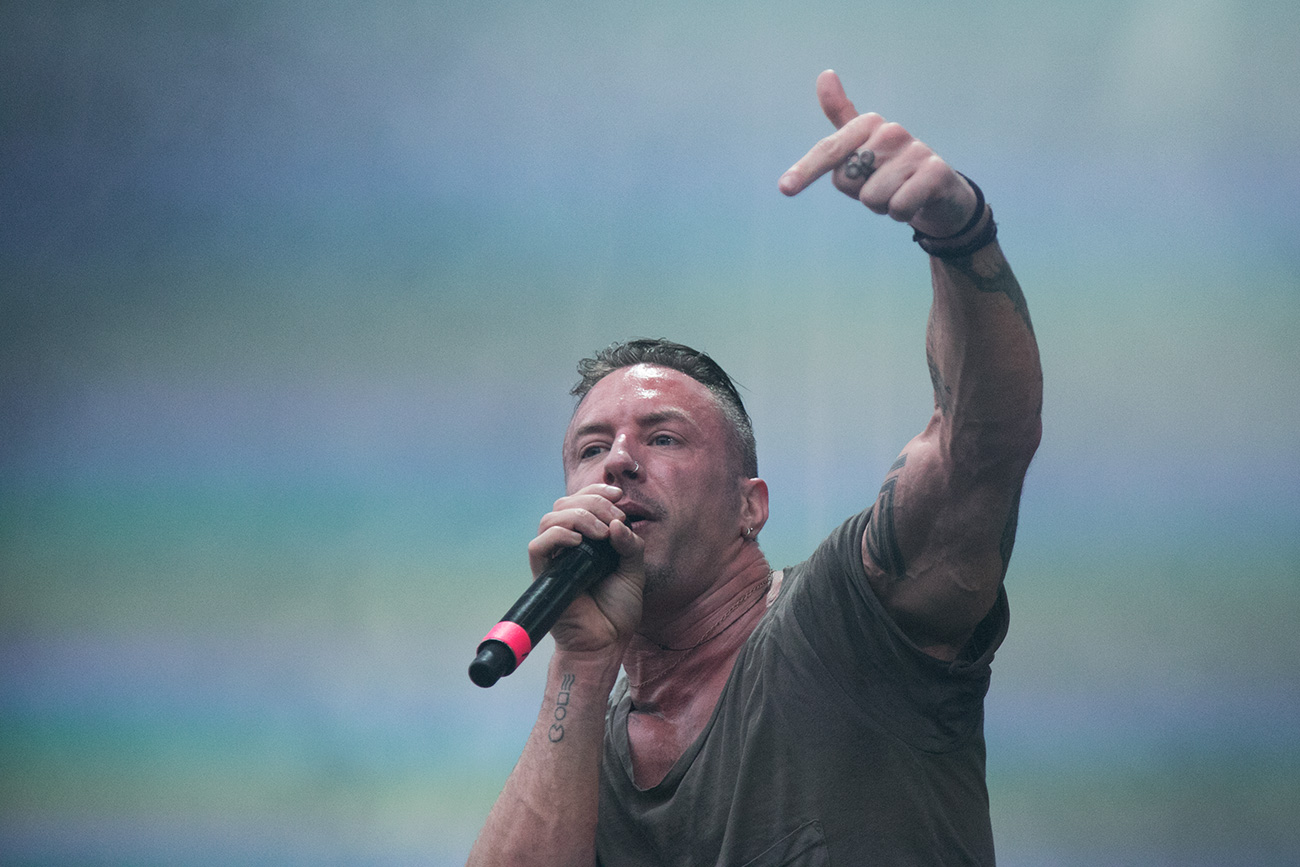 The Dillinger Escape Plan, 23rd June 2017, Hades: Copenhell Festival, Copenhagen, Denmark
24th June 2017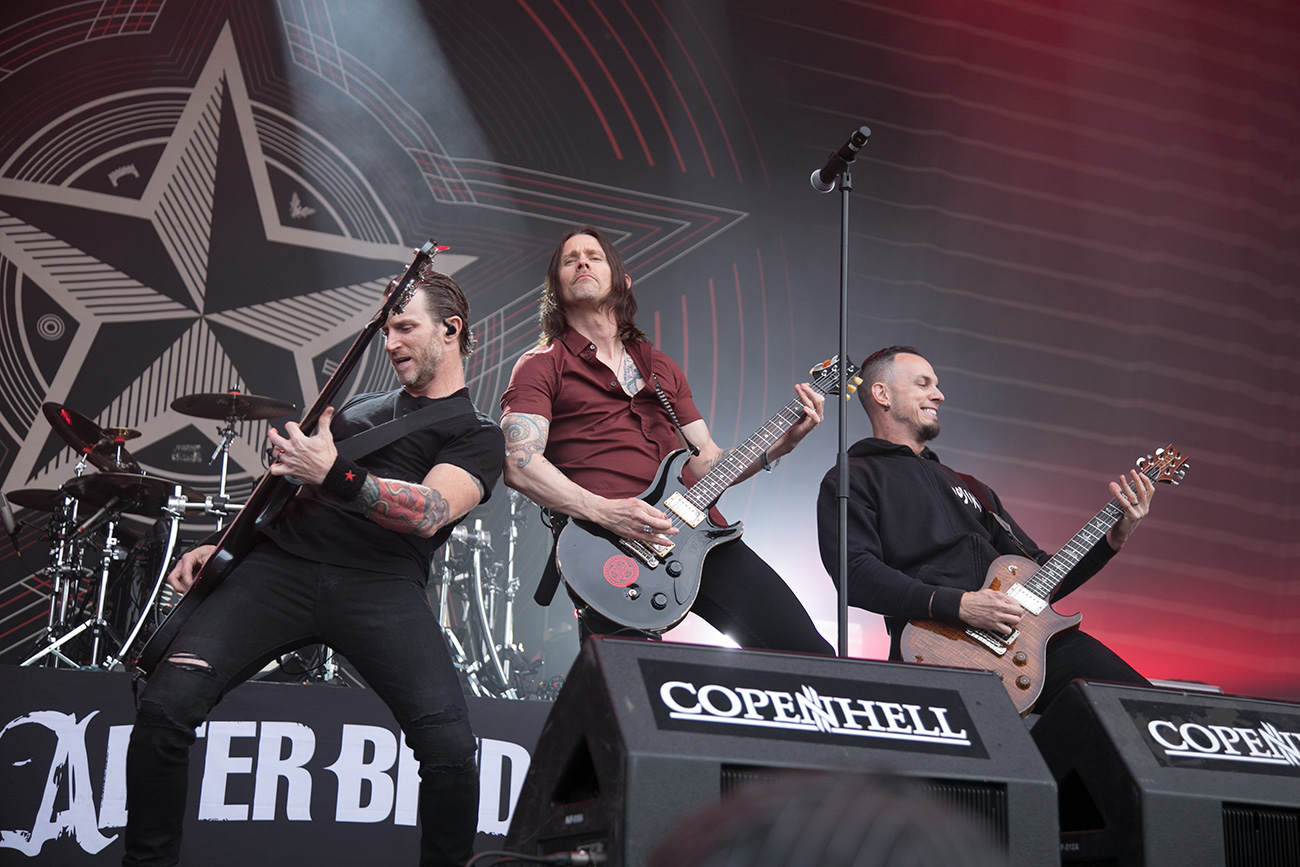 Alter Bridge, 23rd June 2017, Heviti: Copenhell Festival, Copenhagen, Denmark
24th June 2017
Airbourne, 23rd June 2017, Heviti: Copenhell Festival, Copenhagen, Denmark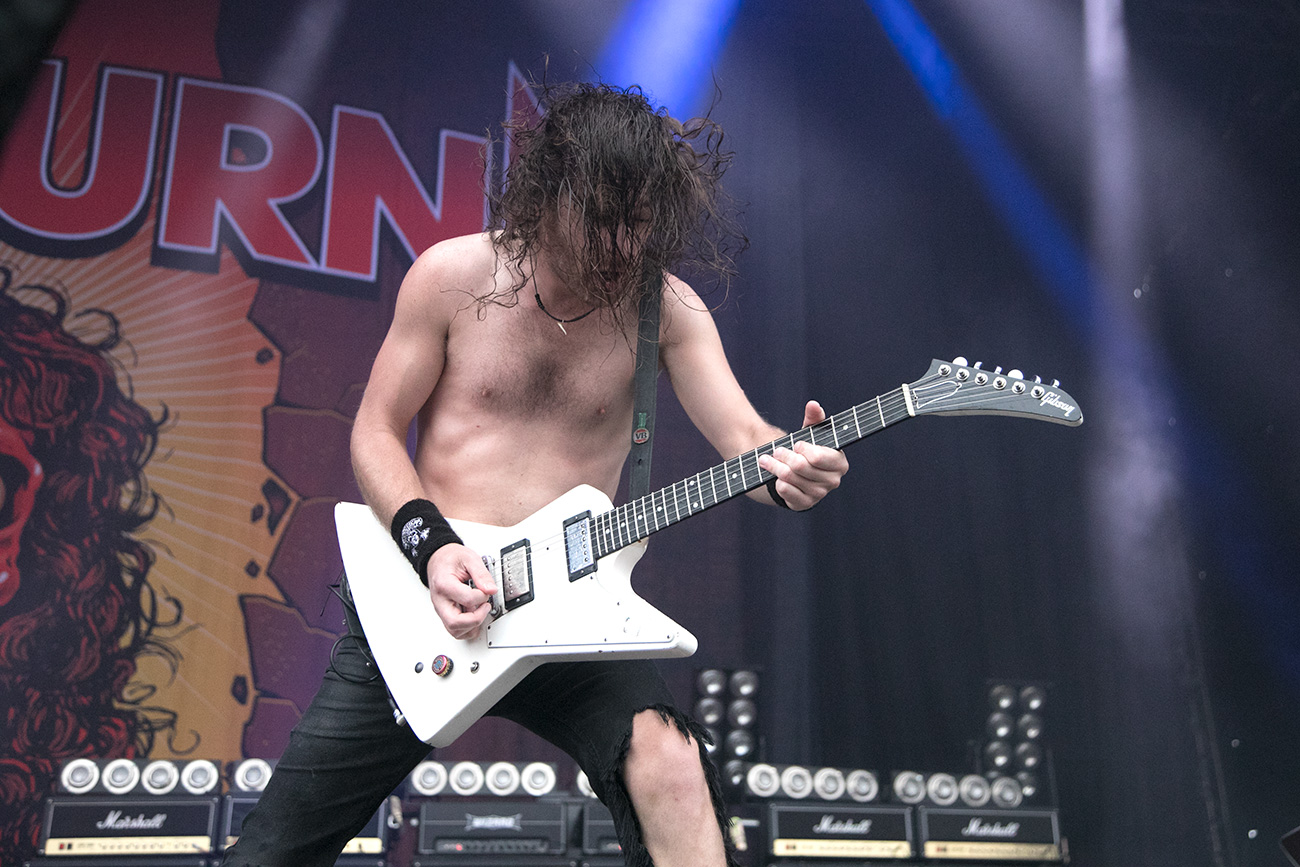 Airbourne, 23rd June 2017, Heviti: Copenhell Festival, Copenhagen, Denmark
Photo: Zoran
www.sonic-shot.com
Think about good ol' rock as AC/DC does it. Then think about a tedious parody of it. Enter Airbourne.
There is nothing wrong with being heavily (as in HEAVILY) inspired by another band. It can even work if you for the most part are copying them. But what goes wrong for Airbourne is that believe that overdoing every aspect of playing live will give their shows more energy and they will come across as charismatic. The truth, however, is the opposite.
Joel O'Keeffe is in many ways an entertainer with a good boogie-rock voice, but his entertaining base is overdoing every single thing, every single second. It doesn't come across as natural or spontaneous. How can you play the entire concert with that "Frank-Bello-times-ten" face expression? The complete contrast to him is the new guitarist Harri Harrison who replaced David Roads couple of mounts ago. You'd think that the guy who landed a high-profile gig would radiate some form of enjoyment, but, nope. The difference between band members' stage presence can add to the dynamics of the show, but this is in no way case with Airbourne. As a matter of fact, it came across as awkward and uneasy.
But the nature of this band's music is simple rocking and as such it fits a festival gig. O'Keeffe banging of the beer cans off the side head and sitting on his body-guard's shoulders is also welcomed by the increasingly intoxicated crowd. But in general, it just looks awkward.
They do play tight and the simple groove is as solid as you'd expect (crave) form a band of this sort, but that's where it all ends. By the end O'Keeffe did Angus Young's duck-dance during the closer "Runnin' Wild" and it felt wrong on so many levels.
This was my first time seeing the band and for the love of Rock 'n Roll I'll give the band a chance at one of their headlining club shows. After all everyone deserves a second chance, especialy if they are undoubtedly in the game of rocking.
SETLIST:
01 – Ready to Rock
02 – Much, Too Young, Too Fast
03 – Rivalry
04 – Down on You
05 – Cheap Wine & Cheaper Women
06 – Girls in Black
07 – It's All for Rock 'n' Roll
08 – Breakin' Outta Hell
09 – No Way but the Hard Way
10 – Stand Up for Rock 'n' Roll
—————————
11 – Live It Up
12 – Runnin' Wild