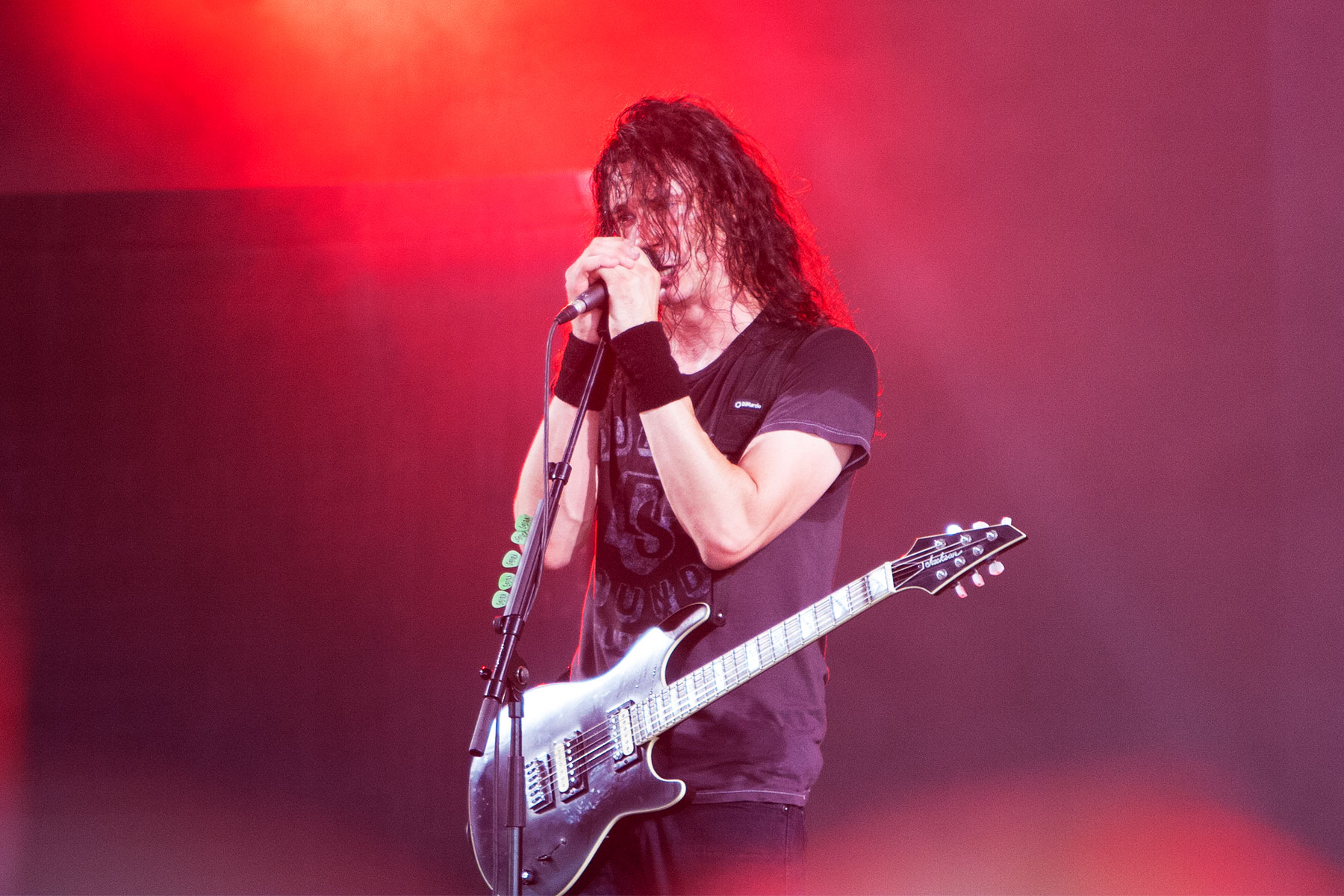 Gojira (France)
7th April 2009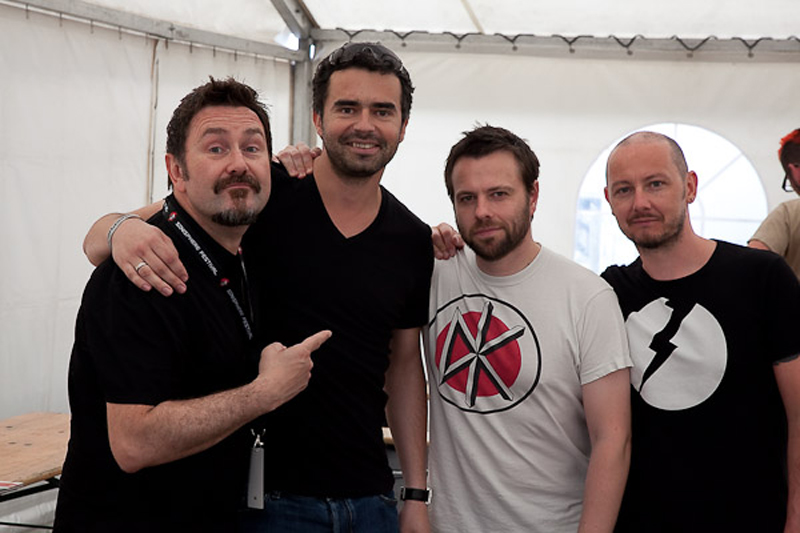 Therapy? (Northern Ireland)
22nd June 2010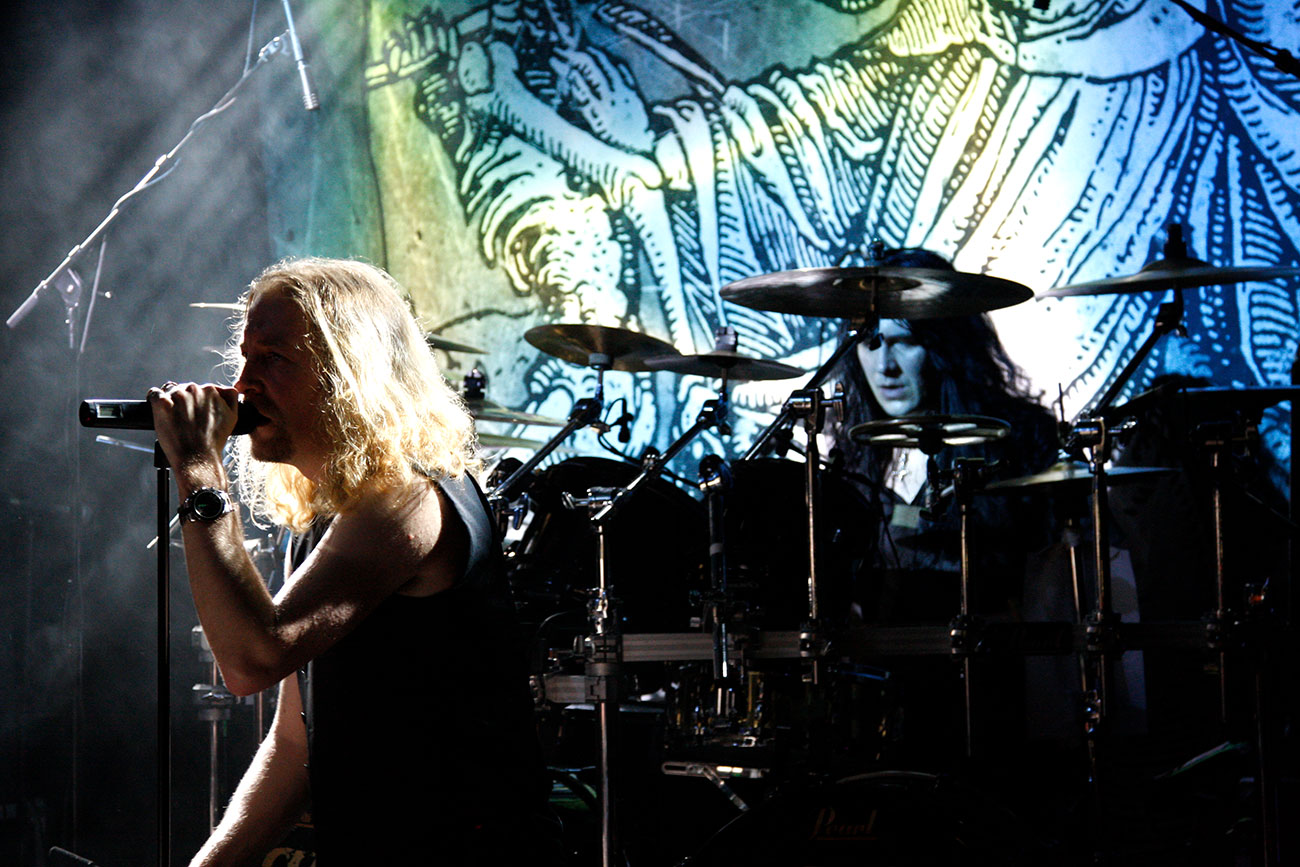 Interview photo: Goran Kljutic www.urbanmescalero.com
Live photo: Zoran www.sonic-view.com
Paradise Lost is one of those bands that has written their name in the history of metal permanently.
The band that together with My Dying Bride and Anathema created the whole genre of Death/Doom Metal more then twenty years ago and later on just about single-handedly defined Gothic Metal doesn't need the big introduction and with twelve studio albums behind them they have created some truly memorable moments and with their latest album, Faith Divides Us – Death Unites Us, the band has created one of the best releases in ages.
The band visited Copenhagen's "The Rock" for a headlining show and we caught up with band's guitarist Aaron Aedy right after their soundcheck, for a chat by the new album, new drummer, playing live, 22 years of Paradise Lost and the stage at The Rock
Metal Revolution: To start with I would like to hear about the new album Faith Divides Us – Death Unites Us, which is out and I know that it got some great response on our homepage and as far as I can see the album received some great reviews altogether. But I would like to hear some of your thoughts about that and none the less about the response from the fans themselves.
Aaron Aedy: Well, you know, when we were making the record, we knew that we good a god record, we kind of felt like we had a pretty good record and Jens (Borgen) did an excellent job with mixing it and it sounds great, you know it sounds just like we hoped it would. The reviews, well I've not seen one bad review. We god very very good reviews which is always nice (laughs) so we've been quiet lucky on that one, really. And the fans really seem to like it too, lots of concerts were sold out in the rest of Europe and it was a pretty good response, you know the new tracks were going down very well.
MR: That must feel good. Personally I have been following the band for ages and what I find amazing is that after so many years you create one of you strongest records, I mean how do you do that? For of you guys have been together from the start, how do you create on of you best records after so many years?
AA: Yeah, twenty-two years. Well you know we're friends, that's the most important thing, I mean I've known Greg since I was 11 and I've known Nick since I was 12 and you know it's old friendships, which makes you work better in the way and I think what we found out that last few albums we tried to found out what the previous album sound like live – for example Paradise Lost (PL X) was us pretty much trying to capture what Symbol Of Life sounded like live and In Requiem had that same approach and therefore the albums became bit heavier  every time and the new one sounds really good to me.

MR: That was one of the things I was wondering about, I mean yeah the album is heavier, but that's not even the issue, because that doesn't equal the quality or even the feel of the album. For me the album almost sounds like an album that was created in a rehearsing space.
AA: Yeah, it managed to be captured quite well, but no it was not created in a rehearsing space, it was all done by the internet (laughs), because we don't live the same place, I mean I live like 250 miles from Greg now so each of us have like mini studios at home – that's easy nowadays and it's cheap, but also we've been playing together for 22 years so we know each other well and we sort of know what the other guy is going to to or what the other guy wants.
MR: But don't you think that sometimes that kind of comfort can make the things boring?
AA: No no. The style changes a bit every now and then with the albums and that's mainly to keep it interesting for us, I mean. We've never really cared about public opinion and if some people want us to create another Draconian Times, and we write another Draconian Times, people would get pissed off because it sounds like Draconian Times, you know and all that would be really dishonest and the reason why we've formed the band is to make music that we enjoy and that's still reason why we do it.
MR: Great you feel like that, after all these years.
AA: The day we stop enjoying it is the day we'll stop doing it.
MR: Regarding the drums on the new album, I think that this is the best drum performance since Lee (Morris) made his Paradise Lost, but on Draconian Times and the funny thing is the drums on the new album are played by the session drummer. How do you get that kind of performance out of the session drummer?
AA: Greg has done some drum programming, and he was sending these tracks to Peter (Damin) and Peter was working on this like for three moths before we entered the studio and he was just great. In the studio we were like "Can you try this?" and he would literally get it in the first take (laughs).
MR: So now you have another great drummer with you so I was wondering what made you choose him (Adrian Erlandsson) and not Peter?
AA: We interviewed him for joining Paradise Lost the week before we went into the studio, but at that time we've already paid the session guy and we've been working with him on the album for three months, so it would be kind of unfair to not let him do it. But yeah, Adrian joined the band literally the week before we went into the studio.
MR: And how is that working out? I mean we all know that he's a good drummer but…
AA: Just great, he's top lad. Me and Adrian both live in London so when we rehearse we always drive up and down together, so I spend a lot of time with him, he's a top guy, with a good sense of humor.
MR: That's very important when you spent so much time together touring and stuff.
AA: That's it. When you spend so much time traveling and working together, the most important thing is to get along.
MR: Moving on to playing live, that's another thing you guys did a lot over the past many years. I've seen the band playing tents of thousands of people at Roskilde Festival…
AA: Oh I love Roskilde Festival. It's still my favorite festival. I think that we've played there four times in total.
MR: Great. I've seen you just once on Roskilde Festival, thou. But on the other hand I've also seen you playing tiny places like Loppen at Christiania…
AA: Yeaaah
MR: And that's completely different from playing those huge festivals. So I was wondering how do you experience such a two different environments when playing live?
AA: You know, the only important thing about the concert is people enjoying themselves. I enjoy myself, I love playing live – that's my favorite thing, but if I see the audience enjoying themselves then I enjoy myself more and if I enjoy myself more they enjoy themselves more. That's the way it is. I've played in clubs with 140 people and I loved played at festivals with 140.000 people and I've enjoyed then equally in different ways, you know.
MR: I think that you've just answered my next question, which was, what do you prefer, playing live or recording an album?
AA: I do like playing live a lot. I do like seeing people and enjoying the music, but these is also something exciting about putting an album together, watching all these bits come together, it's really cool. When you first start doing new songs, that really exciting. And then once you've made the album, you're just dying to play it live. Sometimes, depending on the release, it can be moths before you get to play it live. I mean we've recorded the album in February and we didn't start playing it live until September. That's like seven moths (laughing). I've been listening to it for seven moths (laughs).
MR: So basically it' both things that you enjoy in their own way?
AA: Yeah. They are both very important and they work very well together.
MR: I've seen you play this place (The Rock) before, it's kinda weird place, but it does have a certain intimate vibe to it.
AA: Yeah, you know I'm just looking at the stage now and it's not a stage for the bands to play, you know.
And that's pity because both supporting bands are brilliant and I want them to have as big chance to be as god as they can as well. But you know, we've been playing in Copenhagen for many years and I enjoy it. I always had fun playing Pumpehuset, it's a very good place, Last time we played here was also quite well although I think that at some point the power went off (laughs), which is why we've been checking it more today (laughs).
MR: But I guess things are that are also a part of what rock show is.
AA: You know after 22 years nothing really upsets me on stage. If something goes wrong, it gets fixed or it doesn't get fixed, you know (laughs). I've seen everything, I've fallen of the stages and what not. Just the other night we were on the stage for like 10 or 15 minutes on stage not playing, because of the power drop. You want it to be smooth because of the momentum, but sometimes you know…