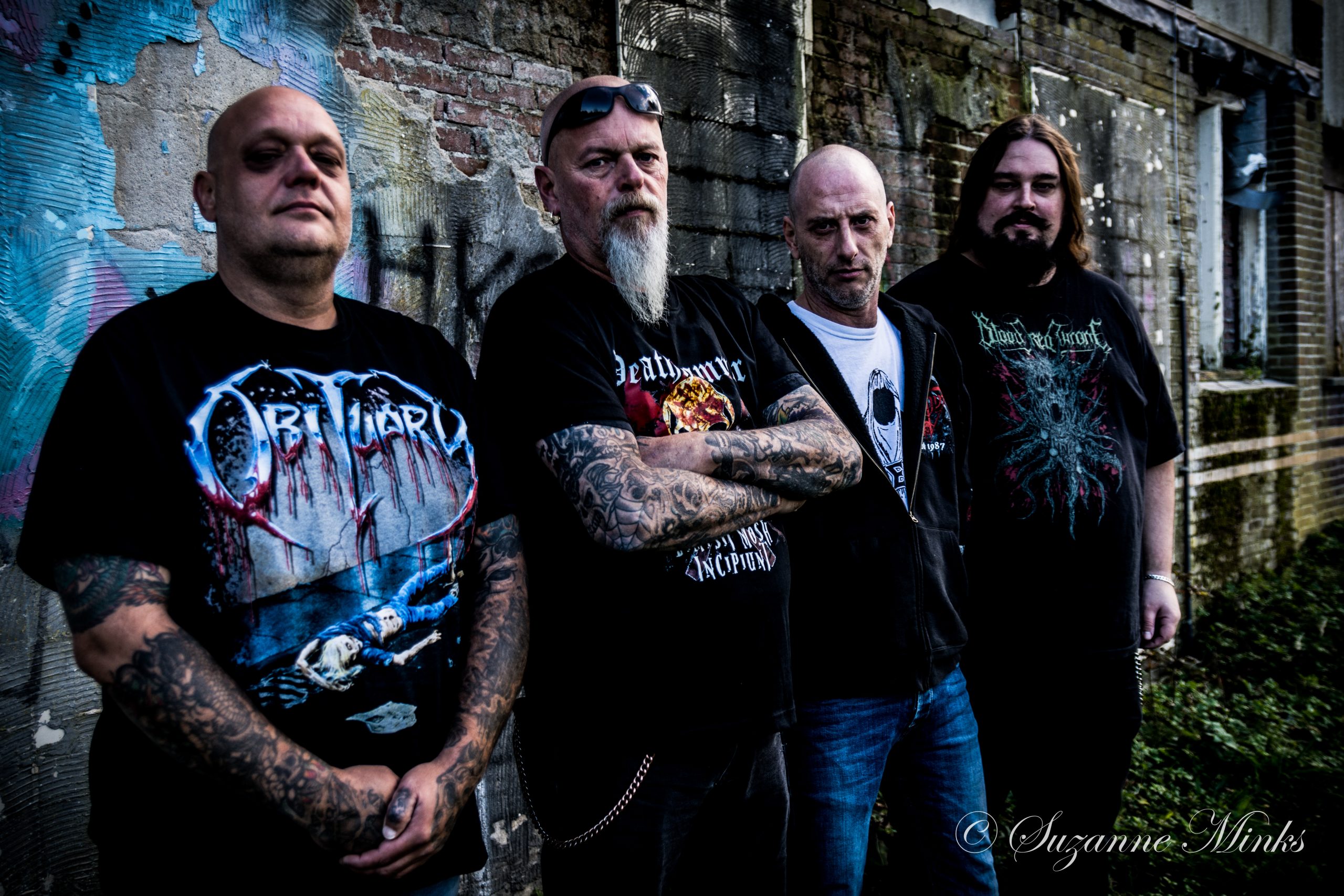 Melting Eyes (The Netherlands)
10th November 2021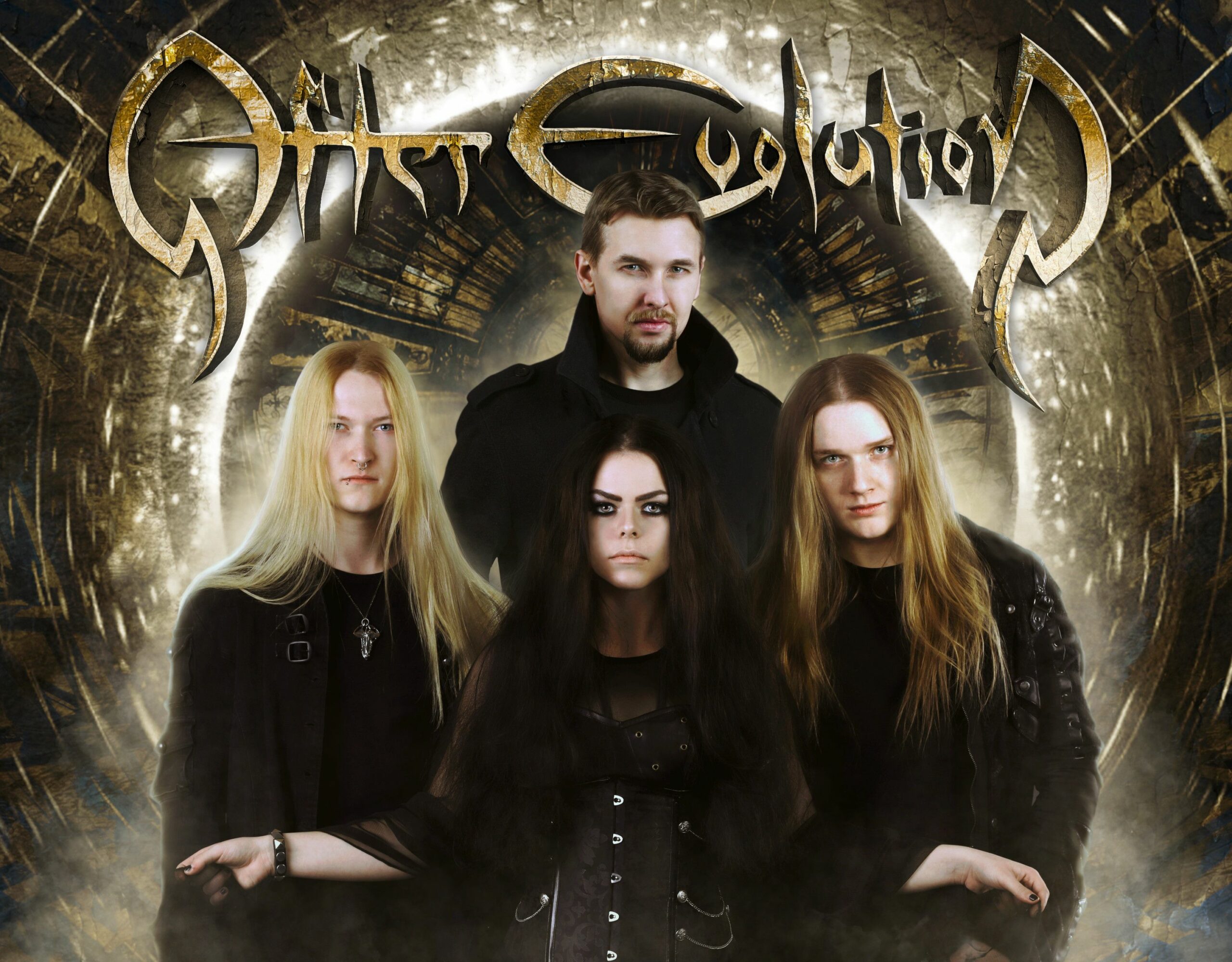 After Evolution (Czech Republic)
12th December 2022
Melancholic Seasons (Germany)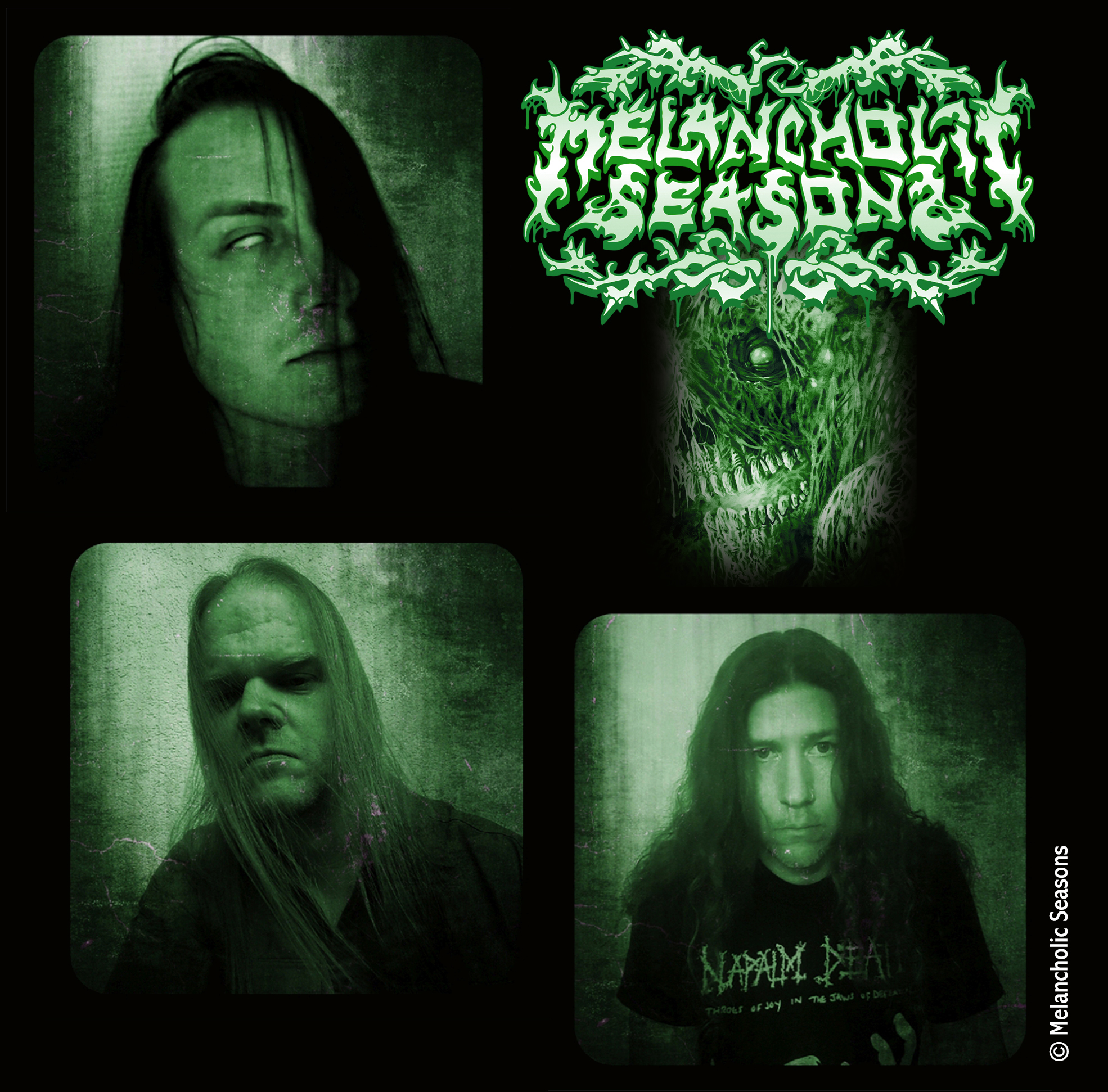 Interview with Andi Henke (guitars)
https://melancholic-seasons.jimdofree.com/
Melancholic Seasons is a Frankfurt/Main- (Germany) based thrash/death metal trio. The release of their fifth full-length The Crypt Of Time was planned for release already in 2018, but due to some line-up changes it got delayed. The reasons for this delay, recording process of this new album and much more I asked band's guitarist Andi. Here's what came out of our chat the other day.
MR: The fact that you've been around for 27 years now should be enough for most people to associate your name with metal. But, for those still unfamiliar with your band I would ask you to start this interview with a short introduction to Melancholic Seasons.
Andi: Actually, yes, 27 years are a really long time. But due to numerous line-up changes there have always been interruptions that have set us back. That's why we haven't had the big push so far. But this has also taught us to remain modest and has not diminished our passion. We have seen so many bands come and go and many hypes passed by. For us, it always went on, also in difficult phases. Quitting always felt completely wrong. We were happy about the little things and kept going. So now in 2022 we are still here, motivated and full of ideas. This year we released our album The Crypt Of Time on May, 1st. For the first time, after many demos and self-productions, it was produced in the studio, for the first time we put the cover design into external hands, and for the first time you can hear our new singer Kevin. All innovations that show that there is a lot of energy in this band and that we have a great creative urge. Nevertheless, we were completely blown away by the feedback. There were exclusively high and full scores, hymns of praise and a lot of interest in the "Crypt", also international.
MR: Who decided this moniker Melancholic Seasons for a thrash/death metal band? As I've said in my review I expected to hear some doom or black metal prior to listen to The Crypt Of Time for the first time. Obviously I was completely wrong! (Laughing)
Andi: (Laughing), we've heard that before. You expect shallow, dark music, but then melodic death/thrash metal rules. Contrary to some reports, I am not a founding member. The band was founded in early 1995, I joined in May of that year. So I don't know exactly how the name came about. However, in the beginning the inspiration actually came more from bands like Paradise Lost and My Dying Bride. Only later were influences from bands like Metallica, Slayer, Kreator or In Flames, who were just coming up at the time, incorporated. So on one hand the spectrum became broader, through the increasing skills the music also became faster and more versatile.
MR: Talking of The Crypt Of Time again, can you tell us more about the whole album, maybe introduce it track by track.
Andi: Thank you for the opportunity to present our album here in detail. We started recording "The Crypt Of Time" back in 2018. Once we had talked in our rehearsal room about the fact that the constant search for musicians was holding us back too much. So, as a trio, we decided to go double-tracked and get intensively and continuously involved with recordings. We switched to drum machines, and in addition to my guitars I also recorded the bass. The results were "Melancholia" (2017) and "Martyrium" (2018). During "Martyrium" recordings, our singer at the time, Björn, passed away. But after we said to ourselves that we want to continue, we started with the "Crypt" and could use the experiences of the previous recording sessions. In comparison, I think the result speaks for itself, but would not have been possible without our two previous albums. Everything builds on each other here.
The album contains 13 songs and 2 intros, a total of 15 tracks with a playing time of 61:24 minutes. The official release date was May, 1st 2022. It was mixed at Überlärm Studios by Manu Renner. The cover was created by Cursedhand_Art.
Björn's successor Ben had already sung all his vocals when he had to leave us for professional reasons. When Kevin then joined us, the question was of course how to proceed now. In the end, we decided to represent the current line-up and re-record the vocals. A wise decision, as the result shows. Kevin did an excellent job. All in all, it was a rocky road, but the result compensates for everything. All the efforts were worth it.
About the songs:
With the intro "The Imperfection Of…" we wanted to create a threatening, oppressive mood and introduce into the first song "The Creation" thematically. This is about the state of human evolution, which has obviously stopped at an extremely destructive stage. We see the manifestations of this every day. But not only the many conflicts and wars are evidence of this, but also the general situation in which mankind destroys basic living conditions. This action is not wise. And even the seemingly achieved civilisation does not help. These are only behavioural regulations on a small scale and do not change anything about the tendencies towards self-destruction. A thrash hammer to start and a thunderous entry into the album.
The title track "The Crypt Of Time" is about transience. Iconically described, you meet your own past in the "Crypt Of Time", become aware of it. It is a dark place full of memories, where souls ultimately remain, in nostalgic mourning for what has been. Musically the song at first hit hard on the head, but then there is also a very melodic middle section and a melancholic final.
"Die Seuche" (english: "The Plague") has German lyrics. Depending on the mood, we choose language that feels better and fit into the concept. However, the song is not about Corona, but rather about the plague in people's heads that is visibly spreading: Intolerance, racism, egoism, reality deniers, people who say goodbye to the consensus of values and seek their truths in alternative facts. A worldwide phenomenon, corresponding to the zeitgeist. Apparently a way of dealing with extremely threatening truths. A very thrashy song with a lot of little surprises in it.
"A New Identity (Graves In Mind Pt.2)" starts as a melodic midtempo song, but builds up increasingly and finally ends with a groovy final. It describes the pseudo- and plastic world in which identities are artificially created, one's life is oriented towards and for internet platforms. Ultimately, the search for the real value in life. It is an appeal to think about one's own importance. The song makes a reference to our song from earlier decades "Graves In Mind", a stylistic device we like to use repeatedly.
"Narbenkleid" (english: "Scar Dress") is also in German and deals with self-harming behaviour from the point of view of someone affected. The painful, damaging act is glossed over in transfiguring romantic language, creating a contrast to the fatal, self-destructive, bloody outcome. A very driving song that covers all facets with groove, melody and blast beats.
"Unreal" is a driving thrash number and shifts into the perspective of an amok perpetrator, describing the constricted, unreal view of the world in which other people are perceived as a threat to be fought. Thoughts obsessively revolve around wiping out the adversaries. But this dangerous view of the world remains only one thing: unreal.
"Painful Truth" is a real thrash hammer. Thematically, it is about the aching certainty from the point of view of a maltreated human being who has to eke out an existence beyond prosperity and the security of physical integrity. Life is not accorded any value here, one is exploited with no prospect of better times.
"Into Burning Dreams…" introduces the song "Burning Dreams" as the second intro on the album.
"Burning Dreams" is a very epic song, very melodic and carrying. It's about the mind of a depressive whose dreams supposedly bring him out of depression, but instead pull him more and more into it, making the ultimate solution grow louder and louder.
"Balance Of Terror" is a groovy song that sarcastically deals with the balance of war and terror prevalent in the world. Religion and ideology feed the willingness to engage in war-mongering and maintain the balance of terror.
"I Am December (Autumnsphere Pt.2)" is a multi-layered song, lyrically it depicts a dark mood, associated with the atmosphere in December. The song refers to the second song in the creative phase of Melancholic Seasons, "Autumnsphere". During the middle part, there is another special moment for us here.
"Dear Mr. Silence" is a rather carrying song that doesn't have a conventional song structure. It builds up and finally offers a bass solo part. Lyrically, biography of an addicted person plays a role here. In this setting, old acquaintances terrorise with attempts to contact and torpedo the processing of the experience in order to come to terms with this episode.
"Dead-End Street" was already on "Melancholia" and is here a remake with Kevin's vocals. We wanted to make reference to the previous albums with it. The song deals with the hopelessness you get into through passivity. It takes self-efficacy to change this fate. And again you realise that you are in a dead-end street again and have to turn back. A fast and thrashy song that combines many riff facets and melodies.
"Alles schon geschehen" (english: "Everything Already Happened") is also a remake, it was the opener on "Martyrium" again with German lyrics. Here, the hammer reigns. Lyrically, it's about the meaninglessness of life, caught up in status symbols and the emulation of false importance.
MR: Thank you for this in-depth description. Now, tell me if you're pleased with the feedback and reviews you've got from fans and media?
Andi: Well the responses have really blown us away. We've had a lot of reviews that all agree that the "Crypt" is a very good album. We got top ratings and a lot of special praise. There was also a lot of recognition and interest from the surrounding community. Of course we are very happy about that. Of course, the most important thing for us now is to find a drummer. We have been looking for a long time. Now we hope we are able to inspire someone for us with all the positive feedback.
MR: What about the recording process in time of Covid-pandemic? Any restrictions there?
Andi: We have very well-rehearsed processes by now. Because we use digital techniques, we haven't really been slowed down by Corona. Rather the opposite. Since rehearsals were not possible for a while, we were able to dedicate ourselves to new projects in our home recording setups. We record our guitars at home and the vocals together with Kevin in his flat. That was also possible. Apart from that we have also started songwriting for new songs. We still have a lot up our sleeves and are looking forward to realising our many plans.
MR: You decided to include three songs with lyrics in German. How did it felt to record both in German and English? Something that changes your whole approach, or does it comes naturally to you?
Andi: As I said, this comes more from the spontaneous whim of the lyricist. Sometimes english lyrics just fit well. But with your own language, you can of course express yourself in a more multifaceted way and play more with it. That's why we also find german lyrics very exciting. But it's a fine line. There are many voices here in Germany who say that german lyrics don't suit to death/thrash metal. But there was also a lot of positive feedback that it fits well with our songs. In addition, there was sometimes even a lot of joy about the fact that we switch the language every now and then. We don't pursue a strategy. Neither do we want to jump on the "Neue Deutsche Härte" wave, where only german lyrics are used, nor do we want to push pseudo internationalism. As I said, we are modest. And we do what feels right.
MR: Who's most responsible for the lyrical content in your songs? I find them interesting and original, dealing with human existence, right?!
Andi: I used to share writing of lyrics with Björn. Now Kevin has to learn a lot of songs, so he's happy to be creative in between. That's why he's taken over the writing now. If I have a good idea, if I think of something inspiring, I'll offer it to him. But for now i'm concentrating on my guitar. And yes, all facets of human existence, moods like aggression and depression, but also just melancholic moments are shown in our lyrics. Somehow these moods inspire us. Autumn is a good time to get creative again. And of course there is always a good portion of social criticism. We are probably not a political band in that sense. But if you read the lyrics and put one and one together, you'll understand what makes us tick. Politics is also a not insignificant part of the human world of ideas and creates many movements, dynamics and collective values.
MR: Now to the less funny side of your musical and personal career. Your previous vocalist Björn Hoppe died. I guess it made a huge impact on the three remaning members of the band. Can you tell us about some of the thoughts and feelings you had back then? Any thoughts on giving up on music?
Andi: Actually, we were already only a trio with Björn, so then there were still two of us. I remember very well how and where I received the call and got the message. After that, of course, there was just complete emptiness. We also put the band on ice for the time being. I couldn't listen to the songs at all. It was a very strange feeling. Every note brought up images of Björn. It was simply unbearable. But then the thought came that maybe the sequel can also keep the memories alive and besides, music is always good to process things. In addition to the emotional discord, there was also the problem of the line-up. We didn't know whether we would find people who wanted to take on this legacy together with us. But there were actually some who jumped on board. But those were very changeable times and the commitments were extremely fluctuating. In retrospect, I would say it was a general testing phase, somehow also a search movement, at the end of which we found Kevin and our bass player Flo. Unfortunately, the latter had to leave the band shortly after the release of the "Crypt" for health reasons. Luckily, however, we have just found a replacement. We'll reveal more about that on our channels soon.
MR: Speaking of Björn Hoppe, can you tell our readers about his contribution to the song called "I Am December (Autumnsphere Pt. 2)"?
Andi: Ah yes, then I will reveal it after all. I already said that there was a special moment. We still had some vocal snippets from Björn from a pre-recording session, including this middle part. We took these and dedicated this part to him. So he can be heard again on this album. We think it's a nice and appropriate gesture to give him a place here again.
MR: So what are your future plans? What is the next thing we can expect from Melancholic Seasons?
Andi: Yes, as I said, the wheels don't stop turning for us. Besides finishing the "Crypt", we had already been working on another album. However, these are not new songs, but remakes of our first four demos, which developed from 1995 to 2000. But we think the songs are still good and deserve attention. The old demos haven´t a good sound quality. At that time, many things were not yet technically possible as they are today. We wanted to make use of these new possibilities. So we opened the archives to produce the old stuff in a fat way. Sure, the songs are less complex, but we put a lot of effort into the arrangements, added harmonies and subtleties. For us, the songs are a part of our musical DNA.
MR: Any last message to our readers and to those who're not familiar with your music yet? Why should they listen to The Crypt Of Time?
Andi: It's very special for us to have the opportunity here to reach out to people outside of Germany. If we arouse your interest, that makes us very happy. Even more so if you take a listen to the"Crypt". Feel free to give us feedback. And feel free to visit or follow us on YouTube, Instagram, Facebook or Spotify. We are represented there.
We send you all warm greetings from Germany. Stay healthy, get through these times of crisis with Corona, war, inflation and all that. Stay optimistic and positive. It may seem paradoxical that this is coming from us of all people with our gloomy lyrics, but even in sadness, misery and all other moods, one can develop a zest for life. What could be more beautiful than feeling the transience on a bench in autumn? Great feelings. Soak them up and let your mind drift away.
MR: Thank you for your time. It was a please talking to you.
Andi: Thank you very much for your interest and support. You too stay healthy and faithful to the scene. Feel warmly greeted.