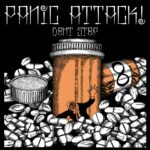 Panic Attack! – Don't Stop
6th June 2023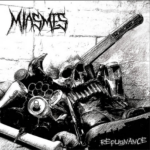 Miasmes – Repugnance
8th June 2023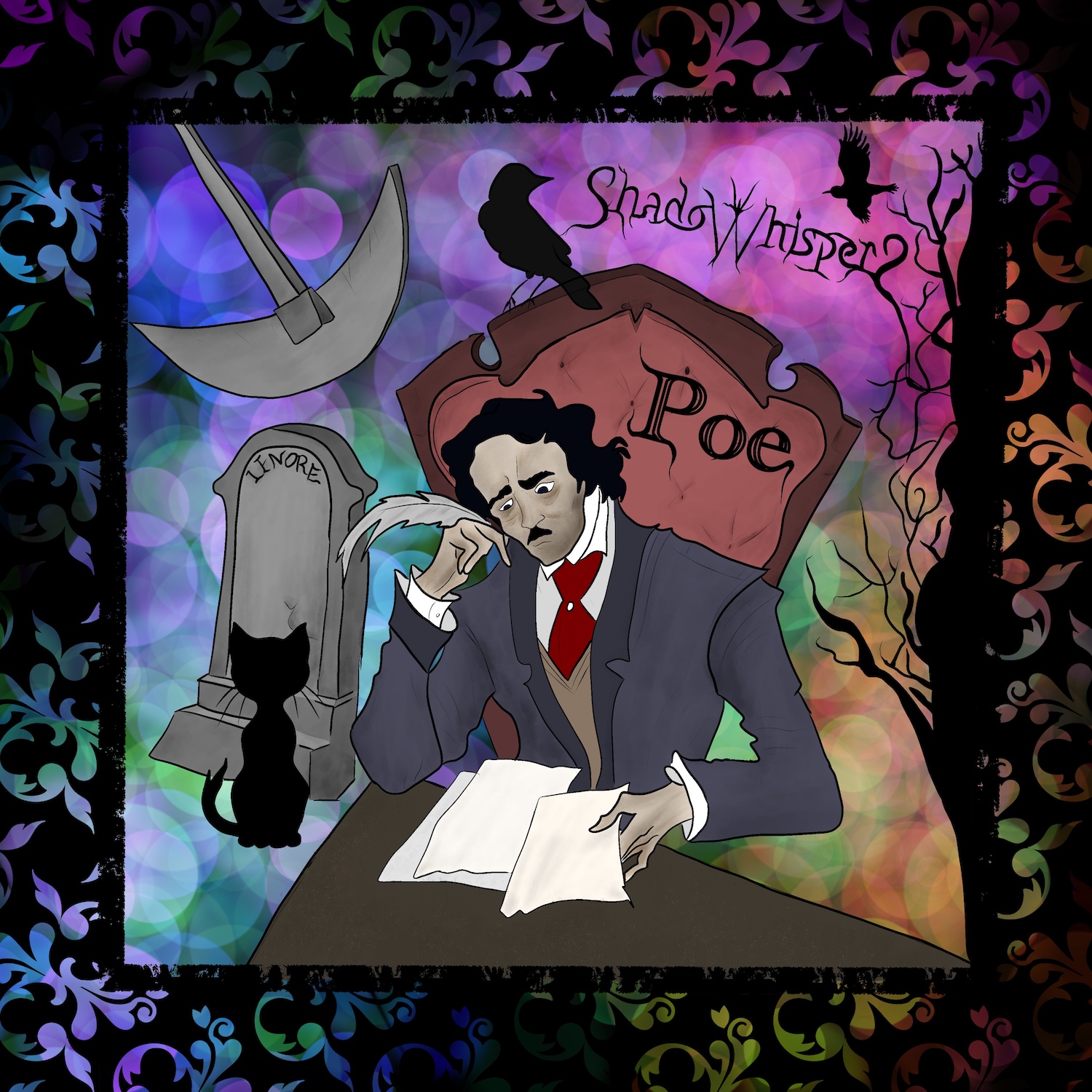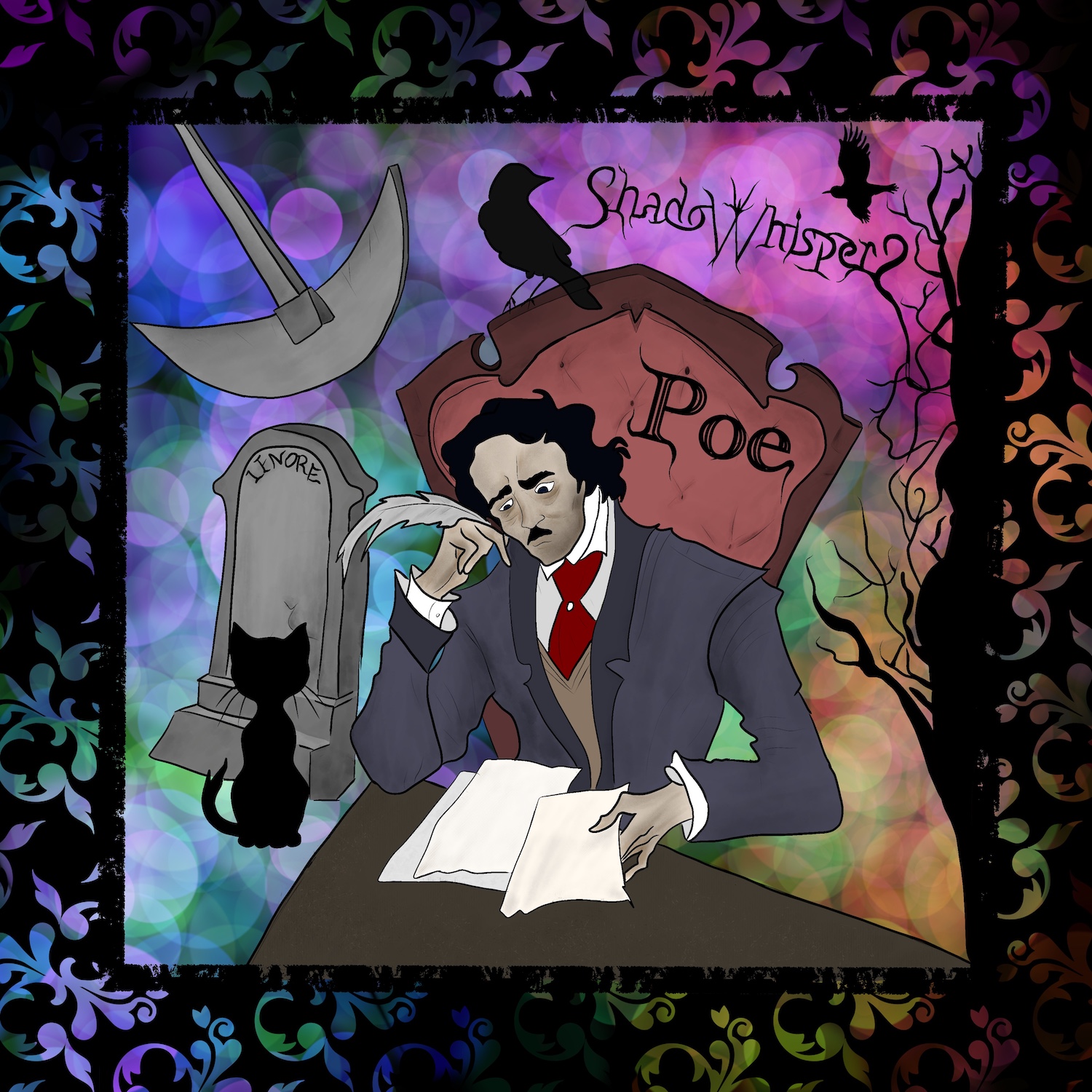 Label: Self released / Release date: 29th April 2023
From time to time I receive some really remarkable and extra ordinary album for a review. One of these is with Luxembourg-band called ShadoWhisperS. The band is formed in 2009 and after a lot of line-up changes, some recorded demo tracks in their rehearsal room, released their first official EP entitled A tincture of Gothic Fiction in January 2017. Meanwhile they also recorded Mara from 2018 until 2019, an album that covers dark thoughts, dreams and nightmares, horrifying, unpleasant, sexual as well as healing ideas of our subconsciousness. ShadoWhisperS currently consists of Piquet (Bass), Motti Speller (Drums), Laurent (Keyboards), Sonni (Guitars) & Diane (Vocals).
Now, I'm absolutely delighted to present the upcoming concept full-length album entitled simply Poe. It's a concept album around the life and works of Edgar A. Poe. It's an album that contains ten ordinary tracks, and one bonus, closing track called "Däischter Gedanken" feat. Sänger vun der Bich.
When more and more bands call their music alternative and experimental, it is often a sign that the band themselves believe that their music is an original piece of music that should not be placed in a category. Regardless of the sympathetic thought behind this move, one also has to deal with the fact that alternative is precisely a diffuse concept that basically leaves the listener in the lurch. But actually alternative and experimental metal is a very apt word for this band from Luxembourg. It's probably because they can't be stuffed into other boxes, and apparently don't want this either. Thus, on this full-length the Luxembourg-based quintet creates a fusion genre combining power metal with symphonic metal with elements of orchestral classical music with the dark atmospheres of gothic rock. Quite experimental and alternative, if you ask me!
The latest offering Poe was recorded in 2022 and has just recently been released on multiple streaming platforms. Meanwhile, my own copy comes as this beautifully designed mediabook "Edgar – Music, Litterature & Mental Health", containing one chapter per song. This is not all, as the mediabook is available in two versions; German/English and French/English, (my copy is in German/English!). Both the album and the mediabooks are part of the project "Don't be Poe!", aimed at raising awareness about depression and to provide teachers with tools to help students. In other words; all elleven tracks on Poe fits together and should be seen as a concept story about the life and work of Edgar Allan Poe.
Poe is obviously a long album, just short of 60 minutes. It's an emotive darkness that tells epic tales of the battle between light and lark, inner struggles, heroes and anti-heroes, knights and bards, and of course life and death. It begins with the orchestral "O Tempora, O Mores", a dramatic introduction which sets the tone for the album, telling the listener about Poe's death. Next track is the one called "Black Cat" which feat. Adam Denlinger. The same applies for the song "The Valley of Unreast". "Bridal Ballad" is based on Poe's poetry, while "Dreamland" is one of the shortest tracks on the album, being another interesting track, with its soaring operatics. The whole thing ends with the aforementioned song in Luxemburgish, named "Däischter Gedanken".
Despite of the fact that this is not my preferable sort of music, I'm not blind not to see the high artistic value of this very interesting and fascinating release. Poe evolves all the time, being a very challenging and demanding release for most fans of traditional metal. Apart from the aforementioned constant evolvement, it's also perfectly crafted with a perfect female vocals of Ms. Diane, accompanied by this rather amazing and masmerizing melody and harmony of all instruments. There's no doubt that the band are talented musicians and have poured everything into this release.
As mentioned before, I find Poe to be an incredibly complex piece of music which is full of twists and turns, numerous changes in tempo and an overall stellar performance by all five of its members. The production of Poe is more than decent, and the musical arrangements of a good level.
At the very end, another interesting fact about this particular release is that it'll be distributed free in Luxembourg to those who are felt to need it. The music itself is partly reminiscent of the likes of the Nightwish, After Forever, Epica, Deain and similar symphonic/gothic/orchestral female-led acts, yet again ShadoWhisperS is a slightly different, a story on its own. At the end of this review you'll find a little short teaser of what's to be heard on Poe. Do not hesitate to check it out!
For more info on this impressive and unusual band and their latest release visit https://www.metalandpipes.com/