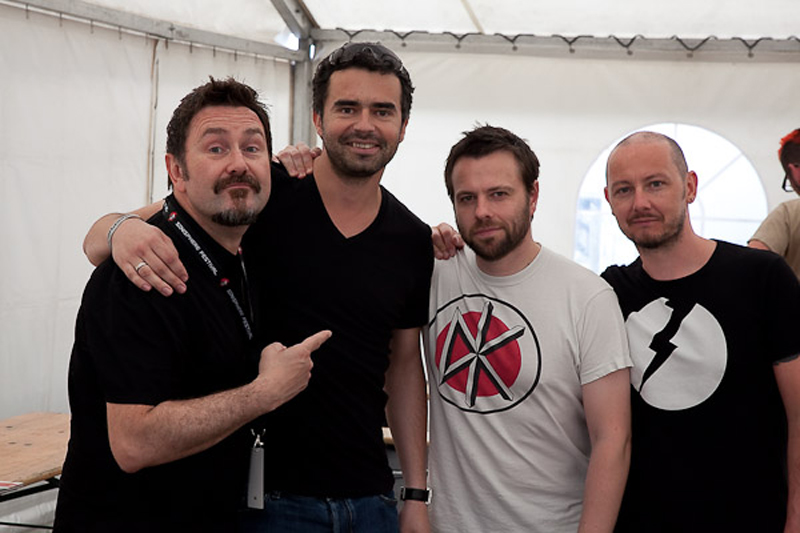 Therapy? (Northern Ireland)
22nd June 2010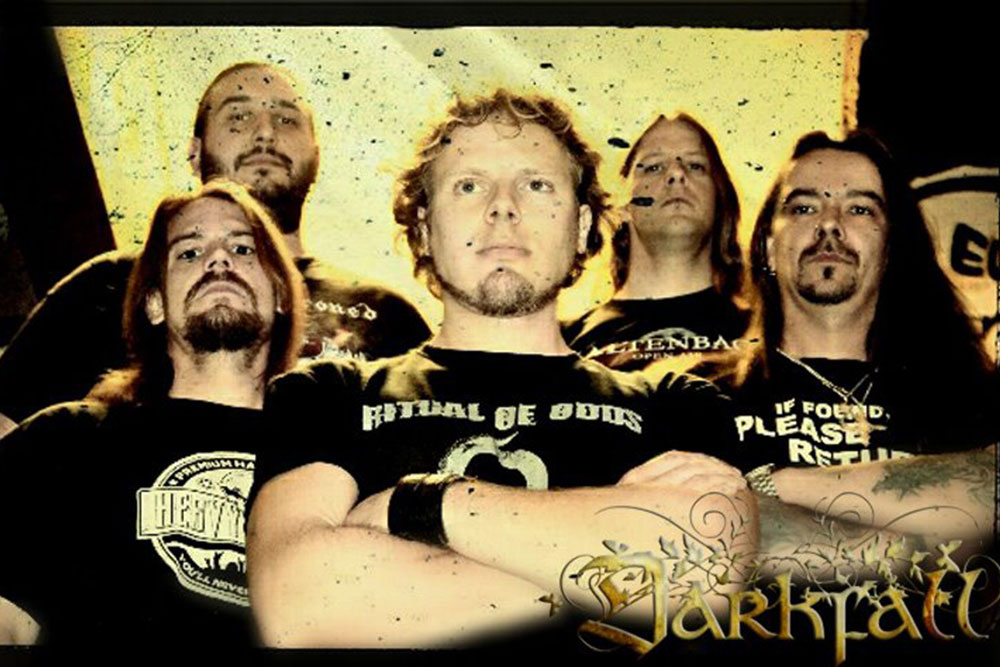 Darkfall (Austria)
3rd November 2013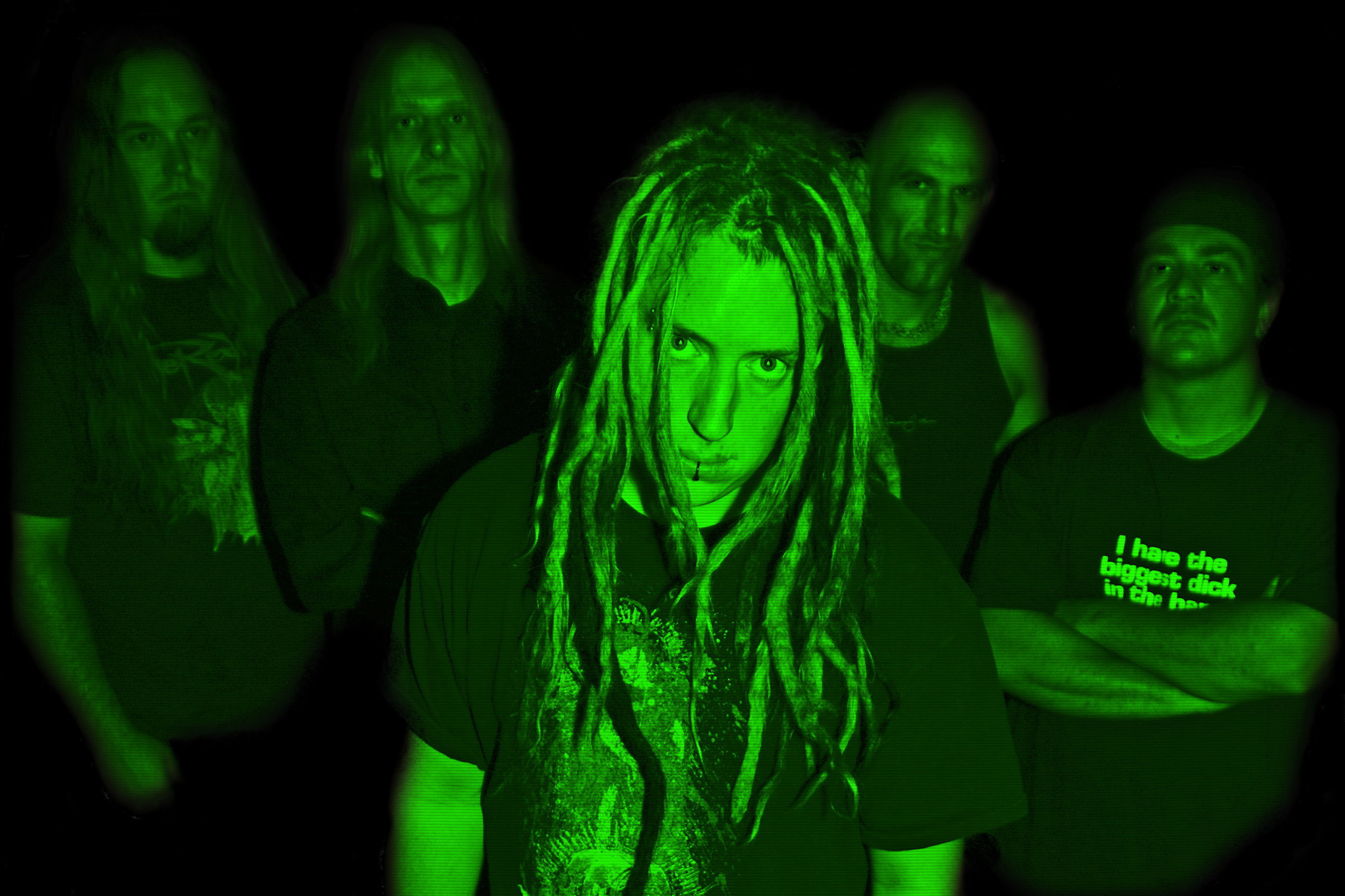 Rising from Phoenix,Arizona, (Sic)monic is a very interesting band whose music combines elements of just about any genre, but never on cost of losing the focus of the songs or compromising the emotional aspect of their songs. With their second album Somnambulist the band has seriously shown their potential and the album earned them astonishing 93 out of 100 here at Metal Revolution.
We' caught up with band's singer Taylor Hession and bassist Jason Williams for a chat about the band's music, gear, supporting Fear Factory live and none the less the bands forthcoming album Darcauditure.
Metal Revolution: Hi guys, can you tell us bit more about the band for those of our readers who might not know you?
Taylor: Hello I am Taylor the singer and we are (Sic)monic hailing from the desert city of Phoenix Arizona… the best way I've found to describe what we do is progressive melodic metal…Although we use violin and classical acoustic melodies in many of our songs as well…it's a complete blend of all styles of music, structures, dynamics and emotions there is something for everybody if you give it all a listen….We are pure energy, emotion, and passion expressed through sound.
MR: How did the band come about in the first place?
Taylor: I found the band on a website for the local Phoenix music scene….they had played as various different outfits for many years before I joined and we became (Sic)monic. I went and jammed with them once and the energy was electric I mean I exploded with passion the first time I heard some of the guitar masterwork they were executing…..So we jammed a few more times I wrote lyrics to a few songs they had music written for we recorded a quick 3 song demo and started playing shows and writing constantly… We have gone through many different lineups over the years and as of now it consists of Ray Goodwin on lead guitar and violin, Zach Sewell on drums, Ryan Gero on rhythm guitar, Jason Williams on bass and myself Taylor Hession on vocals.
MR: Why did you choose name (Sic)Monic for the band and what's the meaning with the parenthesis?
Taylor: The name (Sic)monic was born of the fact that every band name we came up with was taken. So we decided we had to invent a word. Broken down grammatically it means said in context in the likeness of one… literally. The name is open to interpretation as is our music. We don't really like classifying what we do and the name helps us stand apart as our own musical entity we didn't want something dark and metal because we all know it has been done. So the name while upholding brashness still leaves a question to the listener as to what they just heard. As does our music most of the time so it fits.
MR: You last album Somnambulist was very well received here at Metal Revolution, cand a single member of the stuff even named it album of the year. Can you tell us bit about how did this album come about and can you explain the title?
Taylor: Somnambulist means sleepwalker….in a state of sleep while still acting awake…For myself it's an idea of the opiate state of numbness many people live in. Never truly processing any sort of wholeness or connection with their spirit or the beautiful world around us. So I believe many of us live most of the time as a Somnambulist and don't even realize it. The album was written over a few years with different musicians and its easily heard through how eclectic the styles are in each song…and the lengths of the songs as well. The album was written and recorded over many nights of fighting and sweating in a tiny little hot room in Phoenix. And I believe the intensity of the process definitely shines through on each track. There are acoustic ballads and violin based songs and straight up metal throughout the album. It's definitely an emotional journey.
MR: Where was the album recorded and how long did the whole recording process take?
Taylor: the album was recorded at two studios. One was Villain recording here in Phoenix, Arizona with Producer and engineer Byron Filson. And the rest was done with the Phunk Junkeez at their studio here in Phoenix also. It took us almost 2 years to complete the album it was pieced together slowly and meticulously.
MR: Where does inspiration for your music come from?
Taylor: The inspiration comes from our lives…our emotions and struggles… our passions and energy we all have for life and things we have gone through tragic or beautiful. We all love music from the depths of our souls and express it through each riff to carefully project what it sounds like in our minds and hearts each day.
MR: Lyrically the album deals with number of heavy issues. Are these inspired by personal experiences?
Taylor: Yes almost completely each lyric reflects a thought or experience I've had and the music as well…I also write in terms of what I assume someone going through something would think or say or do. Or the thoughts and words of someone I despise or loathe too…or the thoughts of people I love and cherish and just metaphysical complex lyrical insanity creating just pure energy and explosions of a moment that will never be again anywhere but here and now. We are not a political band that tackles issues of any sort really just experiences and reflections.
MR: I don't want to focus too music on individual songs, but I have to ask about the story behind "Requiem".
Taylor: No problem this song was written instrumentally by Ray Goodwin from a painful experience he went through with a death of a family member. the song is not a love song by any means per say. So when we first met he would play the riffs and I always so moved by the emotional structure of the chords. So he told me what it was born from and I proceeded to write a song from his point of view and the family member to try and capture lyrically what they went through or at least what I thought they went through. Definitely in my opinion my best work and still a song that is incredibly moving to perform.
MR: The music as well as the vocals are quite complex. How do you translate that complexity to your live shows? Especially, the vocals, which are extremely diverse and often overlapping.
Taylor: I somehow pull it off with exact precision between the clean and dirty styles. Its just who I am I guess I get in my mode and go for it with complete immersion of musical madness…Of course if it overlaps a lot I adjust accordingly and our new rhythm guitarist Ryan Gero is doing more and more backup vocals as of late. People always ask me if there is two vocalists in the band I get it all the time. They also assume I use vocal effects live and there shocked I don't use a pedal of any kind. All I can tell you is every vocal sound you hear on the album and live is completely me with absolutely no effects and the album is the same way there are no digital effects on my voice at all.
MR: Recently you opened for Fear Factory at Marquee Theater. How was that?
Taylor: It was incredible we got the direct support slot so the place was packed and we threw it down as hard as we could. It was a last minute show that came up and we really came through with a big crowd which impressed the promoter who books many national acts in town so there will now be plenty more to come. Although we usually headline this particular venue with an hour long set and the full stage lighting and sound check so it was strange to play so early on half the stage in front of their back lining but nevertheless and honor to share the stage with prog melodic metal pioneers Fear Factory.
MR: Can you tell us about your gear and is there a difference between your studio and live gear?
Jason: The Guitarists use both six and seven string Jackson guitars – (bass four and five strings Shecto ) and run Mesa Boggie heads with Marshall cabs (bass Ampeg head with Hartke cabs). The drummer uses a custom Pevey kit with Iron Copra long board double bass pedal. In recording our engineer at Villain recording studio likes to create signature tones for each band. Though we don't use our amps exclusively. He will combine the Mesa Boogies with several other heads of chose to fine a "voice" that fits the mood and feel of the LP. Without compromising the "sicmonic" sound we give off live. The drums both live and recorded are played to a metronome. Though some minor beat detective work is rendered during editing, what you hear on the recording is what you hear live.
MR: It's has been close to three years since the release of Somnambulist. What are the future plans for the band and are you working on a new album?
Taylor: We are right now tracking our 3rd full length release with Aural Music Group called Darcauditure. It will be darker, faster and more melodic then any of our previous releases and everyone has truly stepped up their game on this one…For the future we hope to land ourselves a larger record deal either in the US or where our label is in Europe…well continue playing our hearts out and endlessly promoting ourselves to take (Sic)monic worldwide because we still believe what we're doing is different then what most metal bands are doing and will eventually catch on. It just takes time for people to let down there preconceived notions of what metal or music in general should or shouldn't be.
MR: Do you have a message for the readers of Metal Revolution?
Taylor: We are so grateful to have our music spread and sold across the planet in a countries such as Denmark! We hope you'll crank the fuck out of (Sic)monic in your car and at your buddies house and spread the sicness wherever you go! And also if you've got a suggestion, comment, or question or want to order our merch or music from us hit us up on facebook.com/sicmonic or email us at sicmonic@yahoo.com … or any other music site which has an email address for us! Stay real!
MR: We would like to thank you for taking time to talk to us and we are looking forward to following your career in the future.
Jason: On behalf of myself and the rest of (Sic)monic we thank you for producing this amazing mag and will help spread the word that Metal-Revolution.com RULES!