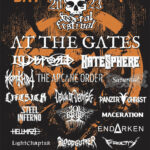 Konkhra, Dawn Of Demise, Maceration, Panzerchrist, Solbrud, Bloodgutter, Steel Inferno, Ferocity, Lightchapter, 3rd November 2023, Studenterhuset, Aalborg Metal Festival, Aalborg, Denmark
9th November 2023
At The Gates, Illdisposed, Saturnus, Hatesphere, The Arcane Order, Lifesick, Endarken, Kollapse, 4th November 2023, Studenterhuset, Aalborg Metal Festival, Aalborg, Denmark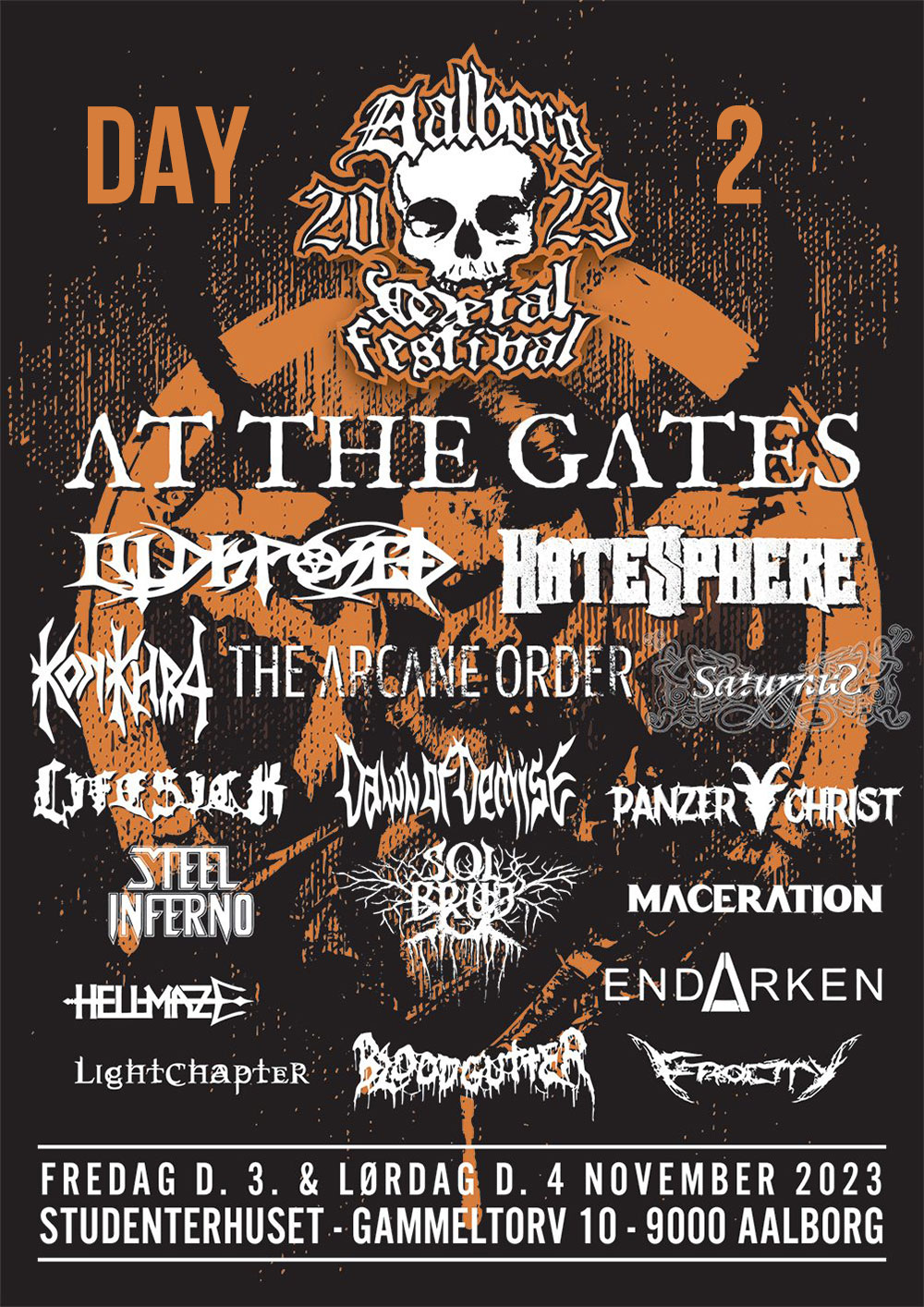 At The Gates, Illdisposed, Saturnus, Hatesphere, The Arcane Order, Lifesick, Endarken, Kollapse, 4th November 2023, Studenterhuset, Aalborg Metal Festival, Denmark
Photo: Simona
Second day of the annual event, Aalborg Metal Festival, was scheduled for Saturday, November 4th. Unlike Friday I was not missing any bands as I arrived at time for Kollapse. As the case was with Vægtløs which were stand-in for Lightchapter on Friday, Kollapse were stand in for HellMaze which they unfortunately have to cancel due to personal issues.
Kollapse is a band consisting of three; bass, drums and guitar, where both bass player and guitarist are equipped with microphones. Their sound is groove-based death metal. I enjoyed their numerous changes in dynamics – not a new idea, but just really well executed! Furthermore I liked the fact that backtracks are being used for intros. People who haven't seen Kollapse are missing out: their stage presence is great, being extremely capable of handling their instruments. It's well-playing and intense band that sounds like more than just the three band members creating this sound of wall during their performance. It's equal parts smashed and controlled, a good concert!
Then it becomes somewhat more modern and up-to-date with Endarken' entering the stage. This Danish quartet consists of former and current members of Hatesphere, Lamentari, The Vision Ablaze, Mother of All and Chaoswave. Endarken is playing a progressive death metal and there's a moshpit almost from the start. Endarken is gaining momentum, and this can especially be heard on a number like "Insomnia" from their debut record The Plague of Truth. From the very first song they got a moshpit going on and their interaction with the audience was superb. All songs delivered today were at full hammer and played at a frantic pace. They ended the show on a high note with "Prophets Of Apathy".
Endarken Setlist:
1. Seraphim
2. Echoes
3. Insomnia
4. Antidote
5. Reign Of Disgrace
6. March, Obliterate
7. Prophets Of Apathy
Lifesick is Danish hardcore band from Fredericia, founded in 2014. In 2022 they released their third full-length entitled Misanthropy, and most songs performed tonight were taken from this album. For those of you that are not familiar with their sound yet, I can say that they play hard and they grind through. But Lifesick draws a lot of inspiration from metal. Thus, it's about one third riffs and one third breakdowns – the last third is made up of heated shouting from band's lead singer. It's as if Lifesick's music pulls you down at the same time as it lifts you up. The lyrics are rather misanthropic, and when matched with the pitch-black basic atmosphere and a violent energy, it works just fine for the band.
Thrash/melodic death ensemble The Arcane Order were next to hit the stage. One never really gets disappointed with The Arcane Order, and this afternoon was no exception. ​They delivered a convinsing perforamance playing some of their biggest hits from their 23 years' long career. What around 300 fans in the audience could witness was an insane technical precision, charging speeds, progressive intensity and haunting, symphonic melodies with a blackened air of ferocity. Fans seemed to enjoy the performance from the quintet as majority of them screamed and growled esp. to the songs from their latest album Distortions From Cosmogony.
'Phew, my history with HateSphere stretches all the way back to 2002 and the release of their sophomore album, an excellent banger Bloodred Hatred. Wearing the Hatesphere t-shirt whole day, everyone could see that I was most exited to get to see guys from Aarhus. It's fifth time for me to experience Hatesphere live, yet I was excited to hear them play songs from their new album Hatred Reborn. This evening in Aalborg I was blown away just like I was back in 2002. They sounded aggressive, with desire to play and perform the way they've been doing successfully for more than two decades now, and despite of the numerous line-up changes. They never disappoint on stage, and their relatively new frontman, Mathias Uldall, seems to have landed well in the band. So, as you can see on the setlist below, Studenterhuset got thrashed with some old classics and new cuts.
HateSphere Setlist:
1. Intro + Lies and Deceit
2. Cutthroat
3. Intro + Resurrect
4. Darkspawn
5. Let Them Hate
6. Intro + Bloodsoil
7. Intro + Drinking With The King Of The Dead
8. Forever War
9. Brand Of Sacrifice
10. Heaven Is ready To Fall
11. Only The Strongest
12. Sickness Within
Saturnus were the next big act this Saturday in Aalborg. This evening they played very safely and professionally. They are insanely good at mastering their instruments, and we regularly get samples of both grandiose guitar solos and shredding. They are sublime for being variable in their musical means where some songs have long intros, while others are more direct and full throttle from the first note. There were many tempo changes throughout the set tonight and it was an atmospheric, melodic and beautiful doom metal ride with masters of the genre.
Illdisposed is a household name in the Danish metal, and no introduction is really necessary. With their ton-heavy riffs and extremely brutal performance, Illdisposed proved that after three decades they are still among the country's best live acts. It was a solid set-list through this 50-minute concert where they made it look very easy. With over 100 years of seasoned experience, this evening's gig reminded me again why Illdisposed are considered to be Denmark's best live band. They proved it once again at Aalborg Metal Festival 2023, and I'm already lookin' forward to see them soon again at AMF where they've played eight times already.
Main name on the AMF 2023 programme were a Swedish (Gothenburg) veteran melodic death metal quintet At The Gates. The raw and brutal power that flowed from the stage could be felt throughout the Studenterhuset venue. Their ability to mix melody without compromising creative riffing has ensured their reputation doesn't go down in flames. It's always great to watch a front man with charisma working their magic on stage, and Tomas Lindberg didn't disappoint, as he came out with a heroic energy that did not dissipate in the almost hour and a half they were on the stage. At The Gates are at the top of their game and I was humbled to be a witness.
At The Gates setlist:
1. Spectre of Extinction
2. Slaughter of the Soul
3. At War With Reality
4. To Drink From the Night Itself
5. Under a Serpent Sun
6. Death and the Labyrinth
7. Raped by the Light of Christ
8. Suicide Nation
9. Heroes and Tombs
10. Nausea 11. The Book of Sand (The Abomination)
12. The Mirror Black
13. Blinded By Fear
14. The Night Eternal
* Our special Thanks and Horns Up! go to Tania, Lars & all the volunteers at Nordic Rock Booking & Aalborg Metal Festival.